Bruce Willis' daughter Scout shares emotional message after her dad's dementia diagnosis
Bruce Willis' family recently announced the sad news he has been diagnosed with dementia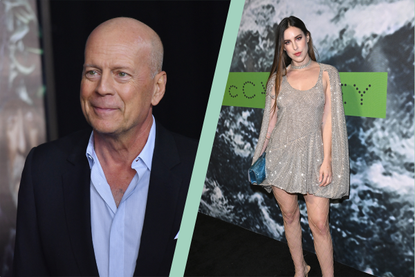 (Image credit: Getty Images)
Bruce Willis' daughter Scout has shared an emotional Instagram post after she announced her dad's dementia diagnosis earlier this week.
Bruce Willis' family recently announced to his fans that he has been diagnosed with dementia.
His daughter Scout has said she is 'overwhelmed' but 'in awe' of all the support they have received.
The whole family has described the actor's dementia as a 'cruel disease' which they want to raise awareness around.
Bruce Willis' daughter Scout Willis has spoken out after the news he has been diagnosed with frontotemporal dementia.
The Die Hard actor shares three daughters with ex-wife Demi Moore - Rumer, 34, Scout, 31, and Tallulah, 29, - and also has two daughters with wife Emma Heming; Mabel, 10, and Evelyn, eight.
Taking to her Instagram Stories this week, Scout shared a photo of herself wearing a brown and black fluffy hoodie.
She wrote alongside it, "Feeling emotionally tired and a bit overwhelmed, yet also very in awe of the love so many people have for papa."

Scout's younger sister Tallulah shared the message on her own social media, writing, "Second this Scouter feeling the abundant love for our guy and our family."
The pair's older sister Rumer wrote a similar caption, adding, "I third this Scouter and Buusk feeling so deeply grateful and in awe of the love for us and our sweet Daddio."
This comes after Bruce's family announced the sad news he had been diagnosed with dementia, nearly one year after his aphasia diagnosis.
They wrote, "Our family wanted to start by expressing our deepest gratitude for the incredible outpouring of love, support and wonderful stories we have all received since sharing Bruce's original diagnosis.

"In the spirit of that, we wanted to give you an update about our beloved husband, father and friend since we now have a deeper understanding of what he is experiencing.
"Since we announced Bruce's diagnosis of aphasia in spring 2022, Bruce's condition has progressed and we now have a more specific diagnosis: frontotemporal dementia (known as FTD). Unfortunately, challenges with communication are just one symptom of the disease Bruce faces. While this is painful, it is a relief to finally have a clear diagnosis."
In a longer statement shared with the Association for Frontotemporal Degeneration (AFTD), the family describe it as a "cruel disease," and added there isn't a cure.
"Today there are no treatments for the disease, a reality that we hope can change in the years ahead," they said.

"As Bruce's condition advances, we hope that any media attention can be focused on shining a light on this disease that needs far more awareness and research."
They finished by saying, "We know in our hearts that – if he could today -- he would want to respond by bringing global attention and a connectedness with those who are also dealing with this debilitating disease and how it impacts so many individuals and their families."
What is FTD?
According to the AFTD, frontotemporal dementia represents a group of brain disorders caused by degeneration of the frontal and/or temporal lobes of the brain.
Their website states, "Although age of onset ranges from 21 to 80, most FTD cases occur between 45 and 64. Therefore, FTD has a substantially greater impact on work, family, and finances than Alzheimer's."
Senior Digital Writer covering all celebrity news and features for CelebsNow and Woman. As well as breaking all major stories from the entertainment world, Naomi also chats to TV and music stars to deliver exclusives. When she's not watching Love Island, she's wishing she had Victoria Beckham's wardrobe and obsessing over Little Mix's latest album.