Busted's Matt Willis reveals how becoming a father helped him get sober
"I realised I was going to be a terrible father"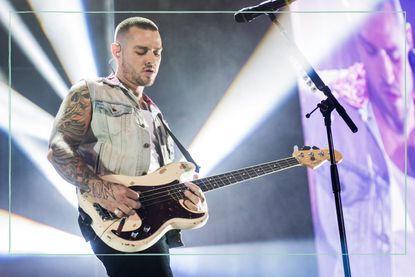 (Image credit: Neil Lupin/Redferns)
Matt Willis has opened up about how the arrival of his daughter helped him overcome addiction to get sober.
The musician appeared on Capital Breakfast to chat with radio host Roman Kemp about his recent documentary Fighting Addiction that saw him open up about his road to sobriety. During the show, Kemp asked Matt, "What was the starting point to you getting help, or was there a specific moment that you can think where that happened?"
Matt candidly revealed, "There were lots of key moments in my life. In recovery, you hear these words like 'rock bottom' and they kind of say, 'He hasn't hit his rock bottom yet.'
"I hit my rock bottom 30 times, loads of these big moments in my life that should have said to me 'this is a problem, you need to sort yourself out.' When it hit me was when my daughter was born and she was about eight months old and I was not with her, I was out using drugs with strangers
"I missed her crawling, and I missed my wife's birthday party with all people that I love there and I was out with strangers doing drugs. I woke up the next day and I realised I was going to be a terrible father, it was such a bad moment for me because it was the only thing I'd really ever wanted to be."
The admission comes just weeks after the release of the Busted star's recent documentary Fighting Addiction, which detailed his struggles with addiction and the pressure it puts on his family, while also looking into what helps him and others stay clean.
The BBC film featured Matt's wife, TV presenter Emma Willis, as she shared what her life was like experiencing her husband's struggles. She revealed that, at the height of his addiction, she kept a diary detailing her observations of him.
She spoke tearfully, "The only thing I could think of to keep track, was to keep a diary. I don't think I've ever read it since I wrote it. It's literally just notes of... what I knew he had consumed; A bottle of champagne, a couple of wines, a couple of wines... another bottle of champagne, and more."
She added, "I was so scared he would die," as she revealed that living with him during his addiction was "unpredictable" and "anxiety-inducing."
Appearing on Lorraine to promote the film, Matt told Lorraine Kelly about the importance of opening up despite his and Emma's long standing wish for privacy. He shared, "Emma took some talking to to get involved with this because we've been quite private with our lives and never really opened up before.
"I felt like that was such a powerful part to it, it was kind of like, she went through everything with me and stuck by me through everything and a lot of people at times told her not to. But she saw something in me and she knew she could help and she did massively."
Royal News and Entertainment writer
Charlie Elizabeth Culverhouse is royal news and entertainment writer for Goodto.com. She began her freelance journalism career after graduating from Nottingham Trent University with an MA in Magazine Journalism, receiving an NCTJ diploma, and earning a First Class BA (Hons) in Journalism at the British and Irish Modern Music Institute. She has also worked with BBC Good Food and The Independent.