Holly Willoughby slammed by fans for wearing £450 designer dress on This Morning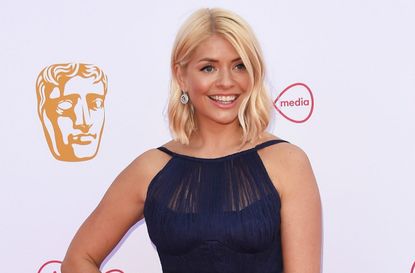 This Morning presenter Holly Willoughby is known for her pre-show 'outfit of the day' posts, but fans weren't impressed with the price tag of a dress she wore recently.
Taking to Instagram on Thursday, Holly Willoughby shared her outfit, writing 'Morning Thursday... Today's #hwstyle💁✨ on @thismorning dress by @markuslupfer ❤️.'
However, fans were quick to criticise the dress after discovering that it was worth £450, and was created by high-end designer Markus Lupfer.
It's likely fans were disappointed as Holly has a fashion collection with high street store M&S, which has more affordable price tags.
Many even took to the comments section to plead with the star to wear more affordable fashion.
One follower wrote, 'Love the dress but my bank balance can't stretch that far either £450!!😫more affordable outfits please, have to say though you look beautiful in every outfit you carry off'
Read more: 'You are so brave' Holly Willoughby breaks down in tears live on This Morning during harrowing domestic abuse story (opens in new tab)
Another expressed their disappointment that it wasn't part of her high street collection, adding, 'Beautiful dress - was hoping it was going to be M&S but no it is £450 !!!!'
A third suggested that the dress is 'most people's yearly clothes budget', writing, 'Another unobtainable dress for most of us. £400 for a dress is most people's yearly clothes budget not one outfit! My gosh!!'
However, some fans jumped to Holly's defence, with one writing, 'it's no ones business what she pays or doesn't for clothes. She works hard and reaps a few rewards what's not to love ❤️'.
Another pointed out that she had worn affordable clothing, noting that she'd posted about a Warehouse outfit the day before, with the top and skirt both by the high street store.
Recently, Holly Willoughby was forced to defend her relationship with husband Dan Baldwin, after a heated debate on This Morning. (opens in new tab)
This debate was around workplace romances, following news that McDonald's CEO Steve Easterbrook was fired following his relationship with an employee.
What do you think of Holly's clothing choices? Let us know your thoughts on Facebook!