'I don't want to be the queen of gritty drama' Sarah Lancashire opens up about TV choices - and perfecting that Welsh accent!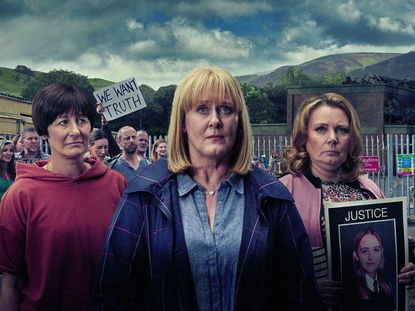 She has kept us glued to our TV screens for the past three decades, and there's no slowing Sarah Lancashire down.
As we sit down to chat with the 55-year-old actress, joined by Sandra Goldbacher, the director of her recent TV show The Accident, she tells us she's in the middle of filming Last Tango in Halifax.
But while she remains tight-lipped on the comedy-drama, she's more than happy to discuss her latest gig, The Accident, which recently aired on Channel 4.
'I feel very blessed that I receive pieces like that,' she tells us. 'It's fantastically rewarding. It was difficult to walk away from it because these experiences don't come along very often.
'You don't want to leave it behind because it will be another 10 years before one of those crops up again.'
Sarah first shot to fame in 1991 as Raquel Watts in Coronation Street. However, the role – which no doubt made her a firm favourite across the nation – isn't something she looks back on often. 'I can't even remember yesterday,' she jokes.
Over the years, the mum-of-three, who was awarded an OBE in 2017, has found critical acclaim in a number of TV dramas, including BBC thriller Happy Valley and Channel 4's Kiri. And she's confident her legion of fans won't be disappointed with The Accident.
'I haven't changed as an actor, but I've evolved probably in a sense,' she explains. 'I'm 35 years older than when I first started. I think the most fortunate thing about the position that I'm in is that I'm offered better roles than I was offered 20 years ago.'
She adds, 'I just take the best of what comes along and what resonates with me.'
Sarah was asked a few years ago what advice she would give to a young actress just starting out in the business. She responded, 'Keep your clothes on!'.
Sarah has previously spoken openly about her battle with depression. (opens in new tab) Her mental health struggles, which began when she was just 17 and carried on throughout her 20s, were seemingly only made worse by prescribed medication.
'Tranquillisers were the worst thing for it,' she revealed. 'I ended up in a terrible mess. My 20s were a write-off.' She was soon, in an unrelated instance, offered a 10-week break from Corrie and was forced to take action by her mum, Hilda. 'She literally dragged me to the doctor,' Sarah continued. 'It gave me my life back.'
Not long after leaving the soap for the first time, in 1996, the rising star split from her first husband, Gary Hargreaves. And in a bid to tackle her mental health struggles, she vowed to remain single, before meeting TV executive Peter Salmon a few years later.
Thankfully, things were finally looking up for Sarah, but the same can't be said for her troubled on-screen characters.
'I don't want to be the queen of gritty drama. I don't actively search out these roles,' she tells us. 'I do the best of what comes along. That's really how I make my choices. My choices are only made from the opportunities that come my way. As you can gather, not a lot of humour comes my way.'
So should we expect to see her in something light-hearted soon? She says, 'I don't think things should be labelled. There's a huge amount of humour in The Accident, but you don't see it in the first episode.'
The dark four-part series, in which Sarah played the wife of a local politician in the small fictional Welsh town of Glyngolau, wasn't the most plain sailing of gigs.
'You don't really switch off because there isn't time to switch off,' she explains. 'You're shooting, then you go to bed, then you get up and have to do more. There's always work to do. It's not a case of dipping in and out.'
In fact, the role took over her life entirely as she perfected the Welsh accent in just six months – much to the joy of her family at Christmas.
'It took me six months,' she says. 'Six months of Welshness. My family are used to it. That's the downside of living with an actor. You live with their work as well, so it's quite normal in my house.'
But it's clear when she's not throwing herself into a new drama series, there's plenty of time left for her loved ones.
'I haven't been busy this year, and I take a break all the time,' she says. 'Literally, I take six, seven or eight months out. I have massive down periods out at a time, and that's mainly to get on with my other job, which is being a family person.'
Glad to hear it, Sarah!
All four episodes of The Accident are now available to watch on 4 on Demand