Where is Elizabeth Holmes now and will she go to prison?
Her request for a new trial has been denied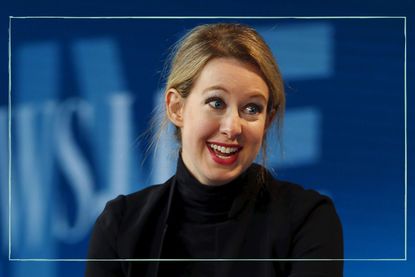 (Image credit: Alamy)
With audiences tuning into new series The DropOut - many people are wondering where is Elizabeth Holmes now and will she go to prison?
Elizabeth Holmes (opens in new tab) is the former CEO of Theranos, a blood testing company which claimed to detect diseases, including cancer, with just a few drops of blood. The company claimed to allow people to self-administer faster, inexpensive and less-intrusive blood tests. However these claims were questioned in 2015, when the Wall Street Journal revealed that Theranos' testing had huge inaccuracies. They discovered that the company was actually performing tests using traditional blood testing methods and outsourcing laboratory work.
Similar to the Anna Delvey (opens in new tab) and Ronaiah Tuiasosopo (opens in new tab) Netflix series, audiences are now learning of Elizabeth Holmes' story through several biopics - currently via the Hulu and Disney+ miniseries The Dropout featuring Amanda Seyfried as Elizabeth. And just like people have been asking is Shakira in jail (opens in new tab), many want to know the same of Elizabeth Homes and where is she now?
Where is Elizabeth Holmes now?
Elizabeth Holmes is currently residing in a nine-bedroom $135M California estate with her husband, William 'Billy' Evans, their baby son and two dogs. She is thought to have been holed up in the Green Gables Estate in Woodside since at least last March.
The 74-acre spread within the Silicon Valley town includes seven individual houses. It also boasts a Roman-themed swimming pool plus three further swimming pools, a tennis court and a private orchard. The average house in the estate costs $5million.
Holmes' neighbours include actress Michelle Pfeiffer, singer Neil Young and Larry Ellison - co-founder of tech company Oracle - who owns a $200million estate in the area. Ellison was also an investor for Theranos, who lost out on a huge sum of money.
Elizabeth was seen on a family walk in the estate in January 2022, just three days after she was found guilty of fraud, and remains there on a $500,000 bail bond while she awaits sentencing.
What was the outcome of Elizabeth Holmes' trial?
On 4 January 2022, Elizabeth Holmes was convicted on four counts of defrauding investors after an almost four month-long landmark trial in California. Holmes faced 11 charges in total and was found not guilty of four charges relating to defrauding the public. The jury failed to reach a verdict on a further three charges after deliberating for seven days.
Holmes was originally charged alongside the company's former president, Ramesh 'Sunny' Balwani in 2018 - the same year Theranos was dissolved. The two dated for a few years between 2004 and 2006, though Holmes has since alleged that Balwani abused her (opens in new tab) during the relationship.
During her trial - which started in September 2021 - multiple lab directors testified to telling Holmes about the flaws in Theranos' technology. But they claim they were instructed to downplay their concerns. They also added that Holmes told investors the technology was operating as planned.
The prosecution called 30 witnesses in a bid to prove that Holmes knew the product she was selling to investors was a sham.
Prosecutor Jeff Schenk said in his closing argument that Holmes, "Chose fraud over business failure. She chose to be dishonest with investors and patients. That choice was not only callous, it was criminal."
Holmes was found guilty of conspiracy to commit fraud against investors and three charges of wire fraud by jurors.
Will Elizabeth Holmes go to prison?
Elizabeth Holmes is currently awaiting sentencing, and faces a maximum prison sentence of 20 years - based on what judges typically sentence defendants to in similar cases.
She was originally due to be sentenced in September 2022, but the date was pushed back after the judge agreed to evaluate Holme's request for a new trial. The request came after her lawyers argued that former Theranos lab director Adam Rosendorff came to Holmes' house unannounced back in August and said he felt "guilty" for the role he played in Holmes' conviction. He added that that he felt his statements on the stand were twisted and exaggerated by prosecutors.
However, on November 8 the request for a new trial was denied, with US District Judge Edward Davila concluding that the new evidence didn't meet the legal standard for ordering a new trial. Holmes is now scheduled to be sentenced on November 18 2022.
Amanda Kramer, a former federal prosecutor who now practices as a white-collar defense lawyer, said of Holmes' upcoming sentencing, "I would be utterly shocked if she wasn't sentenced to some term of imprisonment."
She added how the judge will consider the investors' loss amount, her character and background, her efforts at rehabilitating and how the punishment could deter others from engaging in similar fraud.
What happened to Ramesh 'Sunny' Balwani?
In July 2022, Holmes' ex-boyfriend and former business partner Ramesh 'Sunny' Balwani was found guilty of all charges for his involvement in the Theranos multimillion dollar fraud scheme. This included 2 counts of conspiracy and ten counts of wire fraud.
The former Chief Operating Officer of Theranos is currently out on bail, but will return to the San Jose courtroom for his sentencing hearing on November 15, 2022. According to Business Standard, (opens in new tab) he faces a maximum prison sentence of 20 years, plus a fine of $250,000.
A jury found him guilty of commiting wire fraud against investors between 2010-2015 and additionally conspiring to commit wire fraud against investors and patients between 2013 and 2016.
Who is Elizabeth Holmes' husband and what does he do for a living?
Elizabeth Holmes is married to William 'Billy' Evans, a 29-year-old heir to the Evans Hotel Group in California. They got engaged in early 2019 and are thought to have married in a private ceremony later that year, but this has never been confirmed. The couple welcomed a baby boy in July 2021.
Billy, who met Elizabeth at a party in 2017, is thought to have grown up near San Diego, California. He's one of three children born to his parents, Susan and William L. Evans. He attended the Massachusetts Institute of Technology, where he graduated in 2015 with a bachelors degree in economics.
The Evans family has lived in the San Diego area for generations. Billy Evans' grandparents, Anne and William D. Evans founded a hotel management group in 1953 called Evans Hotels. The group manages several resorts in the area, including the Catamaran Resort Hotel and Spa, The Lodge at Torrey Pines, and the Bahia Resort Hotel.
Billy is a direct heir to the Evans hotel chain. His career over the years has included positions at several financial and consulting companies.
How much was Theranos worth?
Elizabeth Holmes founded Theranos in 2003 at the age of 19 and managed to raise $945 million from investors. At one point the company was valued at $9 billion (£6.5 million). Holmes was even dubbed "The world's youngest self-made female billionaire" by Forbes magazine.
Investors included billionaires such as Rupert Murdoch. Plus the Walton family of Walmart fame, who also lost out on huge sums of money. On its board of directors sat two ex-Secretary of States, Henry Kissinger and George Schultz. This is in addition to former director of the Centers for Disease Control and Prevention (opens in new tab), William Foege.
The Securities and Exchange Commission (opens in new tab) charged Holmes with "massive fraud" in 2018. She was accused of taking more than $700 million from investors. The same year, she was arrested on criminal charges of wire fraud and conspiracy to commit wire fraud.
Where to watch The Dropout:
You can learn more of Elizabeth Holmes' story and the start and end of her company Theranos in new drama The Dropout on Disney+ in the UK and Hulu in the US. There are 8 episodes in total, with a new episode released each week on the streaming platform.
The show is based on the popular The Dropout podcast (opens in new tab) hosted by Rebecca Jarvis for ABC News. The audio series has 28 episodes for listeners to enjoy, including new 2022 follow-up episodes that cover Elizabeth's trial.
Amanda Seyfriend stars as Elizabeth in the TV adaptation. And it seems the Mamma Mia actress enjoyed the challenged of playing a real-life character:
"Being able to absorb the footage and mimic somebody and try to embody somebody that actually... there's a template out there, is very exciting," she told Good Morning America. "I hate to say that because it's a real person with real consequences and a real life – and I wish her well – I just, as an actor, very specifically, it was thrilling."
The 36-year-old has received critical praise for her role as Holmes, and in September won the Emmy Award for Outstanding Lead Actress In A Limited Or Anthology Series Or Movie.
Viewers have been particularly captivated by how she recreated Elizabeth's famous deep voice. Amanda told ELLE magazine that she practised solidly "until it became muscle memory".
"And then, when I got the accent, when the accent started to feel comfortable, we would work on the depth a little bit, but the depth would be in the moment," she added. "It wasn't like I trained my voice to go lower. I just know how low I can go. And with projection, with the accent, and with deepening it and breathing a certain way, it all coincides on a good day."
Amanda added that it was the "Elizabeth 2.0 look" rather than the voice that wowed the cast and crew the most. Reinvented in Holmes uniform of a black turtleneck, red lip, and hair pulled back, she said: "That was the thing that turned heads."
Video of the Week:
Entertainment writer - contributor
Robyn is a freelance celebrity journalist with ten years experience in the industry. While studying for a degree in Media and Cultural Studies at London College of Communication, she did internships at Now and Heat magazines. After graduating, she landed a job at Star magazine, where she worked her way up to features editor. She then worked at Future as Deputy Celebrity Content Director across Woman, Woman's Own, Woman's Weekly and Woman & Home magazines.