Is Grease: Rise of The Pink Ladies a prequel? Everything you need to know about the Paramount+ comedy drama
The new Grease spinoff is set to tackle some difficult themes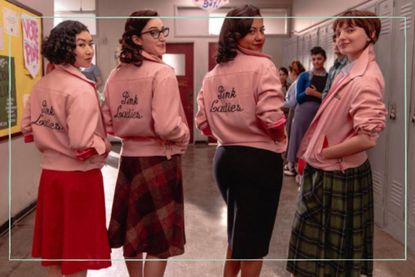 (Image credit: Paramount+/Future)
Grease is the word, is the word that you heard, it's got groove it's got meaning! The Pink Ladies are back, with a show of their very own, and we are here for it.
The 1978 Grease movie remains an iconic and enduring story beloved by millions, that will continue to incite future generations to fall in love with it also. Who didn't wander the halls of their school quoting "A hickey from Kenickie is like a Hallmark card, when you care enough to send the very best"? From Sandy and Danny's love story, to Rizzo's possible pregnancy, to the unforgettable musical numbers, the movie packed a lot in. Now, the Pink Ladies are back, with their very own series. Expect a lot more than coiffed hair, swing skirts and one-liners, as Grease: Rise of The Pink Ladies is set to tackle some very difficult themes. Will the "rise" follow the pastel jacketed crew before or after events of the 1978 movie? Read on to find out.
Another franchise to see many iterations, spawned the recent smash hit Netflix series, Wednesday. The Wednesday ending left fans desperately asking when is Wednesday season 2 coming out? Critics and fans both agreed that Wednesday filmed in the most perfect locations to offset the incredible acting and storylines.
Is Grease: Rise of The Pink Ladies a prequel?
Yes, Grease: Rise of The Pink Ladies is a prequel to the 1978 movie, set four years prior to the events of Grease.
But don't expect to see early versions of Rizzo, Jan, Marty and Frenchy, as Rise of The Pink Ladies follows an entirely different crew of Pink Jacket donning girls who were the forebears to the ones viewers are familiar with. The series will follow four Rydell High outcasts forging a friendship and deciding on a name for their closed gang, before the baton was passed to Rizzo and the crew.
Speaking to the New York Times, showrunner and creator Annabel Oakes said of the show "I know a lot of people who get so much joy from Marvel and Star Wars and all the iterations of those universes. I have always been a little jealous of that. So when Grease came as an opportunity to me, I realized that Rydell High is a universe I wanted to spend a long time living in and exploring."
A huge fan of the original movie, Oakes jumped at the opportunity when Paramount put out a call for pitches set in the world of the movie - particularly ones incorporating modern themes into vintage stories. Inspired by the sleepover scenes in the original film, and the subsequent iterations of the Pink Ladies in Grease 2, Oakes really wanted to investigate the girls' origin story. She said "This aligned with what Paramount was really looking for, which was: How can we tell the stories that you couldn't have told in 1978?"
What year is Rise of The Pink Ladies set?
Grease: Rise of The Pink Ladies is set in 1954, with the original film being set in 1958.
The 1978 movie was based on an early 70s stage musical of the same name, with both looking at the 50s through a 70s lens. Similarly, Grease 2 took a look at the early 60s through an 80s eye, and Annabel Oakes wanted to take another look at the 50s with Rise of The Pink Ladies, with 2023 very much in mind.
Tackling themes such as sexuality, gender division, racism and stereotyping, Oakes told the New York Times "We want to talk to 2023 and we want to talk to 1954 and we want to talk to 1978. And we want to do all that in the music, in the scripts, with the characters. We're in conversation with all three of those time periods."
How many episodes of Rise of The Pink Ladies are there?
There are 10 episodes of Grease: Rise of The Pink Ladies. There have been 30 original songs created for the 10-episode run, penned by music producer and GRAMMY nominated Justin Tranter.
Speaking to Comicbook, Tranter shared their thoughts on the tough job of creating the musical numbers. They said "Now I am definitely a Grease fan. And I come from pop music, and I felt I really had a right to be here because Olivia Newton-John brought in her main pop songwriter to write half of the songs in Grease. So I felt for me to take on my first musical undertaking, this is the perfect one to do it because there were pop writers deep in the first one, so I felt like I'm allowed to be here."
Choreographer Jamal Sims also spoke about his favourite song to provide dance numbers to. He said "Oh, gosh. It's really hard, honestly. Every song had its challenges, and every song I love so much. One of the ones in the club was one of my favorites because actually the story behind it and what we were doing. The contrast between what the song was about, these really terrible people, and then how we presented the dance in it was totally different, so that was really fun. I actually want to say that that was probably one of my favorites."
Grease: Rise of The Pink Ladies cast
Marisa Davila (Super Gian Robot Brother, I Am Not Okay With This) as Jane Facciano
Cheyenne Isabel Wells (The Late Late Show With James Corden) as Olivia Valdovinos
Ari Notartomaso (Paranormal Activity: Next of Kin) as Cynthia Zdunowski
Tricia Fukuhara (Queenpins) as Nancy Nakagawa
Shanel Bailey (The Equalizer) as Hazel
Madison Thompson (Ozark, American Housewife) as Susan
Johnathan Nieves (Better Call Saul, Grey's Anatomy) as Richie Valdovinos
Jason Schmidt as Buddy
Maxwell Whittington-Cooper (When They See Us, Mrs. Fletcher) as Wally
Jackie Hoffman (The Politician, Only Murders In The Building) as Asst. Principal McGee
Chris McNally (Supernatural, Falling Skies) as Mr. Daniels
Charlotte Kavanagh (The Right One, The Twilight Zone) as Rosemary
Josette Halpert (The Other Kingdom, Level 16) as Dot
Nicholas McDonough (Pretty Little Liars: Original Sin) as Gil
Alexis Sides as Potato
Niamh Wilson (Derassi: The Next Generation, Hemlock Grove) as Lydia
Marisa Davila who plays Jane in the series, shared a series of pictures to her Instagram page from the Grease: Rise of The Pink Ladies premiere. The actress captioned the snaps "Just a girl living out her dreams. Permanent resident of cloud 9. Los Angeles SHOWED UP to this pink party and I haven't been able to fully process any of it. Our show got a standing ovation, y'all! The Grease energy was off the charts and a great way to kick off our world premiere coming in 2 days!
She added "My favorite part was having the cast and creators all together again 8 months later to celebrate all of our hard work. Happy to have my family by my side throughout the journey from the very beginning. Couldn't be more proud of my fellow Pinks. Our show was made with so much love, sweat & care and it will soon be yours to enjoy."
Related Paramount+ Features:
Video of the Week
Lucy is a multi-award nominated writer and blogger with six years' experience writing about entertainment, parenting and family life. Lucy has contributed content to PopSugar and moms.com. In the last three years, she has transformed her passion for streaming countless hours of television into specialising in entertainment writing. There is now nothing she loves more than watching the best shows on television and telling you why you should watch them.