1923 season 2: Release date speculation and everything we know so far about the Western drama
That second season can't arrive soon enough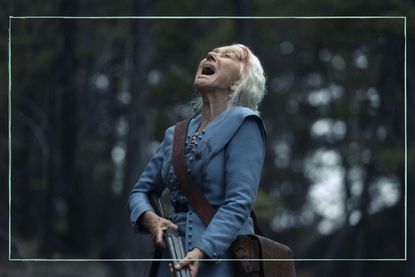 (Image credit: Paramount+/FlixPix/Alamy/Future)
The first season of 1923 came to a close, and fans immediately had the same question - when can we expect season 2?
1923 premiered on December 18, 2022, as a prequel to Paramount+ series Yellowstone. Not only a prequel, it sits within the popular Yellowstone universe as a sequel to the series 1883. Following a generation of the Dutton family in 1923, the hardships of Helen Mirren's Cara and Harrison Ford's Jacob Dutton, include Prohibition, and the onset of the Great Depression. Both prequels are narrated by Isabel May - Elsa in the 1883 series, and daughter of James and Margaret Dutton. She is the only cast member to feature in the main cast of both prequel shows. With the spinoff coming to a spectacular close on February 26, we answer everything fans need to know about 1923 season 2.
Intriguing documentary Con Girl recently aired on Paramount+, causing viewers to ask where is Samantha Azzopardi now (opens in new tab)? The young woman spun a web of lies and identity fraud, culminating in charges of child theft. The Ex-Wife (opens in new tab) is a popular drama showing on the streamer - Jen has the perfect life, so why won't her husband's ex-wife just leave her alone? The Flatshare is also an excellent and highly bingeable series, with brilliant chemistry between the two leads. To find out what it's about (opens in new tab) (with no spoilers!) we have the full lowdown.
Will there be a season 2 of 1923?
Yes, there will be a season 2 of 1923, the announcement of the second instalment was made in February, 2023.
In an interview with The Hollywood Reporter (opens in new tab), Harrison Ford appeared to hint at his return for the second season. He said "Shrinking came along, and then, very quickly after that, 1923 came along. I took the job without a script on both of them, on faith that the people who created the projects were going to deliver me a good script. I really didn't realize how much work 1923 was going to be, and I absolutely feel it's worth it. I'm excited to do another season of both."
Helen Mirren also spoke to the publication about her involvement with the show. She said "It was a step into the unknown - off a diving board, into the water, without knowing what you're going to hit on the way down. And then the scripts arrived and we went, 'Oh, wow. Great start.' I was thrilled with the start of the whole thing."
The iconic actress also had strong opinions on exploring family dynamics through the perspective of all ages and generations. She continued to add "The Japanese are very good at remembering their ancestors and giving their ancestors credit. We tend to forget. Of course, we remember our grandparents, but that's about as far as it goes. When actually, we are all here because of a line of people who procreated and led us to this point. And when you think of the change between 1900 to 2000, it's so enormous. I think it's so great to investigate history through the eyes of a family."
1923 season 2 potential release date
There is currently no confirmed release date for season 2 of 1923. However, filming will reportedly (opens in new tab) begin this spring - season 1 began filming in the summer of 2022, and was ready for a December premiere. Should season 2 follow a similar timeline, it should also be ready to stream by late 2023, or early 2024.
Deadline (opens in new tab) previously reported that 1923 would only consist of two seasons, comprising eight episodes, and it's story arc would be complete. Therefore, a season 3 of the Western shouldn't be expected. Creator Taylor Sheridan said that viewers should view the episodes of season 2 as "really the second half of the season." He also spoke about why he chose to bring 1920's history to prominence, adding "It's incredibly decadent, desperate. There were all these pockets in America that were experiencing a famine and depression that would ultimately culminate in the dust bowl later and all these things that altered the landscape of America."
Harrison Ford spoke to The Hollywood Reporter about getting into character and playing Jacob. He described being glad about a lack of time to reach out to his onscreen family members to discuss the Dutton family dynamics, saying "I admire what Kevin [Costner] and Yellowstone group are doing. I admire what I saw of 1883. I didn't want to have other peoples' information. I wanted to have my own experience with Taylor. Taylor Sheridan is an extraordinary writer and has an extraordinary imagination. A wealth of information to ground this in reality. The way he explores characters is very intriguing and interesting to me, so I really wanted to work with him."
What happens in the 1923 season 1 finale?
The 1923 season 1 finale ends with Teonna and Pete on the run, the Dutton's financial problems worsening, and Elizabeth and Jack losing their baby.
The episode begins with the man who accidentally killed Teonna's grandmother, investigating the boarding school crime. With three priests missing, the sheriff asks Renaud to assist in the hunt for Teonna. She is found by her father, who has labelled the missing - now dead priests as child killers with their own blood. Along with Pete Plenty Clouds, Teonna and her father make their escape. When Renaud later discovers the bodies of the priests, he assumes Teonna will head to the Comanche reservation in Wyoming, and sets off after her.
In Montana, Jacob Dutton and his men arrive at court to see Banner Creighton get sent down, but Donald Whitfield's lawyer manages to get all charges against him dropped, on a technicality. Whitfield and Banner plot against the Duttons - Banner wants them dead, but Whitfield encourages him to damage their reputation instead. Meanwhile, Jacob heads to the bank with Jack and Zane. Zane leaves Jacob and Jack, to spend some time with his family while he's in town. When he leaves, the inside agent within the Livestock Agents sees Zane has left Jacob unguarded.
The following morning, Zane's wife Alice is arrested for marrying a white man - this is against the law in Montana. The officers beat Zane, and take Alice away. Viewers catch up with Jack returning to the ranch, to find Elizabeth in the bath complaining of stomach pain. With the tub filled with blood, a doctor confirms Elizabeth has lost the baby. She is heartbroken, wondering what her purpose in life is, should she have no children.
A central storyline also focuses on Alex and Spencer trying to make it back to Montana. They prepare to leave Italy, boarding the Majestic, with Spencer out to fulfil Cara's wish for him to return to Montana and join the family fight to save the Yellowstone Ranch from Whitfield. After Whitfield assisted Banner Creighton in evading court, he then paid the Dutton's outstanding property tax bill, with the pre-requisite that if they don't pay him back by the end of the year, the deed for their mansion becomes his. Cara pleads with him to reconsider this, but he point blank refuses.
During Spencer and Alex's journey, they come across Alex's ex-fiance Arthur on the ship. Arthur and Spencer have a scuffle, ending with Arthur challenging Spencer to a duel. This ends with Arthur being thrown overboard, and Spencer removed from the ship - and being separated from Alex. Spencer also makes the discovery that his wife is also the Countess of Sussex on the journey. As Spencer is removed from the ship in a dinghy, Alex shouts declarations of love to him, screaming that she will meet him in Bozeman, Montana.,
Back at the ranch, Cara is getting desperate for Spencer's return, penning a new latter asking him to be hasty. Writing that if he doesn't return quickly "there will be nothing left to fight for," she eventually screws up the letter while looking out across the Dutton land. The episode concludes with viewers unaware if Spencer makes it to Montana or is reunited with Alex, and if the Dutton's will lose everything to Whitfield.
1923: Reviews
The response to 1923 has been largely positive, with the show currently holding a 90% critic score and 71% audience score, on Rotten Tomatoes.
Michael Idato from the Sydney Morning Herald (opens in new tab) said "1923 is brilliant. Taylor Sheridan's writing is so taut it feels like the tension could snap at any moment, and Ben Richardson's crisp and economic direction suits the weary, almost sullen mood. The premiere episode succeeds because of its small notes, even if the double-whammy A-list casting of Mirren and Ford will intentionally distract most people."
Tom Gilatto from People (opens in new tab), added "The rare western that might earn the approval of The Devil Wears Prada's Miranda Priestly, 1923 should engross Yellowstone fans too. Mirren and Harrison Ford are well matched as the new Dutton power players, Cara and Jacob. She's crisply dutiful, resourceful but appealing, while he often has the expression of a man whose egg order keeps coming out wrong."
However, in response to a season 2 renewal post from the official 1923 Instagram account, one audience member scathingly wrote "Awful show. What a waste of time. Poor acting (except for Ford and Mirren), daytime soap opera dialogue, really slow moving, gratuitous violence and sex that does not move the plot along, and overall very poor writing. Taylor Sheridan, it's time to give it up."
In agreement, a Rotten Tomatoes (opens in new tab) audience member wrote "Probably the slowest series I've ever watched. It had none of the things that make Yellowstone and 1883 so great. At this rate. It will take 5 seasons to get to any type of conclusion. The ending was terrible. I think Taylor has just been stretched too thin. I certainly hope Yellowstone doesn't start sucking this bad."
Related historical drama features:
Video of the Week
Lucy is a multi-award nominated writer and blogger with six years' experience writing about entertainment, parenting and family life. Lucy has contributed content to PopSugar and moms.com. In the last three years, she has transformed her passion for streaming countless hours of television into specialising in entertainment writing. There is now nothing she loves more than watching the best shows on television and telling you why you should watch them.