When is Wednesday season 2 coming out? Release date speculation of the Netflix dark comedy
Everything is right in the world, as Wednesday has been renewed!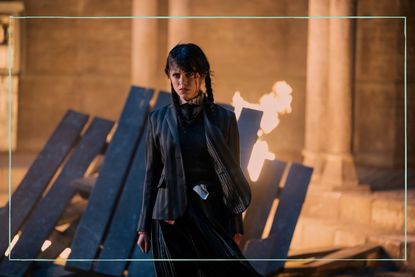 (Image credit: Vlad Cioplea/Netflix/Future)
Ramp up The Cramps' Goo Goo Muck to top volume, and bring your best Wednesday Addams dance moves - season 2 is on the way! Let's look at when that release date might be here...
Fans of Wednesday have been waiting with baited breath for a renewal date for Tim Burton's Addams Family spin-off (opens in new tab), especially as Netflix are prone to culling series with abandon. It would have been a huge shock if they had put the show on the chopping block, especially as the audience reaction to it has been immense, and it's been one of their top performing shows of all time - in less than a month of its release date, it was the second-most watched English-language Netflix series the streamer had seen in history. Now a collective sigh of relief has made its way around the world, with news that sharp talking, unblinking, hug hating protagonist Wednesday Addams will be back for a second outing. Read on for all the speculation surrounding the potential season 2 release date, and everything else we thought you should know.
We all know who plays the lead character in the show, but we have everything you need to know about Wednesday Addams actress, Jenna Ortega (opens in new tab). Some striking locations featured in the series, and Wednesday filmed (opens in new tab) in one of Europe's most Gothic cities - we breakdown exactly where, and if the sites can be visited. For a recap of series 1 before season 2 arrives, our Wednesday ending explained (opens in new tab) answers any questions left over from the season finale.
When is Wednesday season 2 coming out?
Current speculation puts the potential release date of Wednesday season 2 at mid 2024. Filming for season 1 took eight months on location in Romania, and a similar production timeline allowing for filming and post-production edits, places a second season at approximately 12-14 months in the making.
Netflix shared news of the renewal to their Twitter account on January 6, with a video, captioned with "Wednesday has been officially renewed for Season 2!" The start of the video depicts images of Wednesday from the series, with a voiceover from Jenna Ortega saying "over the past few weeks I've been hunted, haunted, and mimicked millions of times across the internet. It's been pure torture. Thank you." The video then cuts to a montage of action from the series, and clips of the epic fan reaction to the series around the world.
Wednesday has been officially renewed for Season 2! pic.twitter.com/ekqlxP9ueWJanuary 6, 2023
See more
Speaking to Netflix Tudum (opens in new tab), season 1 co-showrunners Miles Millar and Alfred Gough spoke of their excitement for season 2. They said "We can't wait to dive headfirst into another season and explore the kooky, spooky world of Nevermore. We just need to make sure Wednesday hasn't emptied the pool first."
They added "It's been incredible to create a show that's connected with people across the world. We're thrilled to continue Wednesday's torturous journey into Season 2." Weighing in on the creepy texts Wednesday received in the closing moments of the show, Millar said "[The stalker proves] that threats remain out there… to both Wednesday and the school. Not all not loose ends have been tied up neatly as she thinks they have."
Is Wednesday moving to Prime Video for season 2?
There were rumours that Wednesday could move to Prime Video, but these appear to have been debunked.
The Independent (opens in new tab) began the speculation by pointing out that the series is a Metro-Goldwyn-Mayer (MGM) product. They argued that with Amazon and MGM closing a £7.06bn merger last year, Amazon could claim the rights to Wednesday. While fans of the show jumped on this piece of information in a panic, IndieWire (opens in new tab) calmly stepped in to dispel the rumours and let fans get on with being excited about an impeding season season.
They reported that an insider close to the series told them a Wednesday deal between Netflix and MGM was airtight long before Amazon purchased MGM. The speculation states that the contract between Prime and MGM never gave Amazon exclusive rights to MGM content, meaning Wednesday can stay firmly where it is. Also, with the show being such a smash hit for the streamer, Netflix appear unlikely to hand over what must be a massive money spinner without a fight.
Wednesday season 2: Cast
Although a season 2 cast is yet to be confirmed, speculation is rife that most original cast members are set to return.
Rowan, Mayor Walker, Valerie Kinbott, and Principal Weems all died and are therefore not expected to return - however in the world of Wednesday, anything could happen. After being caught as the Hyde puppeteer, Christina Ricci may not return as Marilyn, and as the Hyde himself, Tyler (Hunter Doohan) probably won't return either. With none of this set in stone, fans will have to wait and see. However, you may find the following cast in season 2:
Jenna Ortega (Jane The Virgin, You) as Wednesday Addams
Catherine Zeta-Jones (Chicago, Ocean's 12) as Morticia Addams
Luis Guzmán (Narcos, Code Black) as Gomez Addams
Isaac Ordonez (A Wrinkle in Time) as Pugsley Addams
Victor Dorobantu as Thing
George Burcea (The Outtake, Comrade Detective) as Lurch
Fred Armisen (Portlandia, Saturday Night Live) as Uncle Fester
Emma Myers (The Glades, The Baker and The Beauty) as Enid Sinclair
Percy Hynes White (Between, The Gifted) as Xavier Thorpe
Joy Sunday (Dear White People, Bad Hair) as Bianca Barclay, a siren
Georgie Farmer (Evermoor, Treadstone) as Ajax Petropolus
Naomi J. Ogawa (Skylines, Assassin) as Yoko Tanaka, a vampire
Moosa Mostafa (The Last Bus, Nativity Rocks) as Eugene Otinger
Jamie McShane (Southland, Bloodline) as Sheriff Donovan Galpin
In an interview with Entertainment Tonight (opens in new tab), Jenna Ortega spoke about her hopes for her character in season 2. She said "I kind of want her to be darker. I want her to get more in the nitty-gritty of things and not play things so safe, because there are a lot of lines about her saving the school and doing whatever, but for me, her main drive with the monster is of a competitiveness. Kind of, 'Man, how's this guy doing this?'" She concluded by adding, "I think I want it to continue down an antihero stream rather than a typical hero."
Gwendoline Christie also spoke to Digital Spy (opens in new tab) about the possibility of her character returning. She said "We haven't seen her put in the ground, have we? I feel like Larissa Weems would not really be prepared to entertain or be dominated by anything as commonplace as death." Let's hope the iconic Principal isn't just stringing us along, and the writers really do find a way to bring her back from the dead.
Wednesday season 2 renewal: Cast and fan reaction
Jenna Ortega appears overwhelmed by the reaction to Wednesday.
When the news broke the show had been renewed, she shared the Netflix renewal video with the caption "Thanks to everyone who made this upcoming season possible. This has all been pretty surreal." She previously shared a picture of the premiere to her Instagram page, saying "Don't even know if there's right words. Thanks to everyone for watching."
Thanks to everyone who made this upcoming season possible. This has all been pretty surreal https://t.co/cIeJLr9qwhJanuary 6, 2023
See more
Catherine Zeta-Jones was also quick to share the video, along with the caption "So there you have it!!!! The best news! I mean the bestest best news. WEDNESDAY!!!!!! P.S. Wednesday nearly smiled…it's that good."
A fan replied to the news shared by Ortega, saying "I am so glad there's a season 2. I loved the Addams family when I was a kid. I normally don't watch stuff like this but you are just excellent and so is the series I think you're a wonderful actress keep up the great work, all the best to you."
I am so glad there's a season 2. I loved the Adams family when I was a kid. I normally don't watch stuff like this but you are just excellent and so is the series I think you're a wonderful actress keep up the great work all the best to youJanuary 11, 2023
See more
Another fan added "It's such an awesome show. All of you, from acting to costume, directing, and writing, have done an amazing creation. Christina Ricci brought Wednesday in a child/ pre-teen to life. You brought Wednesday to a new level of teen that is mind blowing, they complimented each other."
Related Netflix Features:
Video of the Week
Lucy is a multi-award nominated writer and blogger with six years' experience writing about entertainment, parenting and family life. Lucy has contributed content to PopSugar and moms.com. In the last three years, she has transformed her passion for streaming countless hours of television into specialising in entertainment writing. There is now nothing she loves more than watching the best shows on television and telling you why you should watch them.