Is Ranvir Singh pregnant and who is her boyfriend?
All about the GMB star's family life.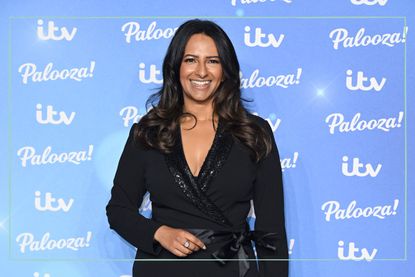 (Image credit: Future/Getty)
Is Ranvir Singh pregnant? We put an end to the rumours and give you everything you need to know about the Good Morning Britain star's personal life.
We're used to seeing her on our telly screens bright and early in the mornings - be that in her capacity as Political Editor or co-news presenter on Good Morning Britain. Though in 2020, audiences saw a somewhat different side to Ranvir as she waltzed her way around the Strictly Come Dancing dancefloor (opens in new tab) with professional Giovanni Pernice.
Cheery, friendly and relatable, it's safe to say Ranvir has fast established herself as an important figure in the ITV family and one that's popular with fans. So it's not exactly surprising that some wish to know more about her personal life. Happy in a new relationship with someone she met on Strictly (opens in new tab), many have speculated of late whether Ranvir Singh is pregnant? We've shared what we know of the rumours, plus details of her boyfriend and current children count.
Is Ranvir Singh pregnant?
No, as it currently stands, Ranvir Singh is not pregnant. The 45-year-old has shared no public pregnancy announcements with fans in 2023.
Ranvir first joined Good Morning Britain in May 2014 as a features correspondent and news presenter. She was then promoted to Political Editor in January 2017 and has been a regular on screens ever since. Her sunny disposition coupled with her ability to not shy away from the difficult questions has definitely made her a favourite with viewers.
The joys of live TV eh Ranvir? 😆 #Lorraine #TheTraitors pic.twitter.com/TmZKDsvLq5December 22, 2022
See more
ITV viewers have also seen Ranvir pop up in other programmes other than Good Morning Britain in late 2022. Over the Christmas break, she filled in for Lorraine Kelly on her Lorraine morning show. Ranvir also fronted the Ghislaine Maxwell ITV documentary and hosted new quiz show Riddiculous.
Who is Ranvir Singh's boyfriend?
Ranvir Singh met boyfriend Louis Church whilst appearing on Strictly Come Dancing in 2020. Louis, a production secretary on the show, is 27-years-old - meaning there's an age difference of 18 years betweeen them.
The difference in age doesn't seem to bother Ranvir though, who told The Sun's Fabulous magazine (opens in new tab): "We don't ever joke about the age difference. Actually, age is no guarantee of someone being wonderful to you. There are complete gits who are exactly the same age as you.
"You can find a 50-year-old man who will have no idea about how to be a good partner," she added. "So being 27 is not reflective of that."
She's described Louis as a "calm person" who has a "really lovely energy". Louis has also met the other man in Ranvir's life - son Tushaan - and the two certainly seem to get along well. The three were all smiles at the Royal Ascot races in July 2022 and for Christmas 2022, the three of them jetted off for a festive break in the snowy Scottish Highlands (opens in new tab).
Louis also has production credits for Channel 4 shows First Dates Hotel and Come Dine With Me. His dad is notably Lucas Church who was once CEO of production company Endemol UK which produces shows like Big Brother and Pointless.
Does Ranvir Singh have children?
Yes, Ranvir is mum to 10-year-old son Tushaan. Ranvir welcomed her only child whilst married to journalist Ranjeet Singh Dehal - though the two later split in 2020.
The mum-of-one likes to keep her son out of the public eye and rarely shares photos of him online. However in February 2022, she posted a sweet series of snaps on her Instagram which showed a young Tushaan checking out the Good Morning Britain studios with her fellow co-workers.
"When this pops up on your phone, and you realise you've been working with the same people for nearly a decade ❤️📺," read the caption.
In the past, Ranvir has been open about experiencing mum guilt and prioritising quality time with her son whilst working long hours.
"It's hard work being a working single parent," she told Woman and Home (opens in new tab)magazine in a 2020 interview. "I struggle with an enormous amount of guilt with my son and not being there when he goes to school. We're very attached to one another because it's just me and him.
"I do get quite tearful sometimes and I worry he's going to hate me when he grows up because I was never there."
In one emotional moment on Good Morning Britain in 2021 - following the England men's football team defeat at the Euros - Ranvir was brought to tears as she recalled racist abuse (opens in new tab) her son has suffered at a young age.
The conversation was prompted, after footballer Marcus Rashford spoke out against racial abuse that had been aimed at the England players who missed penalties in the Euro final.
"The thing is that goes to the heart of what we want for our children," said the teary mum. "My son going to school, he's talked about racism that he's faced, he's going to be nine…You think about it all the time and you're privileged if you don't have to think about it. The only time you think about it is when one of your heroes is suffering. That's the thing about privilege."
It seems that son Tushaan isn't the only young family member Ranvir has to worry about at home though, with lockdown seeing a new addition welcomed.
"We have a dog now, too!" Ranvir told Prima (opens in new tab) in December 2020. "We got him in lockdown; he's a little cockapoo called Shmizzels. He's so cute and needy, the poor little thing. I love him and I can't imagine life without him now."
Video of the Week
Emily Stedman is the Features Editor for GoodTo covering all things TV, entertainment, royal, lifestyle, health and wellbeing. Boasting an encyclopaedic knowledge on all things TV, celebrity and royals, career highlights include working at HELLO! Magazine and as a royal researcher to Diana biographer Andrew Morton on his book Meghan: A Hollywood Princess. In her spare time, Emily can be found eating her way around London, swimming at her local Lido or curled up on the sofa binging the next best Netflix show.