Painkiller ending explained: What happened to Purdue Pharma?
We share what happened to the characters at the end of the Netflix show and explain the Painkiller ending...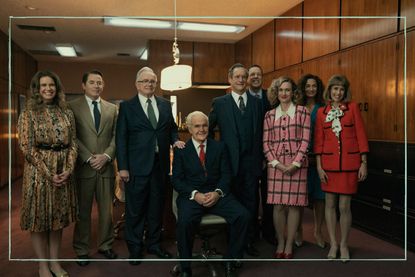 (Image credit: Netflix)
Goodto Newsletter
Parenting advice, hot topics, best buys and family finance tips delivered straight to your inbox.
Thank you for signing up to GoodTo. You will receive a verification email shortly.
There was a problem. Please refresh the page and try again.
The fictionalised retelling about pharmaceutical company Purdue Pharma has shot to the top of Netflix's most-watched list, and viewers now want the Painkiller ending explained.
Painkiller is a harrowing account of the events contributing to the opioid crisis in America, following those whose lives were altered by the drug OxyContin. The show focuses on both the perpetrators - such as developer Purdu Pharma and its president Richard Sackler - as well as the victims, some of whom lost their lives to the drug.
Viewers have been hooked on the drama since it first landed on Netflix, with many wanting to know if Painkiller is a true story and what happened to Richard Sackler, as well as details of the Painkiller cast. And as TV fans race through the six episodes in the limited series, many now want the Painkiller ending explained too...
Painkiller ending explained
At the end of Painkiller, Purdue Pharma is forced to file for bankruptcy due to multiple lawsuits against the company. In addition, three top Purdue executives: Friedman, Udell and Goldenheim, agreed to plead guilty to one count each of misdemeanour misbranding.
When the trial at the end of the series is set to begin, the judge announces Purdue has settled out of court, after their lawyer, Rudy Giuliani, reached a deal with US attorney John Brownlee to avoid a bar on Purdue doing business with the federal government.
The episode ends with a time jump to 2019, when it is revealed in the credits that Purdue Pharma filed for bankruptcy after multi-state lawsuits, and that as part of a proposed settlement the Sackler family agreed to pay $6 billion.
What happened to Richard Sackler?
Richard Sackler managed to avoid criminal charges, but the family business is ruined and he has to deal with the consequences.
When Sackler returns home at the end of Painkiller, a vision of his uncle, Arthur Sackler, appears to him as he has been doing throughout the series. He attacks Richard for bringing shame on the Sackler family name, sarcastically telling him "well done for ruining the family's business".
Arthur leaves Richard bloody and injured, but then the camera cuts back to real life, showing Richard Sackler sat in his chair with no injuries.
What happened to Purdue Pharma?
In court, Purdue Pharma reaches a settlement. The judge says that the company have agreed to "plead guilty to one count of fraudulently misbranding OxyContin".
However, as part of the settlement the company weren't required to stop production and they could keep making OxyContin - and the drug is still on the market today, albeit with stricter regulations.
The finale also references the real-life case that Painkiller is based on, saying, "Purdue Pharma filed for bankruptcy in 2019 as a direct result of the multi-state lawsuits". It also states that the Sacklers agreed to pay a settlement of $6 billion and have had to forfeit ownership of Purdue Pharma.
As of March 2023, final approval for Purdue Pharma's bankruptcy is still pending, and no member of the Sackler family has ever been criminally charged in connection with the marketing of OxyContin or any overdose deaths involving it.
What happened to Glen Kryger?
Glen Kryger dies at the end of Painkiller. He dies from an overdose of OxyContin, despite managing to stay 30 days sober beforehand.
Glen had become dependent on OxyContin after suffering an accident at work, and his addiction had put a strain of his relationship with his wife and children. But by the final episodes, Glen had gone back to work and was living temporarily in a motel.
However, after his neighbours keep him up all night with partying, Glen comes across a bag of OxyContin. Painkiller then cuts to the next morning, when Glen calls his wife, Lily, to ask her what she wants him to pick up for dinner that night - but he looks unwell. After he hangs up, the viewer sees that there are lines of crushed OxyContin prepared on his bedside table.
Later, Glen takes another OxyContin pill in his car, which proves to be fatal. A passerby tries shaking him through the open window and another man tries to wake Glen, but he's already dead. The police radio states that it's a suspected overdose.
What happened to Edie Flowers?
After trying to bring Purdue Pharma down for so long, Edie doesn't get the justice she hoped for because the company reaches a settlement, so she decides to quit her job. She says that she is "done playing the game".
Angry at the outcome of the court case, she also says, "And that's how the f**king game's played. Half a million people die and guys like Richard Sackler make a phone call in the middle of the night and absolutely nothing changes."
Also at the end of Painkiller, Edie reads the letters from her brother Shawn, who was in prison for dealing drugs. Though the viewer isn't shown the full content of the letters, when Edie next visits him in prison she apologises, saying, "I thought you were bad – turned out I didn't know what bad was. I know now."
In the final shot, Edie is seen returning home where she's greeted by her brother, who has since been released from prison.
What happened to Shannon Schaeffer?
Purdue Pharma sales team member Shannon agrees to help Edie bring down Purdue Pharma, after becoming disillusioned with the company.
Following a big night out, she learns that many of her colleagues take OxyContin themselves as a party drug - despite claiming that it's not addictive.
After this realisation she apologises to Edie, and hands over an envelope filled with emails, call notes and other information that can be used against Purdue Pharma. She also agrees to be interviewed by Edie, giving an insight into the company culture.
What does the smoke detector mean in Painkiller?
The smoke alarm goes off in Painkiller during times of crisis, or when Richard Sackler is struggling with his conscience, as a warning to put a stop to the mass sales of OxyContin and the damage it has done.
The opening of Painkiller shows Richard being woken up by the alarm, which the audience then learns is a flash forward to the first day of his deposition over Purdue and the opioid crisis.
At the end of the series, after his final vision of Arthur, Richard makes his way upstairs, and the smoke detector can be heard going off once again. The show then fades to a shot of the Sackler name with the S burned and smoking, and the letters then crumble away.
If you're a fan of Painkiller, you might also want to know where to watch Dopesick, which is based on the same story. Plus, we've weighed in on the Dopesick vs Painkiller debate.