Is Pain Hustlers based on a true story? The inspiration behind the Netflix film starring Emily Blunt and Chris Evans
The new Netflix drama tells a familiar story about a pharmaceutical company in the midst of America's opioid crisis - but is it true? We delve into the details...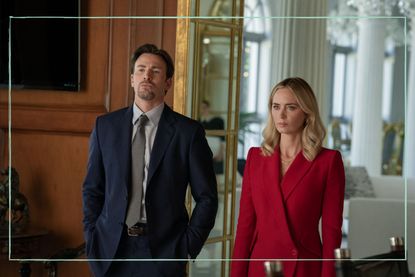 (Image credit: Netflix)
Yet another drama about America's opioid crisis has landed on the small screen, and it's left viewers wanting to know if Pain Hustlers is a true story.
Directed by BAFTA award-winning filmmaker and Harry Potter director David Yates, Pain Hustlers stars Emily Blunt as Liza, a broke single mother whose fortunes are changed when she meets pharmaceutical rep Pete Brenner (Chris Evans), who offers her a job. However, she soon finds herself in the middle of a large racketeering conspiracy, and is forced to face the consequences of her success.
It's the latest in a line of dramatisations about the opioid epidemic in America, with Pain Killer on Netflix also leading TV fans to wonder if Pain Killer is a true story and where Richard Sackler is now - the former president of opioid manufacturer Purdue Pharma. Meanwhile, Dopesick on Disney+ told a similar story, focussing on the impact of the opioid crisis on a mining town in West Virginia. The two TV shows led to the Dopesick vs Painkiller debate, and now there's another gripping drama that has left viewers wanting to know about the events that inspired it. Here's what we know about the true story behind Pain Hustlers...
Is Pain Hustlers based on a true story?
Pain Hustlers is based on a true story. The film is inspired by a pharmaceutical company called Insys Therapeutic, which sold a liquid drug called Subsys. Subsys was used to relieve pain in cancer patients, and is an opioid that contains fentanyl - which is known to be highly addictive.
But despite Pain Hustlers taking inspiration from the events that unfolded at Insys Therapeutics, dramatic license is used in the film, and many of the scenes and plot points have been invented for entertainment purposes. For example, the characters aren't based on real people, and the name of the pharmaceutical company and the drug it sells have both been changed.
What is Pain Hustlers based on?
Pain Hustlers is based on a New York Times article of the same name, which was written by journalist Evan Hughes. It detailed his reporting on Insys Therapeutic, revealing that doctors were essentially paid to prescribe the opioid Subsys.
Since the New York Times article was published, Hughes has also written a book called The Hard Sell: Crime and Punishment at an Opioid Startup, which goes into further detail about the crimes committed at Insys.
While the highly potent opioid Subsys was initially only prescribed to cancer patients suffering with intense pain, Insys bribed medical practitioners to prescribe Subsys, often when it wasn't medically necessary. The company's "speaker program" meant doctors were paid to promote the product to their colleagues.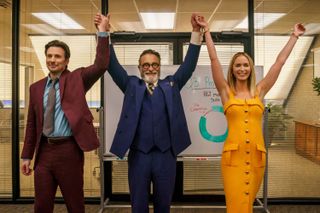 Upon reading the story, Pain Hustlers screenwriter Wells Tower told Radio Times: "I was just astounded by this incredible story. I found it mind-blowing that these people, who for the most part have no medical training, have so much influence over the medications we're prescribed.
"And they have this influence because they're bribing doctors to prescribe medications, in this case fentanyl, even to patients who don't need it. I knew we had a story on our hands that could offer some really shocking insights into how American medicine works."
ABC News previously reported that more than 7,000 deaths had been reported involving people taking Subsys - all of whom were patients who didn't have cancer but were prescribed the drug anyway. They added that according to the Centers for Disease Control and Prevention (CDC), there were 47,000 opioid deaths reported in 2017 and more than a third of those were caused by prescription medications.
What is Pain Hustlers about?
Pain Hustlers is about a single mum who lands a job as a sales rep for a pharmaceutical company, but she soon finds herself battling her own conscience when she becomes drawn into a racketeering scheme at the heart of America's opioid crisis.
The Netflix synopsis reads: "Liza Drake is a blue-collar single mom who has just lost her job and is at the end of her rope. A chance meeting with pharmaceutical sales rep Pete Brenner puts her on an upward trajectory economically, but a dubious path ethically as she becomes entangled in a dangerous racketeering scheme. Dealing with her increasingly unhinged boss, the worsening medical condition of her daughter, and a growing awareness of the devastation the company is causing forces Liza to examine her choices."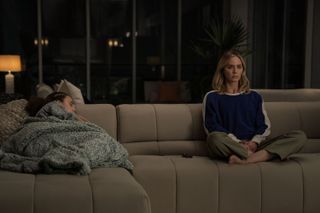 Is Zanna a real company?
Zanna is not a real company, although it is loosely based on Insys Therapeutics, which was founded by John Kapoor. Kapoor has since been convicted of racketeering to increase the profits of his company.
Insys Therapeutics filed for bankruptcy in 2019, after Kapoor and several other top executives were found guilty of engaging in a racketeering conspiracy.
In Pain Hustlers, Zanna is instead owned by a man named Jack Neal, while the film's central character, Liza, is entirely fictional. The drug called Lonafin, which Zanna manufactures, is also fictional, though it has many similarities to the real drug, Subsys.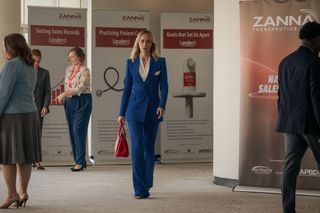 David Yates, the director of Pain Hustlers has previously said, "With the exception of Liza, they're all kind of loosely based on existing characters from that pharma world. But we gave Wells [the screenwriter] licence to create his own unique version of people.
"They're inspired by, I would suggest, rather than biographical per se. And Liza was our invention, a single mum with a daughter struggling with health issues, a dreamer, undervalued but incredibly capable."
Pain Hustlers cast
Emily Blunt as Liza Drake
Chris Evans as Pete Brenner
Andy Garcia as Jack Neel
Catherine O'Hara as Jackie Drake
Brian d'Arcy James as Dr Nathan Lydell
Chloe Coleman as Phoebe Drake
Jay Duplass as Brent Larkin
Elsewhere on Netflix, we've revealed the NYAD true story and what All The Light We Cannot See is based on. If you've been hooked on the streamer's latest hit, Bodies, we reveal everything we know about the possibility of Bodies season 2. On Channel 4, many tuning into a new Sam Heughan drama have been asking what is The Couple Next Door based on?