Kate Middleton calmed down a royal fan's 'overwhelmed' daughter with sweet 'reassuring' words and an irresistible suggestion
The Princess knew just how to handle the sobbing six-year-old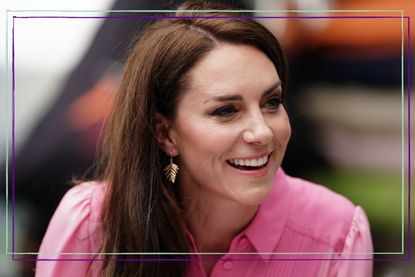 (Image credit: Jordan Pettitt-WPA Pool/Getty Images)
When a royal fan's six-year-old daughter was left feeling "very overwhelmed" and teary after meeting Prince William, Kate Middleton knew exactly what to do to cheer her up and put a smile back on her face.
A royal fan has shared her 'surreal' experience of meeting Kate Middleton with her daughter, detailing how the Princess took it upon herself to calm the 'overwhelmed' six-year-old down.
As well as offering up some sweet and 'reassuring' words, Kate suggested that the fan buy her daughter an ice cream to round off the day and cheer her up.
---
We've learnt so many parenting lessons and hacks from the royal family from Kate Middleton's 'radical new way of parenting' that has taught Prince William 'how to be a different kind of parent' to the best parenting rules followed by Prince Harry and Meghan Markle. But the royals' understanding of children extends beyond how they parent their own kids and can be seen time and time again when they're interacting with young royal fans.
Just as Kate Middleton is making headlines and receiving praise for relying on her go-to parenting move during her latest royal engagement at the Chelsea Flower show, one royal fan has shared the 'surreal' experience of Kate Middleton helping to calm down her six-year-old daughter who became 'very overwhelmed' after meeting with Prince William during the Coronation Big Lunch.
Speaking to The Express, Molly's mum Paula Jones explained, "She met William first and he bent down and he was chatting away to her. She [Molly] was very bubbly, answering back questions, she had a lovely chat with him, really.
"Then, as he got up and moved off, I think it got to her a bit, she got a bit overwhelmed and burst into tears. I think she [Kate] saw Molly crying and she bent down and again started chatting. She asked Molly if she was ok, and we said she had just met Prince William, after which she asked, 'Was he nice to Molly?'"
The mum shared that she told Kate Prince William 'wasn't the one who made her cry' and that 'he was lovely,' before Kate then asked her daughter, "Do you want a cuddle?".
After a "lovely cuddle," Kate reportedly told Molly that she herself gets overwhelmed sometimes, reassuring the six-year-old that it was ok to feel like that sometimes. Paula added, "She reassured her and just said, 'It's ok poppet' and said she gets a bit overwhelmed sometimes with lots of people around."
But Kate knew just what to do in the situation, offering up a suggestion on how the family could further cheer up Molly and end the day on a high. Paula shared, "She [Kate] turned to me and said she thought she knew what would help cheer up Molly, and she said I needed to buy her an ice cream. Molly agreed with that, after which Kate said, 'have a nice afternoon and be brave' and then she got up and moved on.
"And then, when a Princess tells you you have to get an ice cream, we have to go and buy her an ice cream! So she went with her auntie and got a lovely big cup of ice cream."
Royal News and Entertainment writer
Charlie Elizabeth Culverhouse is royal news and entertainment writer for Goodto.com. She began her freelance journalism career after graduating from Nottingham Trent University with an MA in Magazine Journalism, receiving an NCTJ diploma, and earning a First Class BA (Hons) in Journalism at the British and Irish Modern Music Institute. She has also worked with BBC Good Food and The Independent.