Red Nose Day 2022: Where can I buy red noses this year?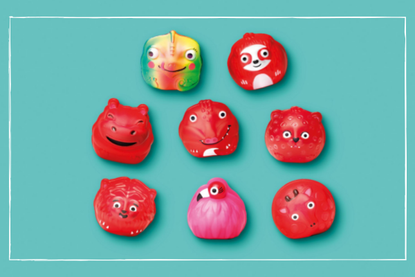 There's still time to buy your red noses and celebrate Red Nose Day 2022 in all it's comedy gold glory.
It's the comedy show that takes place every two years - making us laugh with entertainment from some of Britain's best loved stars, and all whilst raising vital funds for the charity Comic Relief (opens in new tab). There's been plenty of stand-out moments since Red Nose Day started (opens in new tab) including the mini Love Actually sequel (opens in new tab) and George Michael joining James Corden's Smithy character for a hilarious car singalong. Plus, who could forget comedian Peter Kay teaming up with Toni Christie to sing Is this the way to Amarillo?
Thankfully Red Nose Day 2022 is now officially here - but there's still a chance to buy your red noses and get in on the fun. We share the sites and shops where you can pick one up and what's in store for telethon audiences this year.
Where can I buy red noses in 2022?
You can buy your red noses for 2022 at Sainsbury's and Argos - either online or in person at your local store. The supermarket has a dedicated Red Nose Day 2022 merchandise section in the majority of stores. Here you will be able to choose from 8 exotic animal red noses for this year's event.
Not able to get to a store? Buy your red nose online at Sainsbury's (opens in new tab) when doing your grocery shop. But be aware you won't be able to select which design you'll receive, with the supermarket picking your red nose at random.
The same red nose 'lucky dip' applies to Argos and the Comic Relief website, where you can also buy your red noses.
Order your Red Nose from Argos (opens in new tab) online - and you can click and collect it at your local Sainsbury's store. A good idea if you don't want to risk turning up and seeing the noses have sold out. Whilst the Comic Relief online shop (opens in new tab) is - of course - selling this year's 100% plastic free red noses. These will be delivered straight to your door and will involve a small delivery charge.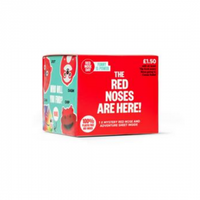 (opens in new tab)
Red Nose Day 2022 Red Nose - £1.50 | Sainsbury's (opens in new tab)
Pick up one of this year's noses in store or online at Sainsbury's. There's 8 different designs and you'll find your randomly selected one inside one of these boxes.
Red Nose Day T-shirts 2022
In addition to the red noses are the limited edition Red Nose Day t-shirts on sale at TKMaxx. This year the retailer have teamed up with 11 British artists to produce the chari-tees. Each t-shirt sold will see at least £2 donated to Comic Relief.
This year's design stars include TV presenter Gok Wan and a fabulous letter print from artist Rachel Joy. Devon-based Jane Foster has lent her talents to a fetching monochrome Red Nose person sketch t-shirt. Whilst those after one with a splash of colour will snap up London illustrator Tess Smith Roberts delightful Red Nose and Comic Relief t-shirt.
The different designs are all Unisex and available in both kid and adult sizes (XS, S, M, L, XL).
Prices range from £14.99 to £6.99 depending on size. You can check out all 11 Red Nose T-shirts online at TKMaxx (opens in new tab). But here are our top picks: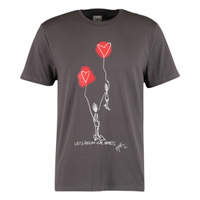 (opens in new tab)
Gok Wan's 'Let's Follow Our Hearts' Adult T-shirt - £12.99 | TKMaxx (opens in new tab)
This minimalist grey design comes from TV presenter Gok Wan and is available in sizes XS, S, M, L and XL. £6 from the purchase of this t-shirt will go to Comic Relief.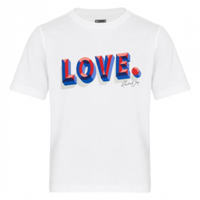 (opens in new tab)
Rachel Joy's 'Love' Word Print Adult T-shirt - £9.99 | TKMaxx (opens in new tab)
A perfect match for those wanting to wear their heart on their sleeve. This eyecatching unisex design is available in both adult and kid sizes. £4 from each sale of this shirt will go to Comic Relief.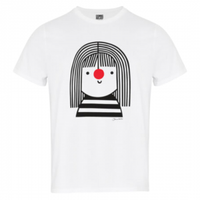 (opens in new tab)
Jane Foster's Monochrome Person Kids T-shirt - £8.99 | TKMaxx (opens in new tab)
Devon-based children's artist Jane Foster has delighted with two different monochrome characters with the signature Red Nose. Pick up the female version only at TKMaxx. £3 goes to Comic Relief.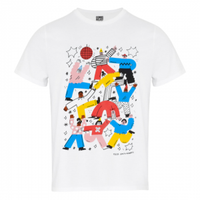 (opens in new tab)
Tess Smith Roberts Dancing People Adult T-shirt - £14.99 | TKMaxx (opens in new tab)
A t-shirt worth making a song and dance over. We love the colours and abstract print of this design by London illustrator Tess Smith Roberts. Order yours and see £7 from this t-shirt donated to Comic Relief.
When is Red Nose Day and Comic Relief 2022?
Red Nose Day 2022 is on Friday 18th March. This year's event is again about the power of humour and reuniting the country through comedy. All whilst raising funds to help fight issues like homelessness, domestic abuse, poverty and mental health problems that have been severely impacted by the coronavirus pandemic.
Stars such as Dame Joanna Lumley, Hugh Bonneville, Harry Judd and Oti Mabuse have all signed up. And they've put their talents to modelling the new red noses (opens in new tab) - which for the second year running are 100% plastic free and plant-based. Hailed as their "wildest bunch yet" - children and adults have 8 different characters to collect. Including the lesser-spotted and rare colourful Cam the chameleon nose.
Radio 1 DJ Jordan North (opens in new tab) is rowing 100 miles from London to his hometown of Burnley in a gruelling five-day challenge and he has so far raised more than £280,000 for the charity.
In the build-up to this year's big event, Comic Relief have released a special comedy sketch. It features familiar faces of the stage and screen making fun of themselves. And hopes to inspire fundraisers to get involved up and down the country.
https://www.youtube.com/watch?v=GzPobDvh-xc
Red Nose Day Telethon
As for the Friday night entertainment, David Tennant, Paddy McGuinness, Sir Lenny Henry and Zoe Ball have all been announced as hosts of the BBC One telethon. Viewers can expect a special egg and spoon race via The One Show. And celebrities will be competing to be Britain's first celebrity make-up star in Glow Up hosted by Maya Jama.
There's further laughs in store as Tim Vine and Kiri Pritchard-McLean try sheep training in Countryfile. And there's five yet-to-be-revealed celebrities who'll be reading the nation a CBeebies's Bedtime Story.
"The spirit of Red Nose Day is for everyone to get involved and to get the vibe of helping someone else that they don't know, it's always been that and what could be better?" says Comic Relief co-founder and comedian Sir Lenny Henry.
"I've been inspired by so many people and its usually members of the public who do extraordinary things. I'm always amazed by how dedicated and passionate the people that run the projects are - both in the developing world and in this country – to help better the lives of so many. So, to anybody who has fundraised to support these life changing projects, I personally thank you because we wouldn't be able to do this stuff without you guys. You are the people that inspire me."
How much has Red Nose Day raised in total?
Red Nose Day (and Sport Relief) has raised over £1.4 billion for Comic Relief. 2021 marked a special anniversary for the charity as they celebrated 35 years of fundraising. Money raised from Red Nose Day is through a mixture of public donations, sales of red noses, merchandise and fundraisers.
One of Comic Relief's biggest celebrity fundraisers began in 2009 when a group of 10 music and TV stars climbed Mount Kilimanjaro. Made up of musicians such as Gary Barlow and Cheryl Cole, the challenge raised £3.35 million for the charity.
Over the years, other celebrities have trekked Africa's highest mountain for Comic Relief. In 2019, Little Mix stars Jade Thirwall and Leigh-Anne Pinnock joined eight others on the challenge. Their efforts helped secure donations for the 2019 recorded total of £63,548,668.
To date, the biggest total ever raised during Red Nose Day was recorded in 2011 as £108,436,277.
Where does the Red Nose Day money go?
This year all Red Nose Day donations will go towards helping vulnerable people who have suffered as a result of the COVID-19 pandemic. The charity has promised the money will help to tackle issues such as homelessness, domestic abuse and mental health problems. With the number of people affected by them having risen considerably during coronavirus.
"Money raised will support some of the most vulnerable people and communities in society who have been hardest hit by the coronavirus crisis, including those now reliant on food banks, and provide vital funding to under resourced front line charities as they adapt and navigate through these difficult uncertain times," Comic Relief says.
You can make a donation (opens in new tab) through the Comic Relief website which tells you how your money is spent. For example, £35 pays a teacher to educate 4-6 year olds in Kenya and support their health and well-being. And of course a donation is also guarenteed when you buy red noses for the big day.
Since Comic Relief began money has gone towards helping 14.3 million people across the UK and 91.3 million people internationally.
Video of the Week:
Emily Stedman is the Features Editor for GoodTo covering all things TV, entertainment, royal, lifestyle, health and wellbeing. Boasting an encyclopaedic knowledge on all things TV, celebrity and royals, career highlights include working at HELLO! Magazine and as a royal researcher to Diana biographer Andrew Morton on his book Meghan: A Hollywood Princess. In her spare time, Emily can be found eating her way around London, swimming at her local Lido or curled up on the sofa binging the next best Netflix show.