Where are the original Gogglebox cast members now? 10 year anniversary
We look back at the faces who started off the TV hit... a decade on!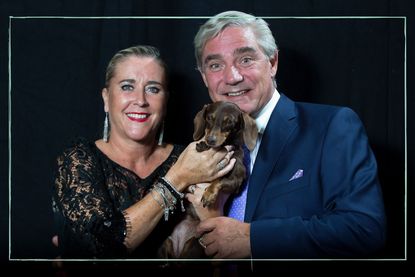 (Image credit: Future/Getty)
From Steph and Dom to the Michael and Tapper families - we've checked in on the original Gogglebox cast members and given you an update on where they are in 2023.
Gogglebox is one of those shows that needs to be seen to be believed. In theory, the thought of watching other people watching television sounds ridiculous - yet other the years it's the hilarious cast members that have kept viewers coming back for more. First airing in 2013, this year marks the show's ten year anniversary, and in celebration, Channel 4 have dropped a special episode looking back on the best bits from the last decade.
In addition to a lot of laughter and familiar faces, you'll want to have the tissues to hand as the one-hour special also pays tributes to some Gogglebox cast members we've said goodbye to over the years - including Pete McGarry (opens in new tab), Andy Michael (opens in new tab) and the beloved June and Leon.
Where are the original Gogglebox cast members now?
1. Steph and Dom Parker
The husband-and-wife duo from Kent with a tipple always in tow - Steph and Dom quickly became a favourite amongst Gogglebox fans. Viewers were invited into the opulent living room of their B&B in Sandwich, watching the two erupt into laughter at their own witty one-liners.
The two were signed on to star in Gogglebox after previously getting along with producers whilst appearing on fellow Channel 4 show Four in a Bed. Steph and Dom appeared on the first seven seasons of the show, between 2013 and 2016.
After Gogglebox, they went on to appear in other reality shows such as Celebrity Hunted, Celebrity Masterchef and The Jump. They also had their own show on Channel 4 in 2017 titled Steph and Dom's One Star to Five Star - helping people get their own B&Bs up and running. The show ended after one season.
Steph and Dom also released a book in 2015 titled Steph and Dom's Guide to Life: How to get the most out of pretty much everything life throws at you (opens in new tab). The posh pair also took on presenting duties for their very own TalkRadio show between 2018 and 2019, chatting to the nation during the weekend slot of 10am-1pm.
As for the couple's B&B, The Salutation (opens in new tab) was sold in October 2021 (opens in new tab) for nearly £5 million. Steph and Dom stepped back from managing the place in 2016 and shared in March 2020 that they planned to sell (opens in new tab) it as the couple "don't have the energy to run it anymore". The business went into liquidation in 2021.
During their time running the B&B, they welcomed US actress Anna Kendrick for a stay. The Pitch Perfect actress later revealed her experience with the Gogglebox stars on Graham Norton.
Since departing The Salutation, the couple have kept a relatively low profile. Steph continues to share their antics on social media though, with their Instagram account (opens in new tab)having 25,000 followers.
2. Sandi Bogle and Sandra Martin
Sandi and Sandra were two original Gogglebox cast members who became a hit with audiences. Sat together on the sofa in Brixton, tucking into a takeaway and dissecting TV shows together - it was Sandra's cackle that had everyone laughing along. But sadly it was Sandi's departure 2016 which split the duo up after eight series together.
Sandi signed up to 2017's Celebrity Big Brother but was later dropped. She went on to appear on Celebrity First Dates.
In the meantine, Sandra carried on for another season, with daughter Chanchez replacing her original pal. But the mum called it quits after the ninth season, admitting it wasn't the same without her OG partner in crime.
What are they up to in 2023? Sandra recently told The Sun (opens in new tab) that she's back on benefits. The 61-year-old does charity work now and frequently appears in pantomimie performances. She's set to play Glinda the Good Witch in the Wizard of Oz in Lincoln next.
Fans will be pleased to know that the two have remained firm friends. Sandi has even supported her pal in pantomime. "She comes to support me always. After 50 odd years of friendship, you can't not be friends!" Sandra told the paper.
"No matter what we go through, she's always got a room here for her, and she's always got a room for me. We're besties. We've been through, ups, downs, thick and thin, the worst, the wears, the tears, the bumps, the laughs. That's friendship. You can't beat that, no matter what."
3. Stephen Webb and Chris Ashby-Steed
Brighton-based hairdressers Chris and Stephen first appeared in season one of Gogglebox back in 2013. Unapologetically camp and cutting with their remarks, they firmly established themselves as stand-out cast members on the show.
The two were previously an item but split up during Gogglebox filming. They continued to shoot the series together for another season, before Chris decided to depart in 2017.
Chris married husband Tony (opens in new tab) the same year and has since stepped away from the limelight. As of May 2022, the couple are living a new rural life in Wales (opens in new tab).
Chris's husband Tony has alleged that Stephen 'bullied' his partner and was subsequently dropped by Channel 4. When fellow Gogglebox star Paige Deville complained of poor care by the broadcaster, Tony revealed the behind-the-scenes drama.
He tweeted: "Our hearts go out to you @paige_deville. The studio stood by and watched Stephen bully my husband Chris off the show and did nothing to stop him." According to Metro (opens in new tab), Tony also tweeted that Stephen "refused to film with Chris and would only film with his mum", leaving Chris "devastated" when "they did nothing". This left him dealing with "Chris's shattered mental health".
Stephen has never commented on the allegations and has put the past behind him. He remains on Gogglebox to this day, being one of the only original cast members.
He was joined by his hilarious mum Pat for for two seasons, before his new husband, Daniel Lustig-Webb became a series regular after joining in 2019.
4. The Michael Family
The Michael family were another Brighton-based bunch who appeared for the first few seasons of Gogglebox. Carolyne, late husband Andy and son Louis made up the cast list - though occasionally Louis' sisters Katy and Alex would also guest star.
The Michaels announced they were first stepping away from their Gogglebox gig in 2014, as dad Andy wanted to run as a candidate for UKIP in the 2015 general election. After failing to secure the seat in Hastings and Rye, the family returned to the show the following year.
Sadly, dad Andy passed away (opens in new tab) in August 2021. A statement shared at the time read: "We are deeply saddened to share the passing of Gogglebox star Andy Michael at the age of 61 following a short illness. Andy passed away last weekend with his family by his side."
Following his death, the family decided to leave the Channel 4 show (opens in new tab) for good.
Son Louis went to university in Chichester, meanwhile sister Alex graduated with a Masters in Computer Science.
5. June and Leon Bernicoff
Husband-and-wife June and Leon both appeared on Googlebox from the off-set, staying for a full ten series. Viewers loved to watch Leon wind up his wife, who would give her husband a stern word on occasion.
Sadly Leon passed away in December 2017 aged 83 following a short illness. Acknowledging his loss and contribution, Gogglebox aired a special tribute show in his honour.
June stepped back from Gogglebox following her husband's death. The devoted wife went on to write the story of her and Leon's 60-year-marriage in a book. Titled Leon and June: Our Story: Life, Love & Laughter (opens in new tab), it was released in September 2018.
May 2020 brought with it the sad news of June's passing. She died aged 82 from a short illness. Channel 4 led the tributes in the wake of her death, remembering June and Leon together.
"As the first couple to be cast for Gogglebox back in 2013, June and her husband Leon were a huge part of the programme's success," the statement read. "Their warmth, wit and contrasting personalities endeared them to the nation during the course of the first 10 series."
In the 10 year anniversary special, Gogglebox paid tribute to the popular couple, leaving many viewers in tears.
Leon and June were absolute gems with very sensible and measured views on everything. Their family must be so proud that their legacy through #Gogglebox10Years is so positive and refreshing. 👏🏽March 11, 2023
See more
6. The Siddiqui family
Baasit, 40, Umar, 45, and their father Sid, 78 - are three other original Googlebox cast members who remain on the show today. The Siddiqui lads love nothing more than a cuppa and debate on the sofa, so much so they've stayed for ten years.
Sid's sons both juggle their Gogglebox duties alongside their day jobs. Baasit is an IT teacher and founder of Siddiqui education - which offers educational workshops to support disadvantaged students. He's married to wife Melissa and the couple share two children together, daughter Amelia and son Theodore.
Umar is also married and has been a biomedical scientist in microbiology at the Royal Derby Hospital for 18 years.
Dad Sid is retired, with Gogglebox being his only work currently. He lives at home with wife Narseen, who he's been married to for 38 years.
Reflecting on the show's ten year anniversary, Umar told the Radio Times (opens in new tab): 'What we do is very simple – it's just blokes talking in front of the camera. The genius comes in afterwards, with the editing."
7. George Gilbey, Linda Gilbey and Pete McGarry
The Gilbey family consisting of mum Linda, son George and step-dad Pete were regulars on Gogglebox, joining in season 2. The Essex family had us in fits with some of their observations whilst watching the box.
Following their success with fans, George signed up to Celebrity Big Brother in 2014. The decision though meant that the trio had to step down from Gogglebox, following producers' request.
Linda and Pete, did however return as a duo for seasons seven to sixteen, once the dust had settled after George's stint.
George eventually joined the couple on-and-off during the latter seasons. However in October 2019, he pleade guilty to drink-driving charge and was jailed for three months. George has remained off screen since.
Sadly in June 2021, Channel 4 announced that step-dad Pete had died aged 71 following a short illness. Linda later confirmed that her partner had passed after being diagnosed with bowel cancer. "Pete was a lovely man and I was so lucky to have him for 25 years," she told the Sun (opens in new tab). "I said to him, 'We've not only been 25 years, it's been day and night with each other.' He was my life."
Linda decided not to return to the show following Pete's death, and she and George have kept a low profile since.
Pete will be dearly missed by the entire Gogglebox family, cast and crew. pic.twitter.com/1xd0DgwREOJune 28, 2021
See more
8. The Tapper Family
They were the feisty family of four always taking the mickey out of each other. Mum Nikki, dad Jonathon and children Josh and Amy joined the series in 2013 and remained on the sofa for five years.
It was son Josh who was the first to bid adieu, with the North London land going off to make a career for himself in politics. He got a place on the Government Communications Apprenticeship scheme, and rose through the ranks to campaign assistant for the Prime Minister's Office and Cabinet Office up to assistant campaign manager.
In October 2022, Josh Tapper announced he was running as a Labour MP (opens in new tab) for Chipping Barnet.
Sister Amy on the other hand has continued to pursue a career in television. In October 2018 she appeared on fellow Channel 4 show Celebs Go Dating. She also appeared alongside dad Jonathan for a series of Celebrity Coach Trip.
In 2023, Amy showed off the results of a 3.5 stone weight loss. Taking to Instagram, the youngest Tapper revealed that she had been following the Goal Getter meal plan and working out three times a week.
9. Steven Dermott and Michael Wilcock
The two best friends from Liverpool signed up to the first two series. But after failing to make a splash, left without much attention.
Whilst there's no details on what Michael is up to these days, his friend Steven has made a name for himself on a different medium. Steven Dermott, goes by the name Lord Dermott on TikTok and has an impressive 800,000 followers.
10. The Allens
Sisters Charlotte, Gemma and Louise made up the Allen family in the first two series of Gogglebox. All three siblings were living at home with their parents in Essex when they appeared in the show.
The Allens disappeared from screens after season 2 and there's no details on what the family of five have been up to since.
11. Gill Gibson and Helen Tait
Gill and Helen were a mother and daughter duo who hailed from Maidstone. They appeared in the very first season of the show and never returned.
Kent Online (opens in new tab) recalls that Helen was a big soap fan, who would often sing along to the Coronation Street theme tune.
Aside from that, the pair didn't make much of an impression. It's thought they've returned to normal life and not looked back since.
12. Chris and Colin Staples
Chris and Colin were a Mancunian father and son duo who appeared in the first series of Gogglebox back in 2013.
Again the guys didn't exactly stand-out alongside their fellow Gogglebox cast member - and they departed after one series.
Alongside other less known original members, it's understood that Chris and Colin never decided to return to the realm of TV.
Video of the Week
Emily Stedman is the Features Editor for GoodTo covering all things TV, entertainment, royal, lifestyle, health and wellbeing. Boasting an encyclopaedic knowledge on all things TV, celebrity and royals, career highlights include working at HELLO! Magazine and as a royal researcher to Diana biographer Andrew Morton on his book Meghan: A Hollywood Princess. In her spare time, Emily can be found eating her way around London, swimming at her local Lido or curled up on the sofa binging the next best Netflix show.