Who is Ellie Bamber? The actress set to play Kate Moss in new biopic Moss & Freud
The upcoming film tells the story of the supermodel sitting for painter Lucian Freud in 2002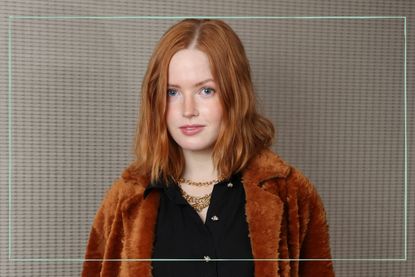 (Image credit: Getty Images)
Film fans have been eager to know more about who is Ellie Bamber, now that the actress has been cast as Kate Moss in an upcoming biopic.
She might be a cultural icon, but Kate Moss rarely gives any insight into her private life - which is why it comes as a surprise to many that she's the executive producer for an upcoming film about herself, Moss & Freud. The film will tell the story of the famous supermodel sitting for painter Lucien Freud while pregnant, and though work on the film was announced back in 2022, it's only recently that the star has been revealed. Ellie Bamber has been handpicked by Kate Moss herself to star in the upcoming film, and the supermodel has said: "As this is such a personal story of mine, it has been essential that I be involved in all aspects as the project has developed. I am thrilled by the recent casting. I cannot wait to see it."
Moss & Freud taps in to the recent trend of films dramatizing the lives of public figures - from Austin Butler's Elvis (opens in new tab) and Naomi Ackie taking on the role of Whitney Houston (opens in new tab), to new ITV drama Nolly (opens in new tab), which explores the life and times of Crossroads actress Noele Gordon. And while a biopic centred on Kate Moss is sure to have both film fans and fashion lovers eager to catch a glimpse into the life of the notoriously private supermodel, this film centres specifically on the time Moss spent with British artist Lucien Freud. Following the casting announcement for Moss & Freud, we take a look at what we know so far about the upcoming film, and find out more about its star, Ellie Bamber.
Who is Ellie Bamber?
Ellie Bamber - full name Eleanor Elizabeth Bamber - is a 26-year-old actress from Surrey. She was brought up by her parents Zoe and David, alongside her brother Lucas.
Bamber has previously appeared in action comedy film Pride and Prejudice and Zombies, the Disney series Willow, Thai drama The Serpent, and The Trial of Christine Keeler. As well as Moss & Freud, Bamber's upcoming projects include Anna, a biopic about journalist Anna Politkovskaya's fight for free speech in Russia, a crime-drama named Seven Sorrows of Mary, and a romance drama called Prisoners of Paradise.
One of her best-known roles saw her star alongside Jake Gyllenhaal and Isla Fisher in Nocturnal Animals, in which she played the Texan daughter of Gyllenhaal's Tony and Fisher's Laura.
At just 12 years old, Bamber became the youngest member of the Players' Theatre Club, and at age 13 she was chosen by theatre director Sir Trevor Nunn to play the role of 'Young Jenny' in his production of Aspects of Love.
In November 2015, she was nominated for the Evening Standard Theatre Award for Best Newcomer in a Musical, for her role as Dinah Lord in High Society.
Bamber is also renowned for her fashion sense. In 2017 she was invited to be an ambassador for Chanel and lead their runway show, and in 2020 the fashion house announced her role as a house ambassador.
In a 2021 interview with Country & Town House (opens in new tab), Bamber said: "I love fashion because it is an outward reflection of my mood of the day. It can transform you and take you to a different place – particularly with acting."
Kate Moss biopic: What we know so far
It was announced back in May 2022 that Kate Moss was producing a film about herself, and more recently it was announced that Ellie Bamber would be taking on the title role.
However, the new biopic will focus less on the supermodel's life story and rise to fame, instead specifically telling the story of her relationship with British artist Lucien Freud and her decision to sit nude for a painting with him in 2002.
Upon the announcement of the film last year, Kate Moss said: "Sitting for Lucian was an honour and incredible experience… Having been involved in the project and script development from the beginning I am now very excited to see the film come to life."
The film, which is called Moss & Freud, will be directed by Oscar winner James Lucas, who is known for directing The Phone Call and Whina. He has said of the upcoming biopic: "I'm grateful to Kate Moss and the Freud Estate for entrusting me with this precious and unconventional love story. It allows our diverse audience to take a look behind the curtain and see, truthfully, what makes these cultural titans tick."
As well as the news that Ellie Bamber will be appearing in the film, Derek Jacobi will be starring alongside her as Lucien Freud. The award-wimming actor is known for his work at the Royal National Theatre and has also starred in I, Claudius and Last Tango in Halifax.
Did Lucien Freud paint Kate Moss?
Kate posed for Lucien nude in 2002, while she was heavily pregnant with her daughter Lila Moss.
Moss had once revealed that one of her ambitions in life included being the subject of one of Lucien Freud's portraits, and though the artist had an aversion to painting celebrities, he agreed to paint Moss.
The portrait reportedly took nine months to complete, and a then-pregnant Moss sat for the painter up to three days a week, from 7pm until 2am.
The painting was then sold to an anonymous bidder at Christie's Post War and Contemporary art auction for £3.9 million in 2005.
Lucien Freud also famously inked Kate's tattoos, two swallows at the base of her back.
Kate Moss net worth
According to the Evening Standard (opens in new tab), Kate Moss has a net worth of around $70 million - making her one of the world's richest models.
Now 49 years old, Kate Moss has been modelling since she was 14 and has featured on the cover of numerous magazines and been the face of a host of fashion campaigns, from Chanel and Burberry to Calvin Klein and Alexander McQueen.
More recently, Moss has been appointed as Creative Director by Diet Coke, a role which likely comes with a hefty paycheck.
In 2014, Moss was ranked as the 91st most wealthy celebrity on the Forbes rich list, with estimated earnings of £7 million a year.
Video of the Week
Ellie joined Goodto as a Junior Features Writer in 2022 after finishing her Master's in Magazine Journalism at Nottingham Trent University. Previously, she completed successful work experience placements with BBC Good Food, The Big Issue and the Nottingham Post, and freelanced as an arts and entertainment writer alongside her studies. In 2021, Ellie graduated from Cardiff University with a first-class degree in Journalism.