When does Nolly start on ITV? Release date of the Helena Bonham Carter drama
Carter is the 'Queen of the Midlands'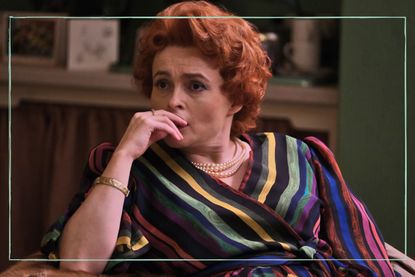 (Image credit: Future/ITV)
We'll watch anything with Helena Bonham Carter at the helm. Here's when Nolly starts on ITV.
From the clever, creative mind of Russell T Davies (behind the recent successes of It's a Sin and Doctor Who) comes a new ITV drama that's set to enthrall viewers. Nolly is a TV biopic exploring the life and times of Crossroads actress Noele Gordon, who many will remember as one of Britain's brightest soap stars back in the 1970s and 80s.
Following her rise to fame and infamous shock exit from the soap, audiences young and old will discover more about the colourful character who's brought to life by The Crown's Helena Bonham Carter. Already being hailed as a must-watch drama in 2023, we've shared the details on when Nolly arrives on ITVX (opens in new tab), alongside fellow ITV series Maternal (opens in new tab) and The Family Pile (opens in new tab). Nolly filmed (opens in new tab) in some recognisable locations, and we reveal exactly where they can be found.
When does Nolly start on ITV?
Nolly will be released on ITV's streaming service ITVX on Thursday 2 February 2023. The series - written by Doctor Who showrunner Russell T Davies - tells the story of Crossroads actress Noele Gordon.
Noele - known as Nolly to friends - came to prominence for her role as widow Meg Richardson on the long-running soap. A role she played for over 18 years. Then in 1981, Gordon was unceremoniously axed, without explanation, by show bosses.
Show creater and writer Russell T Davies has brought the "extraordinary story" to life, stating it as "a love letter to a legend of television, and to the madcap soap she starred in".
"It's very mad in places. A whole generation will remember Benny and Miss Diane of the Crossroads reception, so there's a lovely sigh of recognition. But that's not what it's about.
"It's also genuinely about the hard work of making a soap opera," he tells the Radio Times. "This still goes on today. Those actors work so phenomenally hard and never get appreciated for it, so I hope it's waving a flag for all of them."
Davies revealed that he also has a personal connection to the tale - or rather the show that is being put in the spotlight.
"One of my very first jobs in TV was a trial script for Crossroads, and I've wanted to write the story of behind the scenes on that show for 40 years. At last, the truth can be told!"
RTD on the real Noele Gordon... pic.twitter.com/qHtV965lSdJanuary 23, 2023
See more
What is Nolly on ITVX about? Plot details
"Nolly brings the true Noele Gordon once more into the spotlight," reads the official synopsis. "The Queen of the Midlands, a star who could be tough, haughty and imperious, grandly sweeping into rehearsals from her Rolls Royce, but also a hard-working actress who was fiercely loyal and loved by cast and crew alike.
"And at last, the biggest question of all can be answered – why was she sacked? Nolly reveals the truth, the consequences, and the legacy of that terrible day."
Nolly trailer - 'First Look'
In a first look teaser we get our first glimpses of Carter as Noele Gordon. Having only just learned she has been sacked from Crossroads, the soap star is thrust into a sea of reporters to explain the news.
"Now remember, you've resigned," she's told. "This is fine, this was always your plan. You've handed in your resignation because you wanted to, the decision to resign is yours and yours alone."
However in true Nolly fashion, she decides to tell it like it us once outside and facing the cameras. "Gentlemen, I have been sacked," she says, going against the advice she's just been given.
"Oh no," responds the PR gentleman, realising this doesn't bode well for him.
How many episodes of Nolly are there?
Nolly on ITVX will be made up of three episodes, each one around an hour in length. The full boxset will be released in one go, ready for viewers to binge.
Nolly will be broadcast sometime in Spring on ITV, though as yet no official date has been given. To coincide with the Nolly release on ITVX, a documentary titled The Real Nolly will drop the same day (Thursday 2 February).
"The Real Nolly, with exclusive access to her personal papers, never-before-seen pictures and interviews with those who knew her best, explores the life of Noele Gordon," reads the synopsis.
"Speaking with those who were close to her, we discover who she was, hear about the heartbreak in her life and learn what gave her the steely determination to keep going. The Real Nolly is a love letter to a true star who is still much missed by friends and fans alike and also still hugely admired."
Helena Bonham Carter who plays her in the dramatisation also narrates the documentary.
Nolly cast:
Helena Bonham Carter (The Crown, Harry Potter) plays Noele Gordon
Augustus Prew (The Morning Show, The Rings of Power) plays Tony Adams
Mark Gatiss (Sherlock, Doctor Who) plays Larry Grayson
Richard Lintern (Silent Witness) plays Ronnie Allen
Antonia Bernath (Cuckoo, St Trinians) plays Jane Rossington
Clare Foster (The Bill) plays Sue Lloyd
Chloe Harris (The Keeper) plays Susan Hanson
Lloyd Griffith (Soccer AM, Ted Lasso) plays Paul Henry
Con O'Neill (Happy Valley) plays Jack Barton
Tim Wallers (The Windsors) plays Charles Denton
Bethany Antonia (House of the Dragon) plays Poppy Ngomo
Speaking of the legendary actress she portrays at the Nolly premiere, Helena Bonham Carter said: "Her eggs might not be great but her ideas are just as good as anyone's with balls. I'm absolutely certain that if she had been a man she wouldn't have been treated in that way."
In a previous interview ahead of Nolly filming, The King's Speech actress described her character as "a fascinating, complex, brilliant and gutsy woman".
"I'm so thrilled to help tell Nolly's long overdue and largely forgotten story," she added. "Russell's screenplay is a work of brilliance and I hope I'll do him and Nolly justice. I can't wait to start."
Actor Mark Gatiss stars as iconic entertainer Larry Grayson in the series - who had a close friendship with Noele Gordon in real life. The 56-year-old considered the part a pinch-me moment:
"It's the email you dream of: an offer to play Larry Grayson in a 3-parter as part of such an amazing package," he said at the Nolly premiere Q&A. "In my research into him I just fell in love with him all over again. He was just so much part of our childhood."
Video of the Week
Emily Stedman is the Features Editor for GoodTo covering all things TV, entertainment, royal, lifestyle, health and wellbeing. Boasting an encyclopaedic knowledge on all things TV, celebrity and royals, career highlights include working at HELLO! Magazine and as a royal researcher to Diana biographer Andrew Morton on his book Meghan: A Hollywood Princess. In her spare time, Emily can be found eating her way around London, swimming at her local Lido or curled up on the sofa binging the next best Netflix show.