Why did Nicola Walker leave Unforgotten? Her exit explained and details about replacement Sinead Keenan
The ITV drama returns - but with a twist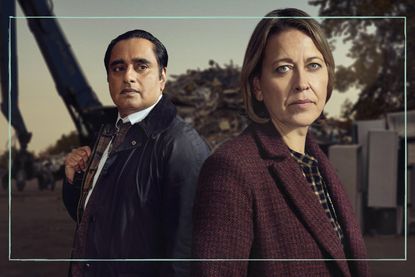 (Image credit: Future/ITV)
Unforgotten is back for a fifth series, with one of its main characters notably absent - what's happened to DCI Cassie Stuart?
Unforgotten has made sporadic appearances on ITV, since it began airing in 2015. Following a team of London detectives as they attempt to solve cold cases of disappearance and murder, the acclaimed series has a plethora of awards under its belt. Each series sees the detectives handle a new case, where apparently unconnected characters are revealed to have a relationship with the victim. With gaps between series of two or three years, viewers were unsure if Unforgotten would be back, but series 5 is set to air on February 27 at 9pm - with a major change. Nicola Walker took the lead role of DCI Cassie Stuart for the first 4 series, but won't be returning for the latest instalment.
Irish actress Sinead Keenan (opens in new tab) will accompany Sanjeev Bhaskar's DCI Sunny Khan in all new season 5 episodes as DCI Jessica 'Jessie' James. Whilst there's been a cast change, Unforgotten is filmed (opens in new tab) in the same locations as before, with the moody landscapes matching the dramatic action on screen.
Why did Nicola Walker leave Unforgotten?
Nicola Walker's exit from the show had been planned from series 3, as the creators felt narratively, Cassie had reached the end of her story. Walker herself was in agreement with this.
In the penultimate series 4 episode, Cassie was involved in a collision while driving. She was physically and mentally exhausted from returning to police work when she'd wanted to remain signed off - she had missed the car speeding towards her. Although it initially appeared that she'd pull through, it later transpired she'd not regain brain activity and would pass away.
I just can't imagine #Unforgotten without Nicola Walker. But will I be tuning in every week, agonisingly trying to solve the mystery by overanalysing every teeny weeny detail in the opening credits? You better bloody believe it 🙌 https://t.co/694djKHME8February 15, 2023
See more
Speaking to TV Insider (opens in new tab), Walker and series creator Chris Lang spoke about their vision for Cassie's end. Walker said "We were talking from the beginning, really, about what he was doing with this character and this story he wanted to tell. Chris and I were always interested in looking at the cost of being involved with these sorts of cases that we all love watching on television. Cassie does not have superpowers. She's an ordinary person who's really good at her job, and it took her to the place of having an emotional breakdown."
The actress added "We talked a lot after Season 3 about where it was going to go, and it was a joint decision. I think the clues were there in Season 3. The title of the show is Unforgotten and I think there's a great deal of narrative beauty to this woman. She's not going to be forgotten. I felt like she was quietly very unusual on television because she was a real person."
Viewers were devastated when scenes in the show depicted Cassie's elderly father receiving news of his daughter's death. The pair had been fighting in recent months, and Cassie's final voicemail to him was a promise of putting their differences aside, to enjoy the years they had left together. In the final moments of the show, Sunny was seen placing flowers on Cassie's grave, with a headstone shown to read "She longest lives, who most to others gives, herself forgetting."
Who is Sinead Keenan and what has she been in before?
Sinead Keenan replaces Nicola Walker in Unforgotten, as DCI Jessica "Jessie" James. The Dublin born actress is probably best known to viewers for the role of werewolf Nina Pickering on BBC Three's supernatural series, Being Human.
Keenan's first television role was in the 1999 film Sunburn, as the teenage girlfriend of Cillian Murphy's character. Small guest roles in Taggart, Doctors, and Moving Wallpaper followed, among other minor television roles. Undoubtedly, Keenan's breakout role was as Nina Pickering in Toby Whithouse's Being Human.
Her role was supposed to be a small one, but her chemistry with on-screen boyfriend Russell Tovey was so believable, the storyline involving their characters was edited to keep her in the show. Staying for a second series, werewolf Nina was upgraded to a main cast member by the third series. Following Being Human, Keenan went on to appear in Agatha Christie's Poirot, Silent Witness, Doctor Who, and a leading role in Showtrial. Eagle eyed viewers might also have spotted her in Derry Girls series 3, episode 3 as Aideen.
Unforgotten season 5: Cast list
Sinead Keenan (Being Human, Derry Girls) as DCI Jessica "Jessie" James
Sanjeev Bhaskar (Goodness Gracious Me, The Kumars at No. 42) as DI Sunny Khan
Ian McElhinney (The Tudors, Derry Girls) as Lord Tony Hume
Hayley Mills (Pollyanna, Wild at Heart) as Lady Emma Hume
Martina Laird (Jericho, Eastenders) as Ebele Falade
Max Rinehart (Industry, Miss You Already) as Karol Wojski
Rhys Yates (Lucky Man, Postcards from London) as Jay
Carolina Main (Blood, The Alienist) as DS Fran Lingley
Jordan Long (The Wrong Mans, Stardust) as DS Murray Boulting
Lewis Reeves (I May Destroy You, The Sandman) as DC Jake Collier
Pippa Nixon (Grantchester, Midsomer Murders) as DC Karen Willetts
Andrew Lancel (The Bill, Coronation Street) as Steve James
Georgia Mackenzie (Outlaws, Waterloo Road) as Dr Leanne Balcolmbe
Michelle Bonnard (Strike, House of The Dragon) as Sal
Mark Frost (Poldark, Coronation Street) as Dave Adams
Sinead Keenan spoke about portraying the recently promoted Jessie in the show, who replaces Cassie. Of her character, she said "She's got a husband, two children, perfect life. And then she starts this new job, and on the first day she gets some news on the way to work that completely blindsides her that has implications in terms of how she is at her job. So that's simmering in the background."
Keenan added "She's not where she should be head wise, because she is good at her job, but she is not showing them that. So to add insult to injury, they've lost the brilliant Cassie, and they've got this eejit coming in who doesn't seem to be on the ball."
The actress described her co-star, Sanjeev Bhaskar, as "the nicest man in showbiz" in a statement. She said "Honest to God, in between scenes, you sit down and fold your arms and just wait for him to entertain you with his anecdotes. He's a dream. He's so lovely."
Will there be a season 6 of Unforgotten?
There has been no official announcement regarding series 6 of Unforgotten, but the show creators have suggested they have one planned out, should another season be greenlit.
Speaking to the Radio Times (opens in new tab), creator Chris Lang said "Certainly, if they asked me, I'd do a season 6. I've got a season 6 in my head. So yeah, it's down to the broadcaster, whether they asked me to do it."
He added "It's a unique show, in that it's got a format that is self-contained, but with a certain degree of serialised elements through the characters. And as long as people keep watching it, and we can keep making it well… at the point where either I don't feel I can contribute to it, or make it better, obviously I'd stop. But at the moment we haven't hit that point yet."
He concluded by saying "It's incredibly difficult to sit down and create it from a blank page, so you need huge reserves of energy and enthusiasm to push you through creating six episodes. And it's often very emotionally draining stories that you're telling as well, which require lots of research into really dark areas. So as long as I have the appetite to keep doing that, and as long as the audience keep coming back to it, there's no reason why I couldn't keep going on."
Video of the Week
Lucy is a multi-award nominated writer and blogger with six years' experience writing about entertainment, parenting and family life. Lucy has contributed content to PopSugar and moms.com. In the last three years, she has transformed her passion for streaming countless hours of television into specialising in entertainment writing. There is now nothing she loves more than watching the best shows on television and telling you why you should watch them.