Will there be a season 3 of World On Fire? Everything we know so far
The popular drama returned to screens after a four-year break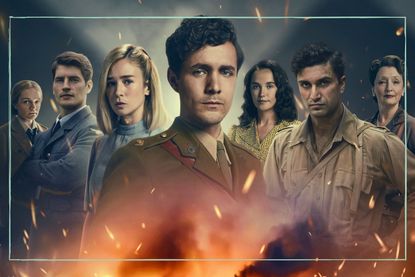 (Image credit: BBC / Mammoth Screen)
Goodto Newsletter
Parenting advice, hot topics, best buys and family finance tips delivered straight to your inbox.
Thank you for signing up to GoodTo. You will receive a verification email shortly.
There was a problem. Please refresh the page and try again.
As the second series of popular Second World War drama concludes on the BBC after a four year absence, fans are wondering will there be a season 3 of World On Fire?
Lesley Manville and Jonah Hauer-King star in this gripping series that focuses on three young people who are in the eye of the storm as World War II explodes around them. Where nothing can survive unchanged. Not even love.
Whether you're a fan of BBC real-life documentaries that have you asking questions after such as what happened to Gaia Pope and where was she found? or will there be a season 4 of Guilt? then a BBC drama set set during a time in history could be right up your street.
And while some fans were left baffled by the storyline, having felt the recap at the start of season 2 was inadequate, others' attention had turned to whether there was more still to come.
Here's everything we know so far...
Will there be a season 3 of World on Fire?
World on Fire season three has not yet been confirmed but the show's creator Peter Bower has confirmed he is keen to keep making the series. Season one is based on events from March 1939 to July 1940 with the second season covering events from October 1940 to May 1941.
Speaking about future seasons of the drama, Peter Bowker teased, "I know what happens over six series for the main characters. If you pitch a show, people will often ask, "What happens in series 4, episode 3? What happens to this character?" You've got to know and not be English about it."
But should a third season get the go-ahead, it's been reported that it could air as soon as late 2024 or in 2025.
Peter said, "As always, we tell stories which have an unforced and not always comfortable contemporary resonance, stories that demonstrate both human resilience and human folly and stories of ordinary lives in extraordinary times.
"Historical drama should not be about nostalgia and I hope this isn't how this series is regarded. It is about asking questions of the present by interrogating stories from our past."
He added, "And at the heart of these stories, amongst multiple perspectives, the single question remains – "If you had been there, what would you have done?"'
How many episodes are there in season two of World On Fire?
World On Fire has six episodes in season two, whereas season one had seven episodes. All episodes are available to stream now on BBC iPlayer. And fans are already hoping there will be more episodes to come in the future. One fan wrote, "Was delighted to see that the BBC made Series 2 of this!!! We waited long enough for it. Hopefully there will be more series to come in the future."
Another fan wrote, "Loved watching season 1 and 2 hope they make a third season."
And as third fan added, "I never thought we would get another series after such a long time, but I'm overjoyed!"
The latest season and final episode are now available to stream on BBC iPlayer.
What happened to Tom Bennett in World On Fire?
In season one of World On Fire, Tom Bennett, the brother of Lois, reveals he is a conscientious objector - he claims the right to refuse to perform military service before enrolling in the Navy in order to avoid going to prison. But he is captured by the Nazis on the beaches of Dunkirk. He is eventually helped by Henriette and Webster who aid his smuggling out of the American hospital. But fans of his character need not be disappointed as the star returns in the second season - but we won't spoil it for you. And one fan could not contain her excitement at his return, writing, "Our husband Tom Bennett is back!!! EVERYBODY STAY CALM!!!!!!!"
If you're a fan of army-based dramas you might like to find out more about SAS Rogue Heroes season two or if you've seen the show here's SAS Rogue Heroes ending explained, while other fans asked where is SAS: Rogue Heroes filmed?
Parenting advice, hot topics, best buys and family finance tips delivered straight to your inbox.