Will there be a season 4 of Guilt?
Season 3 is here, and viewers want to know if more are coming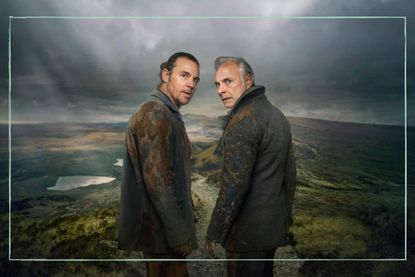 (Image credit: Anne Binckebanck/Expectation/Happy Tramp North/BBC)
Hailed as the Scottish version of Fargo, viewers and critics have been lapping up Guilt on BBC2. But what does the future hold for the series?
Guilt began with brothers Max and Jake driving home from a wedding, and accidentally knocking a man over and killing him. In attempting to evade taking responsibility for their actions and cover them up, cracks in their forever fragile relationship start to reopen. Lawyer Max struggles to believe that any rules apply to him, while failed musician Jake often acts as Max's unwanted moral compass. Max ends up doing a stint in prison, while Jake attempts to follow his dreams during the course of the series, with supporting characters arriving to stir up trouble for the brothers. Sharp scripts and terrific acting explore themes around guilt and family relationships in the show, with remarkable results. With season 3 landing on BBC2, viewers are asking if there will be a season 4 to follow.
Elsewhere at the BBC, the Strictly Come Dancing 2023 line up is under intense speculation, with viewers also wondering why Rylan quit Strictly Come Dancing It Takes Two. Some fans have also been asking why Gregg Wallace left Inside The Factory, and there's a touching reason for his departure.
Will there be a season 4 of Guilt?
There won't be a season 4 of Guilt, as the show is confirmed to end with season 3.
It was always the plan that Guilt would end after it's third season, with the storyline arc planned to span the three outings. Series writer, Neil Forsyth, said "We always saw Guilt as a trilogy so I am thrilled to be writing a final act for Max, Jake and some of the others we have met along the way. It is a story that will range from Chicago to Scotland, as our characters seek a final redemption."
Director of comedy at the BBC, Jon Petrie, added "Guilt is a Scottish gem that we couldn't resist bringing back for a third series, and Neil really has encapsulated the perfect ending to round off Max and Jake's story."
Speaking to Pressparty, Max actor Mark Bonnar said "I'll be sad to say goodbye to the show. But I think what Neil has done is absolutely right. It was time and I think the mark of a class act, as Neil is, is knowing to get out while we're on top." Of the finale, he added "I think it's the perfect meld of the two series actually. It's got a very serious heart but it still retains its humour, so it's the best blend of it all."
How many episodes of Guilt on BBC2 are there?
There are 12 episodes of Guilt altogether, with 4 episodes in each series.
The series has also been popular globally, with Mark Bonnar telling BT "It's gone down really well. The press has been fantastic, and also people get in touch on social media. There's been quite a few positive voices… it's really nice. I knew that the themes in the show were universal themes. A lot of people have siblings. A lot of people have problematic or interesting relationships with their siblings.
A lot of people in their lives at one point or another have experienced guilt or avarice or greed. So the themes of the show are pretty universal. Not everybody's knocked down and killed an old man, obviously! But everyone's experienced similar feelings that Max and Jake do prior to that event. I'm thrilled that it's as popular as it is, and also they're making an Indian version of it, too! So it's kind of incredible that it's had that breadth of appeal. It's wonderful."
Is Guilt on Netflix or Amazon Prime?
Guilt isn't on Netflix, and is only available to purchase on Amazon Prime. The easiest way to watch it for free is on BBC iPlayer.
BBC iPlayer is a completely free of charge - you only need to register an account. Once you've set up an account, you can watch live BBC channels, and catch up with shows you might've missed. All 3 seasons of Guilt are currently available to watch through the service.
Guilt: Reviews
Guilt has been a huge success, garnering acclaim from both critics and audiences.
Jack Seale from the Guardian said "Phyllis Logan is the perfect antagonist: omniscient and omnipotent in the manor she runs, with a jagged personal brittleness beginning to poke through her armour. Opposite her, Bonnar has never been better in a role that lets him display his two great strengths – hypnotic charm and snarling, desperate malevolence – at the same time. They have made Guilt's trip around Edinburgh's dark corners a rare thrill."
Anita Singh from The Telegraph was equally full of enthusiasm. She added "The theme of this series is redemption, and whether Max can find it. That's something all Guilt fans will want to follow. Bonnar is a great actor, capable of signalling half a dozen conflicting emotions simultaneously with just the tiniest flicker of facial expression (in Max's case, one of these is almost always 'panic'). He is a joy to watch, and Forsyth's dialogue is a treat to hear."
An audience member wrote "Excellently written, directed, and acted Scottish drama, with punctuations of dark humour and hard truths, all condensed into 4 episodes -- no filler typical of other dramas. Fairly complex plot that mostly holds up well. If you are looking for Hollywood style simplicity, morality, or happy endings, look elsewhere."
Another said "Intelligently written, excellently acted and very cleverly edited.....not one scene is wasted. Darkly funny yet touching and sad and tense and warm and surprising to the end. To make an unbelievable story and setting so utterly believable with characters that you root for, despite their many flaws is very rare."
Related BBC Features:
Video of The Week
Lucy is a multi-award nominated writer and blogger with six years' experience writing about entertainment, parenting and family life. Lucy has contributed content to PopSugar and moms.com. In the last three years, she has transformed her passion for streaming countless hours of television into specialising in entertainment writing. There is now nothing she loves more than watching the best shows on television and telling you why you should watch them.