28 things to do before you're 10 and a half
28 magically fun things for kids to do before they grow out of the kiddy stuff (is it just us or is it happening earlier and earlier?)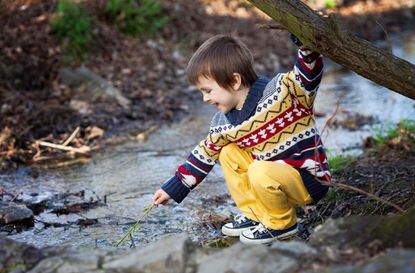 (Image credit: iStock)
28 magically fun things for kids to do before they grow out of the kiddy stuff (is it just us or is it happening earlier and earlier?)
There's such a range of fun activities for children these days, most of which can be found at your fingertips, but whatever happened to the good old fashioned things that we enjoyed in our childhood? The things which didn't involve a computer, and that all children should do at least once before they start to grow out of it (sob sob!).
From the simplest games like Hopscotch and Pooh Sticks, retro science experiments like growing cress, appreciating natural wildlife at your local pond and hosting a teddy bears' picnic, there are all sorts of activities for children you can do for absolutely nothing that will not only help your kids learn but stick in their mind as cherished childhood memories.
We've created this bucket list for kids - if you will - which lists 28 things we reckon all your little ones should do before they're 10 and a half (they grow up too quickly these days!)
Got any more activities for children you think we should add to this list? Let us know by leaving us a comment below.
Play pooh sticks
Ah pooh sticks. The simplest, cheapest game ever, was invented by none other than the author of Winnie-the-Pooh in 1928. 86 years later and the game is still enjoyed by children all over today.
To play pooh sticks:
1. Each child picks a stick 2. Drop it over oneside of a bridge upstream 3. See which stick comes out first on the other side of the bridge
Build a den
Sometimes the simplest of things are the most magical. Even if you just have two chairs and an old sheet thrown over the two, giving your little ones their own special space which they can hide away in and feel like it's their little secret is just so exciting in the eyes of a child (and in ours for that matter).
Grow cress on a windowsill
Remember the days of learning about photosynthesis? We loved learning about how light helps plants to grow when we were kids, and the best part? Getting to make your very own homegrown cress sandwiches afterwards.
This egg-box cress holder is just one of our 10 ingenious ways with egg box crafts.
Go pond fishing
Take a net and an empty jar along to your local pond and see what wildlife you can fish out and see in the water.
Don't forget to look after the pond's wildlife by returning any critters you may find back to the water.
Cash in on the tooth fairy
Kids, we're about to let you in on a little secret that will rock your world.
When you lose a tooth, place it under your pillow before you go to bed. While you're sleeping, a little being known as the tooth fairy will flutter into your room at night and take your tooth away to fairyland in exchange for a small payment. When you wake in the morning you will find a bright shiny coin under your pillow.
FYI - you lose 20 baby teeth as a child. You do the math. Kerching.
Have your face painted
It just doesn't get much better than face painting does it? You thought dressing up was good but this, this chalky-smelling substance actually changes your face into what you've always known you were, a lion, a butterfly, or Harry Potter.
Follow all our easy step-by-step face painting tutorials, here.
Make homemade playdough
Use food colouring, biscuit cutters, garlic presses and glitter to turn your homemade playdough into hours of fun!
Click here for our easy-to-make homemade playdough recipe.
Pick strawberries
Picking your own fruit is a great little day out in the summer months and encourages your little ones to get their five-a-day too.
Strawberries are in season at the moment, but here's a list of our favourite UK fruit picking farms and all the different fruits you can pick at different times of the year.
Visit a free museum
What's better than taking the kids on a fun day out where they can learn too? There are loads of museums out there that don't charge a penny to get in, and you can see everything from dinosaur bones to pirate ships.
Check out our round-up of brilliant free museums in the UK.
Spend the day at a farm
Kids love the farm! Getting to see all the different animals, where they live, what they eat and also learning about sustainable farming. Bonus if they get to bottle feed a lamb or hold a tiny chick.
See our list of the best UK farms here - oh and did we mention, they're free!
Keep a pen pal
Such a nice way to keep in touch with a friend, especially when it's someone your child met on holiday or who's moved to another school.
Send keepsakes in the letters like dried flowers, homemade jewellery and stickers.
Make a loom band creation
Looms are all our kids talk about these days, they're cluttering our coffee tables, littering the living room carpet and clogging up our hoovers, but let's face it, they're pretty fun aren't they?
See our gallery of 15 amazing things to make with loom bands and give one a go!
Picture from: Pinterest (opens in new tab).
Go bird watching
If there's anything that the kids love, it's the great outdoors, and thankfully for us, there are loads of things to see for free in the big old world. One of them is all the British birds that inhabit our skies!
See which of the top 10 British birds you can spot in your garden with the kids, they'll love it.
Grow your own fruit and veg
Ok so you've done cress, now it's time to think bigger. Every little person should get green fingered and have a go at growing something of their very own. From tomatoes to beans to strawberries.
Visit a living museum!
Kids can get a little bored of all the inanimate objects in museums, so a great way to combat this is to take them to a living, breathing museum where everyday life has been preserved to remain like it was way back when.
Check out these living museums:
Beamish: Living Museam of the North (pictured)
Put on a play
We all did this one when we were young, right? Let your kids have full use of the dressing up box and see what delights they can create for you. Invite friends and neighbours round and turn it into a little get together. They're bound to do some hilarious things and make you giggle through the whole performance.
Go camping
... even if it's just in the garden - that way at least you still get to sleep in the house.
Here are our fave campsites in the UK.
Play Hopscotch
Or Tag. Or Simon Says. Or any one of those classic kids' games you used to play as a child.
Check out our gallery of retro outdoor kids' games for ideas - oh how they take us back!
Make a mud pie
Boys will be boys, and yes, your floors will probably get muddy and you're going to need enough Vanish to clean an England football team kit, but mud pies are exactly what kids love to do (especially if there's a younger sister which they can throw it at).
Make your own perfume
Something all little girls will have done at some point in their childhood. Add petals to water an viola, you've made your own perfume. It may not exactly be Coco Chanel, but it'll look pretty in a glass bottle and the kids will be pleased as punch.
Teddy bears' picnic
When you go down to the woods today you're sure of a big surprise!
Take your teddies down to the park, to the local woods or even just out onto your back lawn (you have to take them all, otherwise the ones left behind will feel left out), arrange them all on a blanket and feast on homemade sandwiches and lemonade.
Oh, and don't forget to take the kids.
Visit platform nine and three-quarters
Feel like you're going to Hogwarts by visiting platform nine and three-quarters in King's Cross station in London.
You can get your picture taken there and it's absolutely free. Check out which other Potter film locations you can visit, here.
Psst! Here's everything you need to throw a themed Harry Potter-inspired party.
Make a fairy garden
Everyone wants to imagine that fairies exist, and you can make that dream come true for your little ones by creating a little fairy garden for the fairies to come and live in. Don't have a garden? Make one in a plantpot and keep on your windowsill.
Find out to make a fairy garden in our garden craft ideas for kids.
Watch an egg hatch
Check out your local farm to see if they have anywhere that kids can watch the chicks hatching. Not only does it help your child to understand about life and just how fragile newborn creatures are, but it's so exciting to see the little beak finally appear from the shell. They'll love it.
Throw a themed kids' party
Become your favourite characters for the day. Whether it's swashbuckling pirate, a tiara-wearing Disney princess, or an intrepid jungle explorer, themed parties are so fun when you're a kid, plus they don't have to cost the earth.
Follow our themed kids' party planners to throw one on a budget.
Send a message in a bottle
Make a secret little note and send to a special someone by making this cute message in a bottle craft. It's fun to make and is a sweet thing to make for friends, family, or even as an invite to a party!
Stand under falling blossom
When we were little, we had a huge blossom tree on the street we lived on, every spring we'd look forward to the trees coming into bloom again and showering us in pink petals. As magical as falling snow, but dry, warm, and far less messy.
Learn to ride a bike (and fall off at least four times)
Teaching your kids to ride a bike is such a rewarding thing for both you and your little one. You'll have back ache for a week and there may be some cuts, bruises and tears along the way, but seeing them whizz off without your help for the first time will make it all worth it.
Where to next?
Win! In our Hobbycraft BIG summer giveaway
Gemma Chandler is a lifestyle writer specialising in kids' educational media across a range of topics including nature, history, science and geography across digital, print, social media and video channels. She joined Creature & Co. at 2015, shortly becoming Digital Editor of National Geographic Kids magazine.