Crafting with kids: outdoor activities that they will love
Looking for creative ideas to entertain the kids this summer? Try our garden craft ideas for some family fun that will get your kids off the computer and out into the fresh air, without costing you the earth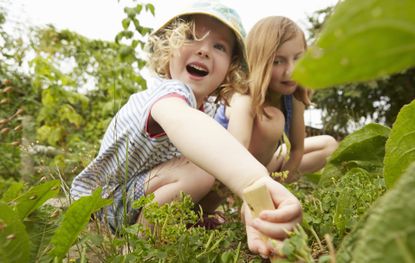 (Image credit: Getty)
Take a look through these garden crafting ideas for some family fun that will get your kids off the computer and out into the fresh air, without costing you an arm and a leg
We want to help you make the most of the sunshine as soon as it comes out again, so here are our garden crafting ideas, which'll help you and the kids get creative and spend as much time outdoors as possible this Spring.
Even the smallest garden is the perfect place to spend time together as a family, so read on for some great creative garden crafts that will keep your kids entertained without having to spend a fortune.
41 ways to entertain your kids (opens in new tab)
From turning your outside area into a sandcastle haven, to growing your very own vegetable patch and building a secret den, we have a plethora of outdoor crafting ideas that will keep your kid's little head out of their devices all Spring and summertime long.
The best part is, all of these activities can be done both with you, so they provide the ultimate parent-child bonding experience.
Being able to connect with nature is so important for personal development, so by taking the time to endorse the fun of the outdoors to your child now, you are massively increasing their chances of living a healthy and active life as time goes on.
And there's no denying the therapeutic properties of crafting activities, as tasks such as painting provide an outlet from the daily stresses of life - which can be beneficial for both you and your child!
So take advantage of the good weather now that it's finally come back to us - take every opportunity to feel that warm sun on your skin and absorb some sweet vitamin C, whilst also being able to bond with your family members.
And, hey, we've done all the work for you by rounding up the best activities - all you need to do is take a scroll through them and pick your favourite!
Make a fairy garden
Encourage your kids to use their imaginations and create a miniature world of their own. Using things found in the garden, this activity will cost you nothing and keep them entertained for hours.
You will need: Little pieces from the gardens, such as...
- Rocks
- Stones
- Leaves
- Sticks
What to do:
1. Help your kids choose a suitable area to make a fairy garden, maybe on the lawn or the patio.
2. Collect stones to form a 'wall' around the edge of the fairy garden.
3. Help them collect leaves, flowers, rocks, snail shells and anything else they can find. They could use bark or stones to create paths and daisy heads to create a miniature flowerbed. They could even use an old plastic bowl or bottle top to create a pond or lake.
4. If they want an extra challenge, why not suggest collecting some twigs to build the fairy's log-cabin? Bundled together with some string, twigs could also be used to make a miniature raft for an extra large fairy lake.
Try painting some plant pots
This activity is perfect for kids who like painting and gluing and love the idea of making something old into something new. They could even paint faces on to them to create their own plant pot pets!
Great for: Making presents for grandparents.
You will need:
- Old plant pots that your kids can decorate
- A few craft essentials
What to do:
Read the full instructions for these cute plant pot pets.
Pressed flowers keepsake box
If you're lucky enough to have a garden with flowers, why not use them in your crafts? This project will help your kids make a pretty keepsake box decorated with pressed flowers.
Great for: A momento they can keep years.
You will need:
- A cardboard box
- Paper - A few heavy books - Freshly cut flowers
- A glue stick - Paint/felt tips/glitter - collage materials of your choice for extra decoration
What to do:
1. Gather some freshly cut flowers.
2. Open up a heavy book and place paper over both pages to keep them clean.
3. Lay a flower on top of one of the pieces of paper, so that the other will cover it when the book is closed. Make sure you only put only one flower in between each sheet - you can put multiple sheets in one book, though.
4. Close the book, and weigh it down with more books. Do the same for the rest of the flowers, and leave them for about two weeks.
5. Start decorating. Give each child a cardboard box (shoe boxes are perfect) and get them to design the background using paint or any craft materials you have at home.
6. Once the flowers are pressed, carefully take them out of the books and glue them on the box. Be sure to put the glue on the box itself rather than the flower.
7. Once the flowers are stuck down, leave them to dry and they'll have the perfect homemade keepsake box for keeping things which bring back special memories.
Super skittles
Transform old plastic bottles into a new set of skittles. They're great fun to to make plus you'll have a new homemade garden game to play once they're ready.
Great for: Kids who love to paint.
You'll need:
- Paint
- A few old plastic bottles
What to do:
Find out how to make these fun super skittles that the kids will love.
Doorstop stone
Stuck for ideas on how to entertain the kids all holiday? Try making our doorstop stones.
Great for: Creative kids.
You'll need:
- A decent sized rock or stone, heavy enough to use as a doorstop
- Paints, glitter, glue - anything you have to hand to decorate your stones
What to do:
1. Find a suitable rock.
2. Help your kids come up with a design. Simple patterned designs are easiest if you're short on craft materials - all they'll need is paints.
3. If your kids are feeling a bit more adventurous, they could try an animal design. Fold paper into a cone shape to make a pointy mouse face. Or, with a pompom for a head, pipe cleaners for legs and paint to decorate, a rock can easily be transformed into a sheep, cat or dog. The ideas are endless...
Where to next?
- Kids' activities for wet weather
- 41 ways to entertain your kids
Bird boxes
These are for children who are a little older, but still want to get crafty. Created by Husqvarna (opens in new tab), this beautiful bird box craft is something kids can admire all year around.
You need
- 4 pieces of wood measuring: 45cm x 15cm, 20cm x 15cm, 11cm x 15cm, 21 x 15cm
- 2 pieces of wood measuring 25cm x 20cm each
- Non-toxic, water-based paint
- Nylon bolt or wire
What to do:
- Head into your garage and find those pieces of wood you've been storing forever, and join them together with nails and a hammer, after cutting them to size (back panel: 45cm x 15cm, front: 20cm x 15cm, base: 11cm x 15cm, roof: 21cm x 15cm, and two sloped side panels: 25cm at the back and 20cm at the front).
- To attract lots of beautiful birds, create an entrance with a hole that measures 10cm high. To keep those little fingers safe, we recommend parents do the assembly and children do the fun part, decorating the bird box.
- To give their bird box a personal touch, allow your kids to decorate it using non-toxic water-based paint and let them decorate it to their heart's content.
- Once finished, attached the box to your tree using a nylon bolt or wire, to reduce damage to your tree.
- Once assembled, print photos of the below birds and challenge your children to spot them using binoculars over the coming weeks:
- Blue Tits
- Tree Sparrows
- Pied Flycatchers
- Starlings
- House Sparrows
- Nuthatches
- Robins
Make a DIY bird feeder
Making bird feeders with toilet roll is a fabulous, cheap and easy way to get your kids out in the garden and learning about all the birds that visit your back yard.
Great for: Wildlife enthusiasts.
You will need:
- An old toilet roll - Bird seed
- Peanut butter
What to do:
Find out the full instructions to make your own toilet roll bird feeder.
Grow some veg
Get your kids into gardening by growing some veg! If you don't have much growing space, start with cucumber as their introduction into the joys of gardening.
Great for: Teaching them about how food grows.
You will need:
- Some cucumber seeds
- An empty 2-litre plastic bottle
- A little garden space with soil - Some newspaper - Elastic bands
What to do:
1. Plant your cucumber seeds somewhere in your garden.
2. Water them regularly and the little cucumbers will start to grow.
3. Look out for when one of the flowers has dried. At this point push the little cucumber and a bit of the vine through the hole in the bottle and let it sit inside.
4. Cover the bottle with newspaper and tie it on with elastic bands so that the light can't damage it as it grows.
5. When the cucumber has grown to a size you're happy with, cut the vine.
6. Get your kids to show their friends- they'll be wondering how a cucumber ever got through such a tiny hole!
Build a den
Children love making dens. Having a secret place to hide and call their own is something kids won't grow out of for years. You won't need to buy anything for this project as long as you keep it simple.
Great for: When the kids have their friends over.
You will need:
- Old sheets
- Chairs - Cushions - Pegs or stones to hold the sheets down
What to do:
1. Collect everything you can find to build the den.
2. Use trees, swing-sets, slides and fences to tie sheets to.
3. If you have a tent, include that and try covering it with leaves or sheets to camouflage it.
4. As long as you have a couple of old sheets and can think of a way to hang them, your kids imaginations will do the rest of the work.
Garden lanterns
This is a very simple craft idea to decorate your garden - plus, the kids will love getting creative.
Great for: A rainy day.
Your will need:
- Paper
- Scissors
- A stapler - A hole punch
- String
- Any craft materials you have at home (such as coloured pencils, coloured paper, sequins, glitter, felt tips etc)
What to do:
1. Start with a piece of A4 paper (coloured paper is better but white paper can easily be brightened up with pencils and felt pens) and let your kids decorate it in any way they choose. Simple patterns and shapes work best as they are going to cut into it later.
2. Fold the piece of decorated paper in half so that it is very long and thin. The pattern should be on the outside.
3. Use scissors to make cuts all the way along the fold, leaving only a couple of centimetres at the ends.
4. Unfold the paper.
5. Bring the two ends together to create a tube shape, and staple together at the top and bottom.
6. Punch holes in the top and thread the string through them to hang the lantern. The lanterns can be hung from any branch or tree around the garden.
Sandcastle competition
Can't get to the beach this year? Bring the beach home to your kids! This is a great chance to join in with the kids, get messy and have fun.
Great for: A bit of healthy competition.
You will need:
- 1 Large bag of sand, available for just 2.99 at Argos (opens in new tab)
- 1 Large plastic bowl - 1 small plastic bowl
- A plastic ground sheet/several extra large plastic bin liners
- A plastic cup for making miniature sandcastles - Any old buckets and spades from your last trip to the beach
What to do:
1. Spread the plastic sheet/bin liners over a suitable area of the garden to protect the ground, then sit your kids on. If you have a patio area this may be ideal as it will be easier to sweep up any spilled sand.
2. Pour the sand into the large plastic bowl and water into the smaller bowl.
3. Each child can compete to make the most creative miniature sandcastle.
Grace Walsh is a Features Writer for Goodto.com, covering breaking news health stories during the Covid-19 pandemic as well as lifestyle and entertainment topics. She has worked in media since graduating from the University of Warwick in 2019 with a degree in Classical Civilisation and a year spent abroad in Italy. It was here that Grace caught the bug for journalism, after becoming involved in the university's student newspaper and radio station.