The best baby bottles of 2023 – tried and tested by moms
We've taken the hard work out of choosing the best baby bottles by trying them out for you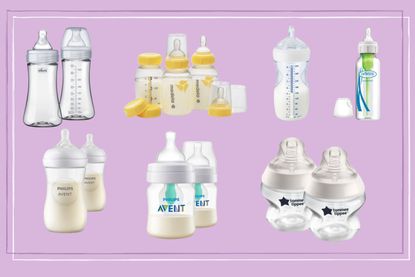 (Image credit: Future)
Goodto Newsletter
Parenting advice, hot topics, best buys and family finance tips delivered straight to your inbox.
Thank you for signing up to GoodTo. You will receive a verification email shortly.
There was a problem. Please refresh the page and try again.
Establishing bottle feeding can be difficult – not least because you need to decide which bottle to use. And there are so many options. Silicone, glass or plastic? A flat-topped nipple, anti-colic design, orthodontic teat, or one featuring multiple holes to mimic a real breast?
With so many styles and innovations, is it a wonder that finding the right baby bottle for you and your baby can become yet another overwhelming task – especially if you're a first time parent trying to work out how to bottle feed a newborn in the first place.
Even if you've bottle-fed a baby before, no two babies are the same, so you'll often find yourself being flatly rejected if you try and force an older child's favorite bottle on their smaller sibling. That's why, while it's nice to be stocked up ahead of a baby's arrival, when it comes to bottles, we recommend you're better off not buying too many designs in advance. Instead, wait till your baby has been born and try them out on individual bottles until you both find one that they like.
To give you an idea of what bottles are available and the babies they might suit, we've tested the best around with real moms and their little ones.
How to choose the best baby bottle for you
There are multiple factors to consider when choosing a brand, but the biggest decider will probably be whether or not the bottle gets your baby's seal of approval. No matter how budget-friendly or easy to clean you find a bottle to be, if your baby takes against a certain brand, you'll face an uphill battle trying to persuade them to drink from it.
For this reason, there isn't just a single bottle we'd recommend. Instead, we've found the best bottles out there for colicky babies and pumping mamas, for bottle refusers and formula-fed babes. We've tracked down the best silicone bottle and the best combination of glass/plastic design, as well as our favorite self-sterilizing one.
To finalize our lineup, we scoured internet chatrooms and read scores of online reviews. Then we enlisted a panel of real parents to try them out and spoke to a leading lactation consultant about what we should be looking for when choosing a bottle.
'One of the biggest challenges for parents is dealing with all of the marketing jargon and misinformation when it comes to bottle feeding,' says Kelly Kendall, a lactation consultant at IBCLC and founder of The Balanced Boob. 'It's a huge misconception that bottles shaped like a breast are better when actually this is not true. In fact, a bottle nipple with a gradual slope promotes an open mouth similar to how the lips would rest on the areola when breastfeeding.'
Best baby bottles as reviewed by our testers
1. ChiccoDUO
Best plastic and glass combi baby bottle - a first of its kind glass-lined, plastic-outer bottle
Specifications
Dimensions: 5oz or 9oz
Materials: Glass and plastic combi
Teat: 3 options
Reasons to buy
+
Durable and break-proof
+
Won't stain or smell
+
Best of both
Reasons to avoid
-
Not microwavable
-
Expensive
There's a lot to love about glass bottles: they don't stain or go cloudy, and they are less likely to develop a smell. Many parents also worry about the safety of plastic bottles when feeding little ones. But on the downside, glass bottles can be clunky, heavy, and prone to breakage.
Enter the ChiccoDUO, the first bottle on the market to feature the best of both worlds. Using medical technology, the bottle features an ultrathin layer of Invinci-Glass®, which keeps milk away from the sturdy plastic outer layer (which is also free from nasties such as BPA, BPS, and PVC). Using a thinner inner layer of glass allows the bottle to remain lightweight, while a plastic outer means you don't have to worry about middle-of-the-night bottle drops (although Chicco claims this glass is breakproof).
'I absolutely loved that this bottle allows the option to store and heat milk with a glass surface rather than a plastic one, because I do definitely think about chemicals and other possible contaminants in plastic,' says our reviewer Michele Malejki, mom to five-month-old Alejo.
Premium materials set this bottle at the more expensive end of the market.
2. Philips Anti-Colic Baby Bottle with AirFree Vent
Best baby bottle for upright feeding - reduce colic and gassiness by feeding baby sitting up with this clever design
Specifications
Dimensions: Available in 4oz, 9oz, and 11oz
Materials: Made from polypropylene plastic
Teats: Four flow options
Reasons to buy
+
Smart nipple for upright feeding
+
Good price
+
Widely available
Reasons to avoid
-
Only available in plastic
-
Multiple parts to wash
-
Narrower nipple
An age-old colic-reducing trick is keeping a baby upright after feeding. This allows air bubbles to rise to the top of the tummy and be burped out, rather than causing painful gas. Feeding a baby in an upright position also helps, but it can be tricky to get the bottle at the right angle to allow for air-free feeding. The Philips Anti-Colic Baby Bottle with AirFree Vent does a great job at changing that, with a smartly designed nipple that allows for easy upright feeding.
Like Dr Brown's famous anti-colic bottles, these bottles also feature an insert. But this one serves a very different purpose: it keeps milk in the nipple so that the baby can keep feeding steadily even when the bottle is horizontal.
It's a brilliant design that is loved by parents of gassy babies, but it can take a little time to get the hang of the setup. 'We absolutely loved this bottle, but it was a little tricky trying to work out which way round the anti-colic insert goes at first,' says our tester Jade Granger, mom to one-year-old Violet. 'You have to remember if it's supposed to be at the top or bottom, and when the baby inevitably turns the bottle around, it's then upside down.'
The addition of the anti-colic valve does mean that there's an extra part to clean. But we found this to be much easier to clean than the Dr. Brown's anti-colic valve because there's no tubing that needs to be cleaned with a pipe cleaner.
3. Comotomo
Best silicone baby bottle: celebrity favorite bottles with an eye catching design
Specifications
Dimensions: Available in 5oz or 8oz
Materials: Made from silicone
Teats: Available in four flows
Reasons to buy
+
High quality silicone
+
Attractive design
+
Leakproof
Reasons to avoid
-
Expensive
-
Hard to open
-
Tips over
It would be hard to pick most baby bottles out of a lineup, but you can spot a Comotomo bottle a mile off. With a hot pink or lime green collar and a distinctive rounded shape, these bottles are often pictured in the hands of celebrity parents, and, as such, they have a price tag to match. The Comotomo is one of the most expensive baby bottles on the market.
But many moms swear by these. The benefit of using a silicone bottle over a more rigid glass or plastic one is that you can gently squeeze the bottle, mimicking the milk letdown that comes at the start of breastfeeding. They're also lightweight and easier to hold for both parents and babies.
'I loved the squishiness of this bottle right away,' says Tehreem Kazmi, mom to 13-month-old Ali-Abbas. 'As well as being comfy to hold, this also means that when you put it into the baby bag you can fit more bottles and baby gear in alongside it.'
Another feature loved by parents is the extremely wide neck of the bottle (by far the widest of any bottle we tested). This feature makes it easy to scoop in formula or pour in breast milk without making a mess, even during those clumsy middle-of-the-night feeds. It also makes cleaning a doddle and removes the need for a narrow bottle brush.
Comotomo bottles are designed with a wide nipple shape to reduce nipple confusion, and feature dual anti-colic valves that many online reviewers rate highly. But whether they're worth the hefty price tag is up to you.
4. Medela Breast Milk Storage
Best baby bottle for pumping mamas - easy to use breast-to-bottle-to-baby system
Specifications
Dimensions: Available in 5oz or 8oz
Materials: Made from BPA free plastic
Teats: Two flow options
Reasons to buy
+
Easy pumping to feeding
+
Good value
+
Can be frozen
Reasons to avoid
-
Plastic option only
-
Only fits Medela pumps
-
Limited options
Whether you're exclusively pumping, pumping at work, or combi-feeding your baby, chances are you'll be looking for ways to simplify the process and cut down on the seemingly endless washing up that all this entails.
Medela Breast Milk Storage bottles promise to do just that. Simply attach the bottle to your Medela pump (it fits all models), pump directly into the bottle, and then detach and store in the fridge or freezer for as long as you need to.
Our reviewer Michele Malejki, mom to five-month-old Alejo, appreciated the brightly colored ounce and milliliter markers that make it simple to see, at a glance, how much milk you've pumped.
As Michele is exclusively pumping and currently feeding Alejo five bottles of breastmilk a day, she loved that these bottles sped up the process. 'It definitely saves time and makes it easier to prep the next meal for my baby,' she says. 'I also like that there is less washing up to do, with the added bonus of them being more environmentally friendly due to less water usage.'
Although the bottles can only attach to Medela breast pumps, we've included them in our top ten bottles because of just how widely used the pumps are (they're still America's bestselling brand and supply pumps to 80% of American hospitals).
Pumping compatibility aside, we found the Medela Milk Storage bottles to be very budget-friendly – particularly if you buy the bottles sold in multipacks without nipples. They're also one of the most lightweight bottles we tested.
5. Tommee Tippee Closer to Nature
Best baby bottle for little hands to hold - contoured sides make this lightweight bottle easy for babies to hold
Specifications
Dimensions: Available in 5oz or 9oz
Materials: Option of plastic, silicone or glass
Teats: Five flow options
Reasons to buy
+
Easy to hold
+
Breast-like nipple
+
Customizable
Reasons to avoid
-
Measurement marks may fade over time
-
Flimsy feel
Because of the contoured design and ultra-lightweight feel, the Tommee Tippee Closer to Nature is a wonderful bottle for babies to hold. Little hands can easily grip the grooved sides and because the bottle is made from plastic, there's no need to worry about the baby breaking it.
'My first thoughts on this bottle were that it was a bit fat looking and not very easy on the eye,' says our tester Tehreem Kazmi, who tried the bottle out with her 13-month-old son. 'But actually, Ali-Abbas loved holding onto it – it seemed comfy for his little hands.'
This is also one of the most customizable bottles we tried. You can switch out the bottle body for silicone or glass, and there are five nipple flows available (including extra slow flow and Y cut thick feed – flows that aren't easy to find with other brands). Plus, Closer to Nature is available in a range of colors and patterns.
Our tester found the bottle to be a bit flimsy feeling but acknowledged that that was probably part of the reason why the bottle was so lightweight and easy for her son to hold.
Tommee Tippee claims that this bottle is accepted by 95% of babies, and, with a 4.7-star rating on Amazon and glowing reviews from moms' groups, we can well believe it. Because of the nipple's wide, flexible design, it's a popular choice for parents of little ones who have a tough time latching or who suffer from tongue or lip ties.
6. NUK Simply Natural
Best baby bottle for temperature control - a bottle with a smart temperature gauge that fades when the milk is too hot
Specifications
Dimensions: Available in 5oz or 8oz
Materials: Option of plastic or glass
Teats: Three flow options
Reasons to buy
+
Smart nipple design
+
Temperature monitor
+
Easy to clean
Reasons to avoid
-
Single air vent in nipple
-
May leak
Whether you use a bottle warmer or a jug of hot water to take the chill from your little one's bottle, there's always the fear that it's just a bit too hot. Here's a bottle with a clever temperature gauge that fades when the milk is too hot, and reappears as the milk cools to a safe level. Of course, you can always splash a few drops of milk on the back of your wrist to check its body temperature – but many exhausted parents appreciate just one less thing to worry about. 'This temperature gauge would have been a game changer when my son was younger,' says our tester Reina Novell, mom to nine-month-old Jacob. 'Bottle temperature was a real worry in the early days, so I love this feature.'
As well as the SmartTemp feature, parents love NUK Simply Natural for the unusual nipple design, made from softer, pliable silicone. While most bottles feature a single hole for the milk to flow through, Simply Natural nipples feature multiple holes – just like a real nipple. The slowest flowing nipple in the range features three holes, while the fastest features nine.
It's also a nicely designed bottle, made from high-quality materials. 'My first impression of this bottle was that it was really nice and light, and easy to hold with one hand,' says Reina. 'Yet the plastic is thick and sturdy.'
NUK Simply Natural is also available in glass, although that version doesn't feature the same SafeTemp gauge. Our tester tried out a plain plastic bottle, but there are plenty of designs to choose from – everything from stars to hearts and color pop collars.
7. Lansinoh Breastfeeding Bottles
Best baby bottle for bottle refusers - lactation consultant favorite bottles clinically proven to reduce nipple confusion
Specifications
Dimensions: Available in 5oz or 8oz
Materials: Option of plastic or glass
Teats: Three flow options
Reasons to buy
+
Breast-like nipple
+
Affordable
+
Milk storage bottle option
Reasons to avoid
-
Not microwavable
-
Hand washing recommended
-
Markings hard to see
One of the worries about switching between breast and bottle is nipple confusion, which is when a little one gets frustrated or fussy at the boob before breastfeeding has been properly established. Lansinoh Breastfeeding Bottles are clinically proven to reduce the chances of nipple confusion and are a popular choice with breastfeeding moms. It's also a commonly recommended brand by lactation consultants for little ones who have taken against the bottle.
'My son is mostly breastfed, and only has a bottle a few times a month,' says our tester Reina Novell, mom to nine-month-old Jacob. 'He can be pretty choosey about bottles, but he loved this one as soon as he tried it.'
Breastfeeding chat rooms are full of stories like Reina's. 'These bottles saved me,' writes one new mom. 'My little one was refusing all major brands [of bottles], but he took Lansinoh right away without any fussiness and gagging, so now I don't have to stress about going back to work.'
Designed by a breastfeeding mom fed up with the unnatural feel of bottles, Lansinoh has been making bottles for breastfed babies for almost 40 years. The NaturalWave nipples are soft and flexible, designed to allow babies to practice the same sucking and feeding actions used with breastfeeding.
Available in BPA and BPS-free plastic or shock-resistant borosilicate glass, these bottles are made of premium materials but are still well-priced as mid-range bottles. One downside is that they aren't suitable for use in the microwave and although they are dishwasher safe, Lansinoh recommends handwashing to extend their life. This is a lot of extra work for new parents.
8. Dr. Brown's Natural Flow® Anti-Colic Options+™ Narrow Baby Bottle
Best baby bottle for gas and colic - a time tested favorite for gassy, colicky babes
Specifications
Dimensions: Available in 5oz or 8oz
Materials: Option of plastic or glass
Teats: Six flow options
Reasons to buy
+
Fully customisable
+
Excellent anti-colic system
+
Sturdy bottle
Reasons to avoid
-
Fiddly to clean
-
Lots of parts
Delve into the topic of colic in any Facebook parents' group, and you'll likely see one bottle brand mentioned time and again: Dr. Brown's. There's good reason that these bottles are so enduringly popular with parents of gassy babies. With a unique anti-colic venting system that claims to eliminate almost all air bubbles from feeding, these bottles work a trick for soothing little tummies.
Back in the 1980s, Dr. Craig Brown was a family physician fresh out of med school when his new baby developed terrible colic, screaming for up to twenty hours a day. The doctor turned inventor, drilling holes into old bottles until he settled on a design that radically changed how babies are fed today.
And with 4.8 stars on Amazon, these are the most highly-rated bottle we tested. 'These are magic bottles. If you are like me and cannot stand your baby crying after every feed just do yourself a favor and buy this bottle to try it out,' writes one reviewer.
But this fancy anti-colic system comes with a pretty major downside: it's really tricky to clean. With five parts and lots of nooks and crannies, these bottles require a concerted effort to degunk. 'I didn't like the vent system as it was fiddly to clean,' says our tester Michelle Boyce, mom to Alexander, 14-months old. 'I get a little crazy with the bottle cleaning, so this vent would definitely be an issue for me if we used it all the time.'
Of course, if your little one is fussy and in pain, that extra cleaning will most likely be well worth it.
9. MAM Easy Start Anti-Colic
Best baby bottle for self-sterilizing - a smartly designed bottle with a self-sterilizing feature
Specifications
Dimensions: Available in 5oz or 8oz
Materials: Made from BPA and BPS free plastic
Teats: Four flow options available
Reasons to buy
+
Clever self-sterilizing feature
+
Anti-colic design
+
Removable base and top
Reasons to avoid
-
Only available in plastic
-
Bulky shape
-
May leak
Newborn babies are still developing their immune systems, so it's vital to make sure their bottles are sterile. The CDC recommends sterilizing bottles after every use for all babies under three months of age and continuing to sterilize bottles for little ones with compromised immune systems. If you're exclusively bottle feeding, it can feel like you spend your whole life cleaning and sterilizing bottles.
We love the MAM Easy Start Anti-Colic Bottle's nifty self-sterilizing feature. It's a really clever design that makes things easier, both on the go and at home. Simply unscrew the base of the bottle, fill it with water, place the nipple inside the bottle, screw it all back together, and microwave for three minutes. No need for boiling water, countertop sterilizers, or special microwave steam bags.
'This is such a fantastic feature,' says our tester Michelle Boyce, mom to Alexander, 14 months. 'I'm Irish so have taken Alexander on a long trip to Ireland and ended up having to buy a sterilizer. If only I'd known about these bottles then!'
These bottles also feature an unusual anti-colic design: eight tiny holes around the base of the bottle to allow for airflow and prevent the formation of air bubbles. The nipple itself has a unique flat tip, designed to mimic mom's nipple and ease the transition from breast to bottle and back again.
The downsides of this bottle are that it's only available in plastic and some parents find that it leaks.
10. Philips Avent Natural Baby Bottle with Natural Response Nipple
Best slow flow baby bottle for new-borns - a bottle that intuitively pauses flow when your baby takes a break
Specifications
Dimensions: Available in 4oz, 8oz, 9oz, and 11oz
Materials: Available in polypropylene plastic or glass
Teats: Five flow options
Reasons to buy
+
Doesn't leak
+
Good price
+
Smart nipple
Reasons to avoid
-
Narrower neck
-
Limited designs
To avoid being overwhelmed by free-flowing milk, newborn babies need a bottle with a slow-flowing nipple. Most brands offer a nipple option for newborns, but the Philips Avent Natural Baby Bottle with Natural Response Nipple is by far our favorite.
What we – and our tester – love about this bottle is the Natural Response Nipple, a clever bit of bottle tech that prevents drips and leaks, and, most importantly, reacts to your baby. Babies feed rhythmically, pausing often to take a breath or swallow. With most bottles, the milk will keep flowing even when the baby stops sucking, and this can lead to dribbled milk or coughing and spluttering. But the Natural Response Nipple's unique tip only releases milk when the baby is actively drinking, which is much less overwhelming for newborns.
As well as improving the feeding experience for babies, this smart nipple also is less prone to leaking than regular ones. 'This is why I love it!' says Marlena Lipski, mom to 11-month-old Margaux. 'My daughter often drinks throughout the night and when she's done, she leaves the bottle next to her. If it isn't completely empty, the milk would simply leak out leaving the whole area around her wet. This hasn't been a problem at all with the game-changing bottle.'
We also like the wide range of options available with this bottle. It comes in more size options than any other bottle we tested, and there's an option to choose from glass or plastic, in several different colors. There's also an option to buy a temperature control sleeve for the glass version.
Which bottles are easiest for babies to hold?
'Most babies won't be able to hold their own bottle until around eight months of age and it's best to avoid using bottle props or assists as this can increase the risk of choking,' says Kelly.
Once your little one is old enough to hold the bottle on their own, you could try offering them a silicone bottle. Silicone bottles are light enough for little hands, and the squeezable material makes them easier to hold. Brands such as Tommee Tippee and Dr Brown's also offer attachable handles that make a bottle easier to hold. Or try our pick for the easiest bottle for little hands to hold, the Tommee Tippee Closer to Nature.
How often should you change baby bottles?
Silicone bottle nipples degrade over time and will generally need to be replaced every four to six months. 'If you notice any tears in the silicone or that the bottle is no longer venting well or the nipple is collapsing, it's time to swap them out,' says Kelly. 'Thankfully, you can usually just replace the nipple itself and not the entire bottle system.'
Babies also need faster-flowing nipples as they get older. If it seems like your baby is having to work hard to suck the milk, is finishing their bottle more slowly, or is fussy during a feed, it may be time to go up a flow level. 'Unfortunately, there is actually no industry standard when it comes to defining flow,' says Kelly. 'If you bought five different brands of "slow flow nipples" you would find five different flow rates.'
If you aren't too accident-prone, then glass bottles generally last longer than plastic, which can end up going cloudy with frequent washing.
Once you've settled on the best bottle for your baby, you might want to read our guide to the best bottle sterilizers or have a look at the best bottle warmers so you'll have everything covered for feeding your baby. And, if you need some tips on getting bottle feeding established, check out our feature on how to start bottle feeding your baby.
Parenting advice, hot topics, best buys and family finance tips delivered straight to your inbox.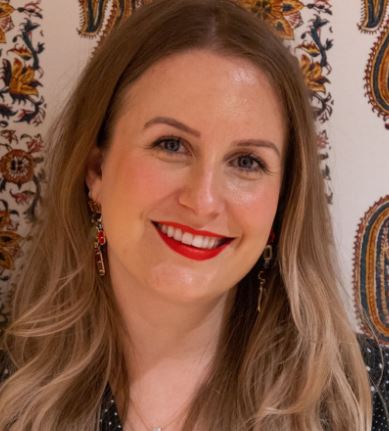 Freelance Contributor (US)
Rosie Hopegood is a journalist, editor, and writer with many years of experience writing about lifestyle, including parenting, for a broad range of magazines and newspapers. Now based in Brooklyn, New York, Rosie has written for Daily Telegraph, Al Jazeera, The Observer, The Guardian, The Independent, Vice, Telegraph Magazine, Fabulous Magazine, Stella Magazine, Notebook Magazine, Saga Magazine, Reader's Digest, Sunday Telegraph, Sunday Mirror, S Magazine, and Stella Magazine. She spent five years on staff at the Mirror, where she was Deputy Features Editor on the magazines team.