The 12 best Christmas crackers 2022 - for all budgets
The best Christmas crackers you can buy in 2022, from John Lewis to M&S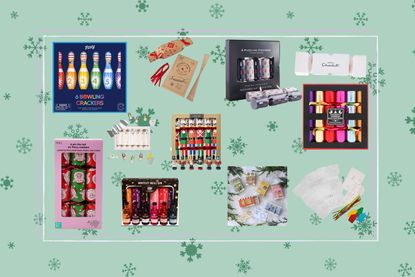 (Image credit: Future)
The best Christmas crackers bring a buzz of excitement to your festive table and contain the kind of treats that your guests will want to swap and keep.
By now you've probably ordered the best toy advent calendar, chosen the best Christmas jumper for kids and maybe even started shopping for the top Christmas toys. But have you thought about crackers yet? It's never too soon because the really cracking ones (see what we did there?) tend to sell out way before December rolls into view.
But which are the best Christmas crackers for you? There's lots to choose from between the classic kind with paper hats and awful dad jokes that we love to hate, and the sparkling luxury crackers with gifts that likely cost more than some of the presents under the tree. And more recently, the sustainable kind have really taken off.
The world of crackers is a wide one in 2022; you can even find crackers for pets, and if you don't fancy a plastic puzzle or another pair of nail clippers, you can fill your own with personal gifts - so you can save the games for after your Christmas dinner.
Of course, you want all of your hard work to be appreciated on Christmas Day, and that includes the much-anticipated dinner, where the tabletop decoration is just as important as the turkey.
The best Christmas crackers look impressive, contain decent surprises, and are eco-friendly or at least recyclable. So, if the wide selection of crackers on offer daunts you, fear not. We've checked them all out and shortlisted the best from the rest below.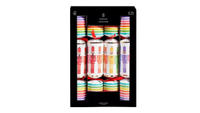 1. John Lewis Xylophone Musical Christmas Crackers - £30 | John Lewis
These adorable, rainbow-coloured crackers are great for families who want something a bit different this year and enjoy a bit of festive family fun. Each of the eight crackers comes filled with a hat, joke, and a xylophone piece that together makes up your band. Children especially will love learning to play several Christmas songs, with sheet music inside for all eight pieces. There aren't many ways to keep children entertained at dinner tables besides an iPad or with a pack of crayons, but this festive musical set is a wonderfully unique option to get the whole family involved in between courses.
---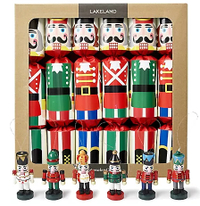 2. Lakeland Nutcracker Christmas Crackers - £19.99 | Lakeland
Guests will leave the table with a souvenir reminiscent of the Nutcracker ballet. Many families love to go to the ballet at Christmas and so the Nutcracker has become known for bringing festive magic into homes. Bring that magic to your Christmas table with six handmade crackers that contain hand-painted Nutcracker soldiers with a hanging loop that can then be placed on your tree. For those living in the same household, you'll have a full set as each Nutcracker is different. And, each cracker is made from glitter-free, foil-free fully recyclable card so you can pop the waste straight into the recycling when dinner is over.
---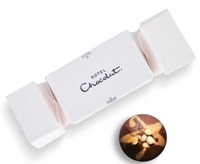 3. Hotel Chocolat Mini Chocolate Christmas Crackers - £18.99 | Very
Have dessert for starters with these deliciously indulgent Christmas crackers. If your guests prefer to have a dinner table full of things they can eat, including crackers, then consider this set of ten from Hotel Chocolat. Each cracker has a little spot to write guests' names on, which will add a lovely touch. Some of the brand's most popular chocolates are inside the crackers, including the Pecan Praline and Salted Caramel Cream - and it's a lucky dip with who gets what! In the lead-up to Christmas, the crackers will sit perfectly on your tree branches as they are mini in size. Just keep an eye out for chocolate thieves.
---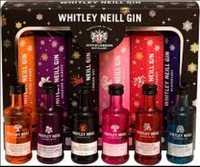 4. Whitley Neill Gin Crackers Selection - £20.99 | Amazon
While Buck's Fizz is the classic Christmas table tipple, flavoured gins have seen a surge in popularity over the last few years and will be seen on many Christmas tables this year. Whitley Neill has pulled together several of their favourite flavours, including Rhubarb & Ginger and Pink Grapefruit, to create a pretty selection of single-portion gin crackers. If your party is strictly over 18s, then these are certainly the best Christmas crackers for your table.
Coming in with five stars, these crackers get top reviews from customers, including those who want something a little more fun than the regular cracker. One buyer describes how she enjoyed 'upholding the table tradition' in a much more modern and eco-friendly way.
---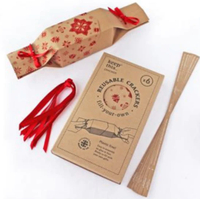 5. Reusable Kraft Christmas Crackers - £20.95 | The Good Lyfe
For the sustainable shopper, these crackers can be used time and time again. Start your New Year's resolution early and make your Christmas dinner more eco-friendly. These crackers are designed to be filled with your own choice of gift and can be reused for years to come by simply re-purchasing the snaps. So, they're not just eco-friendly, but purse-friendly too. If you've got pets in the house, you'll be pleased to know that each cracker comes with a pet-friendly ecosnap®, so that the bang isn't quite so loud and your furry friend can take their Christmas nap in peace.
---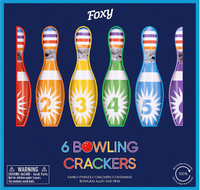 6. Rainbow Bowling Christmas Crackers - £20.00 | Selfridges
This set of six crackers will definitely be a talking point around your Christmas lunch table. You get six bowling pins, a bowling alley, and a rubber bowling ball included, and the crackers contain a hat and a joke, as well as a bowling pin. Possibly one to avoid if your family is the overly competitive type, however. Note, these are not suitable for children under 3 years due to small parts.
---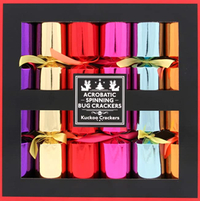 7. Acrobatic Spinning Bug Crackers - £18.95 | Amazon
Each of these six colourful crackers contains an Acrobatic Spinning Bug on wheels. You also get instructions for play, a tissue paper crown, and a joke. The bugs can race, spin, be stacked, or battle each other.
Judging by the reviews, these are pretty much the best Christmas crackers you can buy this year. 'Excellent quality and much more fun than the usual stupid random stuff in crackers,' wrote one happy customer. 'The company sells so many variations I had difficulty choosing which to get but I will definitely be coming back for another look next year.'
---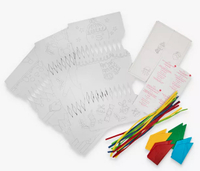 8. Talking Tables Colour in Christmas Crackers - £10.00 | John Lewis
As well as everything you need to assemble 8 crackers, this adorable set will keep the little ones entertained colouring Santa, snowmen, reindeer, and elves ahead of Christmas dinner. And, when your youngest insists that Granny needs to have the cracker s/he lovingly designed, there are 16 place cards to add to your dining table too. Ideal for the crafty family, these crackers are a bargain for any family whose table theme is more homemade than high-end.
---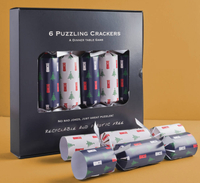 9. Escape Room Puzzle Christmas Crackers - £25 | Not on the High Street
With the continued popularity of escape rooms, these crackers are a must for the quizzical family. Each of the 6 crackers in this intriguing set contains a puzzle to be solved before the final task, which is to work out how all the puzzles link together. These are guaranteed to keep you entertained between the main course and Christmas pudding. There are no dodgy jokes here, but each cracker does contain the traditional paper hat so everyone can be respectfully adorned for the duration of the King's speech.
---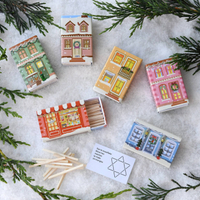 10. Matchstick Puzzles Alternative Christmas Cracker Set - £24 | Not on the High Street
For those who like to break with tradition, but also don't want to miss out, these cute alternatives to a classic Christmas cracker are perfection. The set contains 6 Christmas scene matchbox houses, which will look great displayed on the mantelpiece after Christmas dinner, especially because the tray of each box extends the scene of its house. Inside each box there is a hat, joke, and a matchstick brainteaser as well as a robin-themed game - so your dinner guests will be well amused. And once you've finished enjoying these tiny little dwellings, they won't take up too much room in your recycling either!
---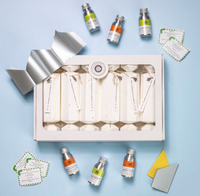 11. Luxury Plantable Christmas Crackers - £40 | The Good Zest Company
This set of luxury crackers is impressive. Not only do all 6 contain the obligatory hat and joke, but they are also made from 100% recycled card which is embedded with wildflower seeds, so can be planted into soil and enjoyed long after Christmas. They even come with planting instructions, so no need to worry if you're not naturally green-fingered! As well as that, the cracker gifts are 50ml bottles of organic, vegan, sustainable and cruelty-free shampoo, conditioner and body wash.
---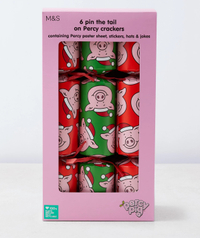 12. Marks & Spencer Percy Pig™ Recyclable Christmas Crackers - £10 | Marks & Spencer
Percy Pig is practically a celebrity now, and both adults and children alike love him for his cute curly tail and endless product options at M&S. This set of crackers is very affordable, and each of the six crackers comes with the classic hat, joke and sticker, with an added Pin the Tail on Percy Pig game to play.
If you're looking for something that is simple, fun and that the whole family will love, say hello to Percy.
---
Mollie is a lifestyle journalist, focusing mainly on health and beauty. Mollie contributes regularly to publications that include Insider, Women's Health, Reviewed, and IndyBest, amongst others. Basset Hounds are Mollie's favourite things on the earth. She has her own, Olive. Mollie loves anything with too much sugar in it, the colour yellow, pop culture, and musical theatre.