Best turkey 2022: Where to buy a turkey for Christmas
We have tried and tasted all of these roast turkeys to find the best turkey for Christmas 2022. Here are this year's favourites...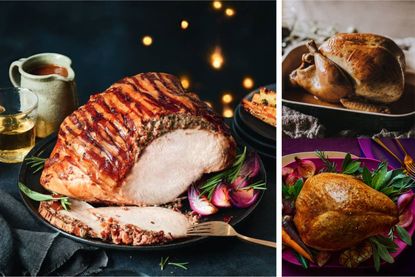 (Image credit: Future / various brands)
From stuffed turkey crowns to show-stopping whole birds, our team of experts has found the best Christmas turkeys for 2022 including supermarkets such as Asda and Tesco.
For many people, Christmas is the only time they consider having turkey as the meat for their roast dinner (unless you celebrate Thanksgiving)! It has a bad reputation for being difficult to cook and often, people find the breast meat dry and tasteless. However, judges praised each of the birds in this round-up and believe they all deserve a spot on your table this Christmas.
We have plenty of expert tips on how to cook a turkey (opens in new tab) this Christmas but starting with a high-quality product is also key. Buying a frozen turkey is often much cheaper than buying fresh but you need to ensure plenty of time to defrost it fully before cooking.
Our panel of expert judges includes Group Food Director Jen Bedloe (opens in new tab), Food Editor Jess Meyer (opens in new tab), Deputy Food Editor Rose Fooks (opens in new tab), Senior Food Writer Jessica Ransom (opens in new tab), and Junior Food Writer Georgia Sparks (opens in new tab). Collectively, the team has years of experience trying and testing thousands of new food and drink products each year as well as developing new and exciting recipes. This means you can trust their judgment and feel confident that they would only score a product highly if they truly thought it was worthy.
The prestigious award of best turkey went to Piper's Farm but Asda was a close runner-up. If you are having a smaller gathering this Christmas or simply want to reduce the chances of food waste, a turkey crown is an excellent choice and the Oakham slow-cooked turkey crown from Marks and Spencer was described as easy and innovative by Group Food Director, Jen Bedloe.
These products all scored highly during our blind taste tests for the woman&home Festive Food Awards (opens in new tab).
Where to buy Christmas turkey for 2022
Best Christmas turkey to buy online
Why you can trust GoodTo Our expert reviewers spend hours testing and comparing products and services so you can choose the best for you. Find out more about how we test.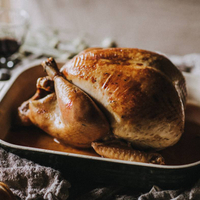 (opens in new tab)
1. Piper's Farm Free Range Bronze Whole Turkey, 4.3-4.8kg - View at Piper's Farm (opens in new tab)
Best whole turkey
RRP: £92 | Delivery: Specific delivery day given | Available: Pre-order now
Winner of the best whole turkey, this was a spectacular entry. Bronze turkeys are a slow-growing breed and a traditional choice at Christmas. Piper's Farm birds are reared on five small family farms in Devon and Somerset on a natural diet free from artificial additives and chemicals.
Food Editor Jess Meyer says: "This bird has a lovely plump shape and rich golden colour. The meat is tender and juicy with a rich flavour that's distinctively turkey. This golden bird was deliciously succulent and would look impressive as the centerpiece of any Christmas feast."
---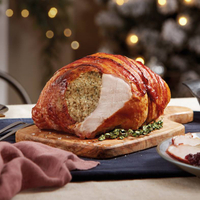 (opens in new tab)
2. Extra Special Norfolk Bronze Medium Turkey, typically 5.6kg - View at Asda (opens in new tab)
Runner up: Best whole turkey
RRP: £42.75 | Delivery: Book a slot 20-23rd Dec delivery | Available: Pre-order now
Reared on a rich diet of corn for a fuller flavour, judges praised the taste and texture of this bird, as well as its plump shape and juicy meat.
Food Editor Jess Meyer says: "This bird has a good flavour with succulent meat and an even golden colour. The suggested timing was a little inaccurate so make sure you probe the bird with a thermometer before removing it from the oven. It should reach 70C in the thickest parts and the juices should run clear."
---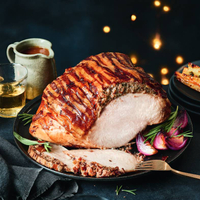 (opens in new tab)
3. Collection British Oakham Stuffed Turkey Crown, 2.3-2.7kg - View at M&S (opens in new tab)
Best turkey crown
RRP: £50.60-£59.40 | Delivery: Collection only | Available: Pre-order now
An innovative take on the classic Christmas main, this crown stole the show. Judges noted that you might want to cover with foil partially through cooking to prevent the bacon on top from burning. Some also said the pork and cranberry stuffing was a little sweet so consider scattering with a pinch of flaky sea salt when serving to balance the flavours. In stores from 1 Dec or available to preorder online now.
Group Food Director Jen Bedloe says: "This cooked brilliantly and is one of my favourite products this year for ease and innovation. It comes with gravy and produces lovely roasting juices which deliver even more flavour. There is plenty of stuffing so you don't need to buy more for the side of your feast. Plus, it's baked in its own foil tray so there's a minimal mess too."
---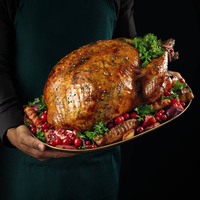 (opens in new tab)
4. Chesham bronze turkey, 4-5kg - View at Aldi (opens in new tab)
RRP: £9.99 | Delivery: In-store only| Available: December
Moist and tender with a delicious, intense flavour. This turkey comes with giblets so you can make a smashing gravy. If you don't know how to make gravy we have a deliciously easy recipe. Make sure you add any juices from the turkey once it has finished resting for a more intense flavour.
Deputy Food Editor Rose Fooks says: "This is a magnificent bird with juicy, succulent meat and a wonderful appearance. The bird is reared slowly and hung for at least 10 days to improve flavour."
---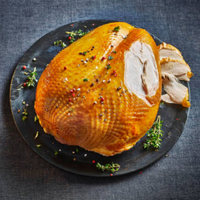 (opens in new tab)
5. Tesco Finest Narragansett Turkey, 4kg - View at Tesco (opens in new tab)
RRP: £48 | Delivery: December | Available: Coming soon
This Tesco turkey is reared in East Anglia using traditional methods and is fed a varied diet. To buy this turkey you need to check out online by 11.45 pm on 14 December as it is part of the Tesco Food to order collection. Beyond this date, you will not be able to order the turkey online.
Deputy Food Editor Rose Fooks says: "This plump golden bird has a rich flavour but was a little fattier compared to others. The skin is crisp and satisfying."
---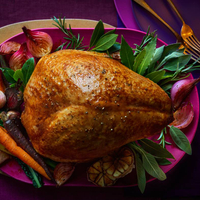 (opens in new tab)
6. Free Range Bronze Feathered Turkey, 2.5-4kg - View at Waitrose & Partners (opens in new tab)
RRP: £35-£56 | Delivery: Book a slot 20-24th Dec delivery | Available: Pre-order now
We were impressed with the intense flavour of the leg meat of this bird and would recommend smothering the bird in butter before cooking regular basting to enhance the flavour. Slower cooking could enable the fat to render down more evenly and allow the skin to crisp. Alternatively, you could stuff the bird and the stuffing would absorb more flavour from the fat under the skin.
Deputy Food Editor Rose Fooks says: "This has a wonderful gamey flavour and the leg meat was particularly tasty. It has a nice colour and shape but the skin was a little fatty and didn't crisp all over."
---
How did we test the best Christmas turkeys?
When we conduct taste tests all products are judged blind. This means that products are tasted without any possible bias or brand favouritism. Each turkey was cooked as per packet instructions in the Future's Test Kitchen which is based in the Testing Centre of Excellence in Winnersh, Reading. To keep the results fair, no additional seasoning, flavours or marinades were added. When cooking your bird this Christmas, consider Gordon Ramsay's lemon, parsley and garlic turkey recipe. It's a delicious flavour combination and the juices will contribute to a fantastic tasting gravy.
Judges are handed a tasting sheet to record their thoughts on and are specifically asked to comment on the product's appearance, flavour and texture. They also award a score from one to five, with one being poor and five exceptional.
For the turkey category, judges were looking for birds which had a good plump shape, crispy skin and succulent, flavoursome meat.
Meet the experts: Tried and tasted by...
Rose Fooks is Deputy Food Editor at Future Publishing, creating recipes, reviewing products and writing food features for a range of lifestyle and home titles including GoodTo and Woman&Home. She has a Diplome de Patisserie and Culinary Management at London's Le Cordon Bleu. Career highlights have included interviewing the wonderful Mary Berry and working on Truth, Love and Clean Cutlery; a guidebook of sustainable restaurants in the UK.
An enthusiastic, self-taught cook Jess adores eating out and sharing great food and drink with friends and family. She has completed the Level 1 Associate course at the Academy of Cheese and is continually building on her knowledge of beers, wines, and spirits. Career highlights for Jessica include chatting to one of her favourite food writers and chefs Sabrina Ghayour for an interview in Country Homes and Interiors and having the opportunity to meet the legendary Michel Roux Jr. and Raymond Blanc
An experienced recipe writer, editor, and food stylist, Jen is Group Food Director at Future plc where she oversees the food content across the women's lifestyle group, including Woman and Home, Women's Weekly, Woman, Woman's Own, Chat, Goodto.com, and womanandhome.com. Jen studied Communications at Goldsmiths, then landed her first job in media working for Delia Smith's publishing company on Sainsbury's magazine. Jen honed her practical skills by combining courses at Leith's cookery school with time spent in the test kitchen testing recipes and assisting food stylists on photoshoots.
Jess is the Group Food Editor at Future PLC, working across brands in the woman's lifestyle group, including Woman and Home, Woman's Weekly, Woman, Woman's Own, Chat, womanandhome.com and Goodto.com. An experienced recipe writer, food stylist and home economist, Jess honed her skills in print and digital food media, working with well known brands such as Great British Bake Off, Tastemade US and UK, and Slimming World to name a few.
Georgia Sparks is Junior Food Writer, working across Woman & Home, Woman's Weekly, Chat and goodto.com. She's passionate about food and is most content knife and fork in hand around the table with family and friends. Georgia works within the Food Team at Future Plc where she can usually be found in the kitchen developing and testing recipes as well as assisting on shoots and writing food features.
How long before Christmas should you buy your turkey?
Pre-order your Chr