Best turkey 2023: Where to buy a turkey for Christmas
Wondering where to buy your Christmas turkey this year? Well, here are the best turkeys we've tried and tested for 2023...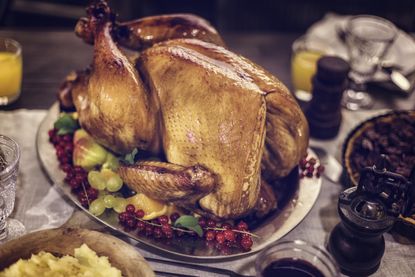 (Image credit: Getty Images)
Not sure where to buy your Christmas turkey this year? We've rounded up the best on the market all tried and tested by our team of food experts for 2023.
Turkey is the classic Christmas centerpiece, and certainly one of the most popular Christmas foods, but so often it gets a bad rep for being dry and overcooked. If you're unsure of how to cook a turkey there are some great recipes on Goo including popular Gordon Ramsay's roast turkey but before you dive into recipes, how about we decide on where to buy a Christmas turkey first?
Each year our panel of expert judges put a range of different turkeys to the test to see which one is worthy of Christmas dinner. This year's panel of testers includes Group Food Director Jen Bedloe, Food Editor Jess Meyer, Deputy Food Editor Rose Fooks, Food Writer Amanda James, and Junior Food Writer Georgia Sparks. Collectively, the team has years of experience trying and testing thousands of new food and drink products each year as well as developing new and exciting recipes. This means you can trust their judgment and feel confident that they would only score a product highly if they truly thought it was worthy.
Highlights from the taste test include the judges awarding the best turkey award to KellyBronze from Able & Cole, with other great turkeys from independent butcher Parson's Nose and DukesHill coming in at second and third place. For a more affordable option, some supermarket turkeys also impressed, with winners from Asda, Waitrose, and M&S.
Once you've decided on your Christmas main, have a look at our round-up of the best Christmas desserts - sure to help you decide what will be on the menu for pud. Our experts have also named the best Christmas puddings if you're a traditionalist. Plus everyone knows the festive season isn't complete without tucking into a selection of the best mince pies or a slice of the best Christmas cake.
Recent updates
This article was updated on the 7th of December. We checked the prices of all the products featured in the article and updated some of the deals for accuracy.
Where to buy Christmas turkey for 2023
Best Christmas turkey to buy online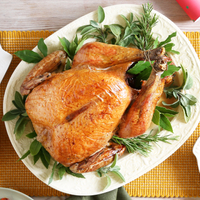 1. Large Organic KellyBronze® Turkey, 6-7kg - View at Abel & Cole
Best Christmas turkey overall
RRP: £125 (£2.08/100g) | Delivery: Specific delivery day given | Available: from 20th December
This magnificent KellyBronze turkey is worth the splurge: it stole the show. A rotund bird with crisp golden skin it would sit proudly atop your Christmas table. The meat tastes incredibly rich and is impeccably moist and juicy. Not only did it require a shorter cooking time than others (it was in the oven for under 2 hrs), but both the white breast and dark leg meat were cooked to perfection and remained succulent and tender. Even the cooking juices were flavourful, so great for gravy. Farmer Paul Kelly rears his turkeys on his farm in Essex with the highest standard of welfare. KellyBronze turkeys are a unique breed with marbled flavourful meat. They are also hung and dry-aged to increase the intensity of flavour.
Group Food Director Jen Bedloe says: "The meat is super rich and will appeal to the foodies. The most impressive part is the rich gamey leg meat and rich juices. A grade 'A' bird."
---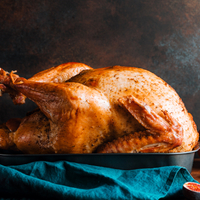 2. Parson's Nose Whole Turkey, 4-5kg - View at Parson's Nose
Best looking turkey
RRP: £117| Delivery: Free local delivery, Nationwide delivery for £5.95 | Available: Pre-order now
This whole turkey from Parson's Nose was commended by the judges for its good looks and great flavour. Milder than the KellyBronze, but still rich and utterly delicious. The texture of the meat is juicy and the pan juices are delicious and would make a generous amount of flavoursome gravy. It comes with a pop-up thermometer that makes cooking simple.
Deputy Food Editor Rose Fooks says: "The shape and colour of this handsome bird stood out, it couldn't have looked more spectacular if it tried."
---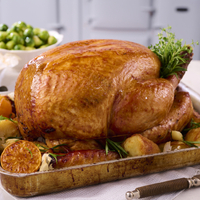 3. DukesHill Christmas Free Range Bronze Turkey, 8kg - View at DukesHill
Best tasting turkey
RRP: £135.00 | Delivery: available on the 21 December | Available: Pre-order now
This bird cooks up a dream simply seasoned with no need for the addition of oil. The cooking instructions suggest cooking this bird upside down for part of the time so the fat bastes the meat. It comes with a pop-up thermometer so you can easily see when the meat is cooked to perfection. The leg meat was full of flavour, but the white meat, although delicious, was slightly drier than the others that we tasted. It arrives in a smart cardboard box with the giblets separately packaged.
Group Food Director Jen Bedloe says: "The leg meat is the most delicious I have ever tasted - as rich and succulent as a confit duck leg!"
---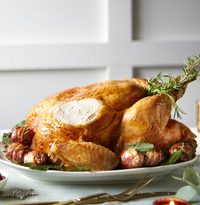 4. Copas Free Range Whole Bronze Turkey, 6kg - View at Copas
Best for feeding a crowd
RRP: £138 | Delivery: December 23rd| Available: Pre-order available
Much like the KellyBronze this turkey is a Bronze variety that has been game-hung to improve the flavour and texture of the meat. It arrives in a box with the giblets as well as detailed cooking instructions and a pop-up timer. We found this easy to cook and that the meat stayed impressively juicy once cooked. Copas have turkeys in a variety of sizes, from 4-10kg which could feed as many as 22 people.
Deputy Food Editor Rose Fooks says: "A majestic bird - we used a Copas turkey for our Christmas spread in Woman & Home magazine and it looked spectacular."
---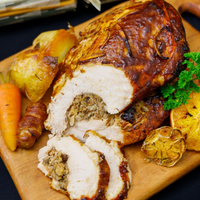 5. Capestone Turkey Breast with Panettone Stuffing & Muscovado Glaze, 1.4kg - View at Ocado
Best easy-cook turkey
RRP: £40 (£28.57/kg) | Delivery: Available on Ocado | Available: Pre-order now
This pre-cooked turkey breast is ideal for a smaller gathering as it will serve 4-6 people. It's very easy to cook and comes stuffed and ready to pop in the oven. The meat remains moist and juicy, while the Panettone stuffing has a lovely sweetness that compliments the savouryness of the meat. Ten minutes before the end of cooking there is a glaze to add. This flavours the cooking juices which could be reduced to create an effortless sauce.
Food Editor Jess Meyer says: "The meat was nice and moist and the glaze makes a good gravy for finishing once reduced."
---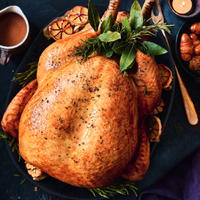 6. M&S Collection Free-Range Pembrokeshire Heritage Blue Turkey - View at M&S
Best value turkey
RRP: £72-£99 (£1.80/ 100g) | Delivery: Collection only | Available: Coming soon
This turkey has a lovely rich intense turkey flavour, especially in the leg meat and the crisp skin. The pan juices could easily be reduced with a splash of wine and vegetable water to make a rich gravy. We found the cooking time in the instructions to be excessive so we took it out of the oven well before was suggested.
Junior Food Writer Georgia Sparks says: "The fat rendered nicely and the pan juices would be great for gravy."
---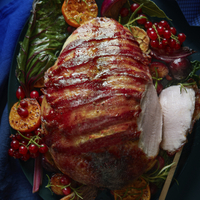 7. Waitrose & Partners Jewelled Stuffed Bronze Turkey Crown, 1.5-2.3kg - View at Waitrose & Partners
Best turkey crown
RRP: £41-£63 (£27/kg) | Delivery: 20 Dec - 24 Dec | Available: for pre-order | Serves: 6
A turkey crown with pork and fruit stuffing with a lovely orange flavour. It's covered with smoked bacon and a maple butter glaze that adds a festive feeling of sweetness. Once cooked the bacon turns lovely and crisp, while the essence of the stuffing flavours the meat.
Deputy Food Editor Rose Fooks says: "Cooking this was easy and delightfully mess-free: you cook it in a bag and then pour over the glaze."
---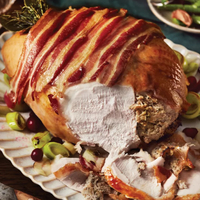 8. ASDA Extra Special Free Range Corn Fed Norfolk Bronze Turkey Crown with Pork, Sage and Onion Stuffing, 1.99kg - View at ASDA
Best for an intimate gathering
RRP: £35.82 (£18.00/kg) | Delivery: Book a slot online between 21-23 December | Available: 21-23 December| Serves: 4-6
This would be great for a smaller affair as this turkey crown will serve 4-6 people. It's easy to cook and the smaller size means it can fit in the oven. Stuffed with a traditional style pork stuffing and topped with smoked bacon that imparts a pleasant smoky flavour to the meat.
Food Editor Jess Meyer says: "Nice size for a smaller crowd who aren't into legs. The bacon adds a nice smokey flavour to the juicy meat."
---
Best turkey from last year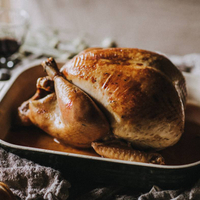 1. Piper's Farm Free Range Bronze Whole Turkey, 4kg+ - View at Piper's Farm
Best whole turkey
RRP: From £96 | Delivery: Specific delivery day given | Available: Pre-order now
Winner of the best whole turkey, this was a spectacular entry. Bronze turkeys are a slow-growing breed and a traditional choice at Christmas. Piper's Farm birds are reared on five small family farms in Devon and Somerset on a natural diet free from artificial additives and chemicals.
Food Editor Jess Meyer says: "This bird has a lovely plump shape and rich golden colour. The meat is tender and juicy with a rich flavour that's distinctively turkey. This golden bird was deliciously succulent and would look impressive as the centerpiece of any Christmas feast."
---