26 of the best toys for 5 year olds in 2023
Stuck for gifts? Here are the best toys for 5 year olds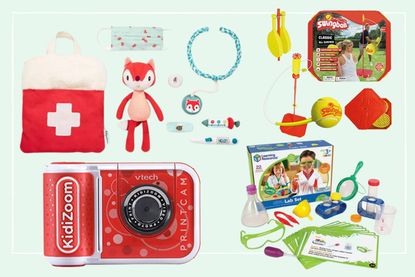 (Image credit: Future)
Choosing the best toys for 5 year olds can be a really fun process.
Now that your child is five, they're full of personality with their own interests, likes, dislikes and character quirks. Whether you're browsing this year's top Christmas toys or shopping for a birthday present, gifts with a competitive edge are a good choice for five year olds - who also tend to like to win.
In addition to physical changes, 5 year olds are going through intellectual and emotional changes that may affect the kind of play they enjoy. Child psychologist Dr Pat Spungin (opens in new tab) told us: 'This is a period of great intellectual growth as your child begins to grasp more abstract ideas, like numbers, time and distance.'
Some children at the age of 5 are ready to start to read. So educational toys (opens in new tab) or books that help build towards this stage are a good choice. However, it's important not to pressure your child into learning to read. Don't push it unless they are interested in learning how. 'It's important to realise children develop at different speeds both physically and mentally,' Dr Pat explains.
Five-year-olds love a bit of competition, so competitive board or card games are always a hit, especially if they encourage silliness or fun alongside the educational aspects. Imaginative play is also hugely important at five, so games that stimulate creativity and imagination will go down a treat.
At five, your child will also be able to build and craft better on their own, with improving manual dexterity making them able to tackle more difficult construction or craft-based toys. Games, toys and kits that encourage independent physical challenges will also be welcomed with open arms.
Best toys for 5-year-olds: our consumer editor's top picks
All the products in our roundup have been selected because they were a big hit with our panel of five-year-old testers. However, one standout was the Mega Marble Run (opens in new tab) from Galt Toys, which gives creative kids the chance to build everything from simple marble runs to complex, winding structures. Our tester said this was "one of my favourite toys", and added that it was "so much fun for adults too".
Another big hit was the Happy Cube Pro 6-Pack (opens in new tab), which won points for not just being fun and challenging, but affordable too. Our tester said the cubes were a really purse-friendly buy and something she would buy for other children too.
If you're looking to buy imaginative games your child can play with other kids, then the word and picture rhyming game Orchard Toys Slimy Rhymes (opens in new tab) went down a treat with our testers. "This is an ideal way to have some fun as your children practice words and sentences while being a little bit silly, and my son loved it," our tester revealed. "It's compact and easy to transport, so would make an ideal travel game."
Best toys for 5 year olds - how we tested them
We enlisted a panel of five-year-old testers to put the toys in our roundup to the test, rating them on everything from how fun they were to use to whether they'd buy them again. All the toys we've included are designed to have your child returning to them again and again, with many becoming family favourites, not just with our testers, but with their parents too. In our quest to find the best toys for five-year-olds, we made sure to include toys across a range of budgets and types to appeal to even the fussiest of five-year-olds.
---
---
---
---
---
---
---
---
---
---
---
---
---
---
---
---
---
---
---
---
---
---
---