Yoto Vs Tonie - which is best? An honest review of cost, content, accessories and battery life
A mum's honest review of Yoto Vs Tonie - comparing it all so you don't have to...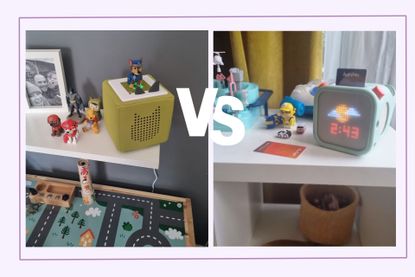 (Image credit: Future)
Yoto Vs Tonie is a hot topic in my 'school mums' WhatsApp group, with parents discussing at length - even asking social media - which of the child-friendly audio players they should buy.
Here at Goodto we take parent research very seriously, whether you're looking up the top Christmas toys of 2023, considering Nintendo Switch Vs OLED, or comparing LEGO Vs Playmobil, we've got you covered.
We know that cutting screen time for kids is a constant battle, we get it and you're not alone in that, trust us. Whether you go Yoto or Tonie you'll be safe in the knowledge that they are not staring at a screen for hours on end, but instead enjoying and imagining storylines or facts.
In this article, we look at Yoto Player 3rd Generation and the Toniebox, both are screen-free, child-friendly audio players and are simple yet utterly ingenious. They're portable, entertaining, and robust enough to survive kids.
In a nutshell
Yoto Players are a great return on investment as it will grow with your child and offer stories as well as factual content. The sturdy Toniebox is more likely to survive the rambunctious toddler years but I feel the style and content are more suited for a younger audience - it has a shelf life. Read on to see my five-year-old's preference...
They both promise to encourage imagination and autonomous 'down time' as well as promote independence and self-initiated learning - depending on the content your child chooses, of course. (I'm not sure Adventure Bay's Chickaletta is all that educational.)
But when two similar things offer so much of the same it can be tricky to work out which is best for you and yours, well we've done the hard work for you. I'm Stephanie, the family editor at goodto.com and mum to five-year-old Ted, we have been trialling the Yoto Player and Toniebox for a while now, so we can fill you in on how they compare, what the differences are and if it's really worth your hard-earned money. Yoto Vs Tonie - the results are in…
Yoto Vs Tonie
Our Family editor Stephanie Lowe and her five-year-old 'tester', Ted review both the top-selling children's audio players.
It's worth noting straight away that both products are very similar, and work through a cloud-based system, controlled through an app. The Yoto and Tonie App are both very straightforward to use. Within the apps you decide the maximum volume of the player, create and manage Make Your Own Cards or Creative Tonies (this is where you get to record your voice, reading a story or leaving a message for child to play when they need to hear your voice), and in the case of the Yoto Player you can also customise certain features like the function of the buttons.
The main difference - apart from aesthetics - is that the Yoto Player's content is via small credit-card-sized cards, whereas the Toniebox has Tonie's characters resembling the story they share i.e. a Gruffalo figure for The Gruffalo. Stephanie and Ted take a look at the following comparisons;
Cost
Set up
Age suitability
Content
Ease of use
Battery life
Accessories
Yoto Vs Tonie: cost
How much is a Yoto Player?
£99.99 for the audio player itself
Yoto cards are from £1.99 - £9.99 (depending on type)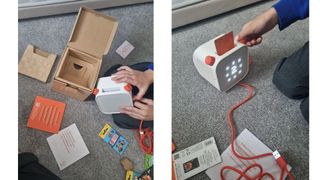 The Yoto Player (3rd Generation) we review is £99.99 RRP. Inspired by Montessori principles, the Yoto Player is an audio player and so much more, and with this price, and in the box, you get the player itself, the USB charger lead (in a really cool orange flex) and a welcome card required to insert for set up. However, there is the option to choose a Yoto mini that starts at £59.99.
How much is a Toniebox?
£79.95 for the audio player itself
Tonie characters range from £9.99 - £14.99
A Toniebox costs £79.95, you get to choose from six colours and in the box comes a charging station and one creative tonie. Tonies figures start from £9.99, though you'll quickly find that the most popular ones start at £14.99, which seems a lot. Ted had a great time playing with the figures before he even got around to using them on the Toniebox. It's worth noting that people sell second-hand characters on Vinted for less. Creative-Tonies (which you can record your own content onto), cost £11.99.
Yoto Vs Tonie: set up
Yoto Player set up:
All you need is the audio box, the Welcome set up card and your phone, then connect the player to your wifi. Simply slot the card into the player and follow the instructions. Every new card can be downloaded to be playable offline, meaning it can work on the go or without an internet connection.
Toniebox Player set up:
You need your Toniebox and phone to hand. First off, you need to create an account and download the Tonies App. I didn't love this and found it a bit of a faff. If you're getting this as a gift, I recommend doing this first to avoid any impatient meltdowns with your three-year-old.
Once that is done the only thing that is left is to connect the box to your wifi - this works through the app. As soon as you place a new Tonie on top of the box it will start downloading the content and start playing immediately. You can play any fully downloaded songs and stories offline too.
Yoto Vs Tonie: age suitability
Note: Both products are aimed at and advertised for children from 3+. The Yoto and Toniebox are both robust enough and easy enough to use by children of this age and in some cases even younger. But let's see how they compare;
Yoto Player age suitability:
The audio box itself, the content available and the act of inserting the cards are all super easy for kids aged three and up. Though you could easily have it in your nursery as long as it's out of reach of any little hands. The nightlight is useful while playing lullabies and the room thermometer seemed accurate too.
The two orange knobs control and do so much that, for toddlers and slightly older kids, it's easy to accidentally skip a chapter or stop the play - as my five-year-old did a few times and got frustrated. I'm excited by the Yoto player though as it really does have the vibe that it will grow with my kid. It offers young kids the chance to listen to their favourite stories and songs independently. Once they get older and in the tween or even teen stage, the player can be used as a Bluetooth player with their devices. Plus, the aesthetic of the Yoto player means it might still be 'cool enough' to use as your kids age.
Toniebox age suitability:
I'd say the Toniebox is better for younger kids, as there's less to press - it's super easy as the characters engage the kids straight away, and it's an easy target to pop on top and the e