Best toys for 4 year olds in 2023
From creative games and dolls to vehicle playsets and LEGO, here's our pick of the best toys for 4 year olds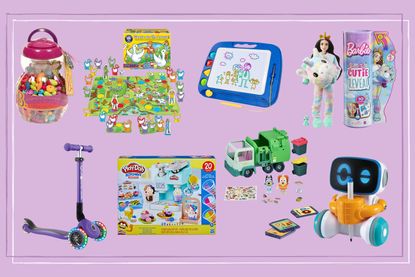 (Image credit: Future)
The best toys for four-year-olds are ones that not only encourage their development but will also spark their imagination and creativity.
At the tender age of four, most children begin to develop a stronger sense of self. For example, you might notice that your little one likes to spend more time playing without adult supervision or help. Therefore, the best toys for four-year-olds are designed so that they can be played with independently or with friends. So no matter whether you're buying a birthday present or looking for the top Christmas toys for your four-year-old, look out for games that encourage imaginative and 'open-ended' play. Also screen-only toys can be a winner, like the popular audio boxes Yoto or Tonie (though, be sure to check out our Yoto Vs Tonie to get a real breakdown.)
If you're interested in finding toy bargains, check out our guide to the best Black Friday toy deals too.
The age of four is also when most children start pre-school. It's a time when your little learner might be trying to work out the link between words and pictures and letters and sounds – which will help them when it comes to learning how to read and write.
"Early Years foundation skills like fine motor skills, balance and coordination will be vastly improved in a preschool setting," notes Heather Welch, International Brand Manager for Edx Education. So the toys your four-year-old plays with should reflect this. Heather also suggests that the best toys for children of this age will help continue to teach children to share and communicate.
So, to discover the best toys for your four-year-old, stick right here. We've included options to suit every character with prices from £10.
The best gifts and toys for 4 year olds in 2023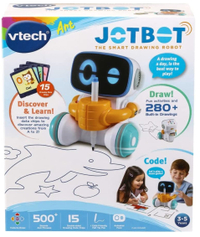 VTech Jotbot Smart Drawing Robot - was £49.99, now £28.99 | Amazon
This VTech Smart Drawing Robot is an incredibly engaging little drawing buddy for your 4 year old.
Although it does come with its own pen, it's capable of using almost any pen or pencil (ideal, if you don't 100% trust your little person with pens yet!) - to draw a multitude of designs on A4 or A3 paper.
There are 15 double-sided chips, which determine what the Jotbot will create, or it can be programmed via the buttons on its head so as well as entertaining your child, the Jotbot is also encouraging them to learn their letters, develop spatial awareness and have a first attempt at coding.
The Jotbot is a happy little robot, making faces, saying phrases, and even singing while it draws. But we're also pleased to let you know that those sounds can be turned down, so they won't drown out the artistic excitement of your little person!
---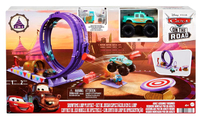 Disney and Pixar Cars On The Road Showtime Loop Playset - was £34.80, now 21.08 | Amazon
This is classic toy-car fun, with a 2022 Cars On The Road twist.
Once set up, this Showtime Loop Playset will provide endless fun as your 4 year old tries to get Ivy (the Monster Truck) to complete the loop and hit the bouncy target.
The lever sets up the jump before the launch button thrusts the car around the loop to - hopefully - hit the target. You can also add to the thrill of the challenge by including the stunt hoop to zoom through. Or use the barrels to smash down between the loop and the target and - for the ultimate difficulty level - move the target further away.
It's guaranteed to bring joy to your little Cars fan.
---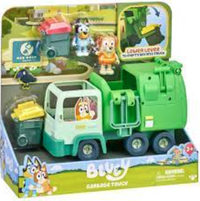 Bluey Garbage Truck - £24.99 | Smyths
Bluey is such an educational and entertaining show, with children and their grown-ups being equally enthusiastic fans, so this Garbage Truck is bound to be a winner.
Featuring the Bin Man, Bluey herself, and 2 rubbish bins - which can be lifted up on the truck and emptied using the lever - the joy in the toy is its simplicity. And, of course, the fact that your 4 year old will enjoy recreating scenes from the show over and over again.
Both Bluey and the bin man can sit and ride in the truck, and have moveable arms too. This sweet set will encourage imaginative role play and inspire conversations about rubbish and recycling - if you need the toy to be even more educational.
---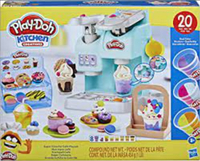 Play-Doh Kitchen Creations Super Colourful Cafe Playset - £36.99 | Amazon
This Play-Doh set will take your 4 year olds' cafe play to the next level.
With imaginary treats to make, beverages to brew and a cake stand to be filled, there is plenty to keep little hands occupied with this set.
There are 8 tubs of colourful Play-Doh and 20 accessories included to make the cafe role-play last all day. The only downside we can see is that, with all these pretty donut and frappe creations, hungry parents might end up reaching for the real snacks!
---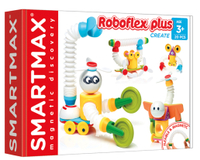 SmartMax Roboflex Plus - £28 | Kidly
The SmartMax Roboflex Plus set is a colourful series of magnetic heads, legs, hands, bendy arms, crazy eyes, wheels, and a propeller so your little one can get straight into creating whatever fun robots their heart desires.
If your 4 year old needs a little more encouragement, the set also contains a huge sheet of robot pictures for inspiration, so they'll soon be making happy little robot friends.
Great for developing fine motor, engineering skills, and creativity, the Roboflex is a really versatile toy that is bright and fun too.
---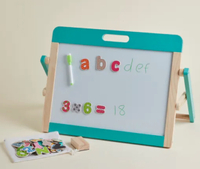 2 in 1 Wooden Easel - £25 | Dunelm
This beautiful 2-in-1 Wooden Easel comprises a chalkboard and whiteboard and also features magnetic letters and numbers, a whiteboard pen, eraser, and chalk, so your 4 year olds' creativity can be unleashed.
After your budding artist is done with their drawings, the sleek easel folds flat for easy storage.
When it's this much fun, your little one won't even notice they are practising their hand-eye coordination and phonics.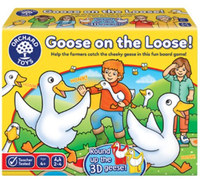 Goose On The Loose! - £14 | Orchard Toys
Goose on the Loose! is a great introduction to board games.
As with all Orchard Toys, the bright colourful playing pieces will entice your little one to join in. The aim of the game is for each player to round up their geese. There will be honking, counting, and plenty of turn taking. The winner is the player who has managed to get the most geese together at the end of the game.
There are so many benefits to this game for 2-4 players. As well as the social skills of turn-taking and counting, Goose on the Loose! also encourages colour recognition, observational skills, and hand-eye coordination. And everyone will have fun playing too.
---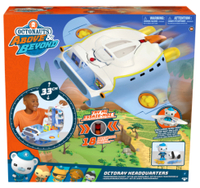 Octonauts Above & Beyond: Octoray Headquarters Transforming Playset - £59.99 | Amazon
Sound the Octoalert for this versatile Above & Beyond: Octoray Headquarters playset!
This Octoray jet swoops in to save the day, before transforming into a mobile headquarters with lights and sounds, a Mini-Ray for Captain Barnacles to ride in, a lift, and a ramp to make a quick exit.
The included Mission Card and included animals to rescue will inspire play, if your 4-year-old needs any, after watching so much Ocotonauts during their screen time!
---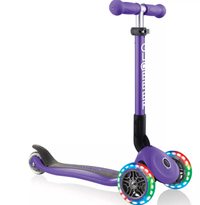 Globber Junior Foldable Lights Kids Scooter - £60 | Halfords
A 3-wheel scooter with large wheels such as this design from Globber is great for those under 5. The large wheels give them stability and make it easy to scoot. And as they develop their scooting skills and become more confident they'll learn to whizz along with ease.
With adjustable handlebars, the Globber scooter comes in a range of colours including purple, pink and blue. But the best feature of this scooter is the disco light-up wheels. Not only does it make scooting even more fun, but it makes it easy to spot your child on the road when it's foggy, early morning, or dusk.
Make being outdoors even more exciting, or get from A to B much faster with little legs, with this fun Globber Scooter.
---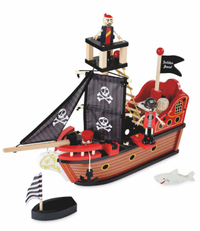 Little Town Wooden Pirate Ship - £20.99 | Amazon
Ahoy there! Swashbuckling kids of all ages who are fascinated by pirates will love this wooden pirate ship. It comes complete with fabric sails, a lookout platform, a cannon, a barrel, a treasure chest, and a mini sailboat. It wouldn't be complete, of course - without a couple of pirates and a plank for them to walk.
This wholesome wooden toy will lead children to create their own magical pirate adventures and hopefully inspire hours of imaginative play.
---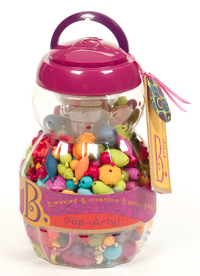 B. Toys Pop-Arty! 500 Piece Jewellery Making Set - £19.99 | Amazon
This enticing jar of treasure is bound to be a hit with 4-year-olds, and beyond.
B. Toys puts a fresh twist on the classic bead threading activity with this 500-piece set. Each of the 'jewels' snap together safely and securely so your little one can be independently making jewellery within seconds of the jar being open.
The eco-conscious company make long-lasting toys, use 100% recycled packaging and use soy-based inks to give their toys distinctive colours with minimal environmental impact.
There are 7 rings and 5 bracelet bands included with the set, so this makes the perfect solo or group activity for improving fine motor skills and creativity, and when your little designer has finished their jewellery-making session, all the pieces can be stored in the sturdy jar until next time.
---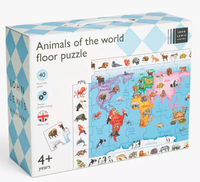 Animals Of The World 40 Piece Floor Jigsaw Puzzle - £10 | John Lewis
A popular present and bestselling jigsaw, this puzzle is a fun way for kids to start to get to grips with the world map.
Jigsaws in general are great for developing hand-eye coordination and problem-solving logic in children and parents will love this puzzle too as it's educational as well as fun.
This map puzzle will have additional appeal because it includes a border of different animals, so your little one can piece together (pun intended!) where in the world the different species live.