Christine McGuinness reveals initial anger at doctor who spotted twins' autism
'How dare she say that about my children, having only seen them for a few hours?'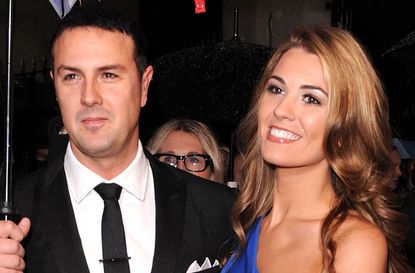 Christine McGuinness has opened up about how she initially struggled to accept her twins' autism (opens in new tab) diagnosis.
Speaking to The Mirror, Paddy McGuinness' wife explained that her first reaction was of anger towards the doctor who confirmed the news that both Leo and Penelope had autism.
'We'd been to see a paediatrician and at the end she said quite casually, "I'm absolutely certain both the children have autism",' she said.
'How dare she say that about my children, having only seen them for a few hours? I can say that because I've told her it since and she's been absolutely lovely. But I was totally stunned.
'It was the first I'd ever thought of them having autism - even if, looking back, it was obvious.'
The couple went to extreme lengths to care for their children, skipping red carpet events, with Paddy commuting daily to London so as not to leave Christine to cope alone.
At the age of four, Christine says they have only left the twins alone for one night - when she gave birth to their third child, Felicity.
'We could never explain to people why we weren't going to places - mainly because we didn't know what to explain,' says Christine. 'Instead, we were making endless excuses.'
It wasn't until this month that the couple finally opened up about the twins' condition in a touching Instagram post.
In a sweet poem she wrote herself to mark their birthday, Christine celebrated all of the milestones that the pair had been through during their early years.
'Today you both turn four, and I celebrate so much more,' she wrote. 'In the last 12 months you have learnt to talk, and you are using flat feet to walk.'
'You are conquering your daily challenges, and I'm here to hold your hand, when you're dealing with sensory overload, the quietest room sounds like a big brass band.'
In keeping with scenarios that will resonate deeply with other parents of autistic children, she said: 'The meltdowns, the routines and all the planning ahead. The groundhog days, the beige food and the temperamental "time for bed".'
'I love you unconditionally and I will encourage you both to embrace your autism. Because you are totally unique and fantastically awesome.'
The pair choose to keep their three children, twins Leo and Penelope and new baby Felicity, out of the limelight, although model Christine has documented her journey with her body (opens in new tab) throughout and after her pregnancies.
After seeing her post, her loyal fanbase rushed to congratulate her on her honesty and for being such a supportive mum, with many even reaching out in the comments section to suggest meeting up.
One Instagram user said: 'Beautiful words, happy birthday to your babies. They're lucky to have such an understanding, accepting strong mum.'
'Such beautiful words, becoming an autism mum is challenging and rewarding,' said another.
'Seeing their faces when they manage to conquer something you never forget im an autism mum to 4 beautiful little warriors and days can be hard but when they achieve something the reward is much more powerful sending love to you paddy and the twins.'