The Disney princesses our kids should look up to: from worst to best!
Finally, some role models with a bit of oomph! We've ranked Disney's princesses in order of attitude...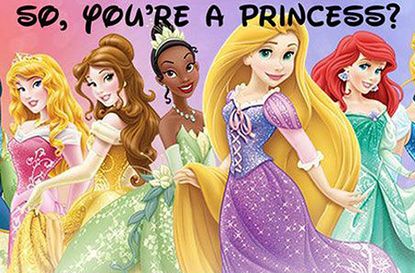 We all have a favourite Disney Princess, but does she have enough attitude to be a good role model to our kids? While some of Disney's leading ladies, although charming, are a little lacking in sass, others have a fierce outlook on life that we wouldn't mind our little'uns picking up!
We've ranked these familiar Disney faces from worst to best when it comes to attitude. It's a cut-throat business, but somebody has to do it...
13. Snow White (Snow White & The Seven Dwarfs)
http://giphy.com/gifs/DdTz8n9xJIIlG
Ok she is only 14 in the film (which is a child!), so we can kind of excuse the fact that pretty Snow White is actually quite lame in the princesses with attitude stakes. All those doe-eyed glances, that's not feisty Miss White.
12. Princess Aurora (Sleeping Beauty)
http://giphy.com/gifs/ZFRPyD9zbuEdq
Sleeping Beauty was definitely a contender for last place, but given the fact the poor girl was cursed and then subjected to a deep sleep until true love's kiss, we'll let her have 12th place. That will teach her for flouncing around the forest with an owl and birds.
11. Cinderella (Cinderella)
http://giphy.com/gifs/Fz7nXV5N8JP20
She briefly gave us a bit of attitude when it came to checking out her own reflection in her ball gown. And we can't help but secretly think it would be nice for the kids to pick up on her dedication to cleaning.
10. Ariel (The Little Mermaid)
http://giphy.com/gifs/MNGscw9vQ8EVO
Ariel knows a thing or two about self-confidence... not bad thing for our little ones to learn! Although maybe a little less time in the mirror would be preferable.
9. Belle (Beauty & The Beast)
http://giphy.com/gifs/1oUBxHrdh6qgU
You have to give it to Belle, she despises Gaston (who wouldn't?) and she certainly doesn't hide it with this classic trick. You go, Belle.
8. Princess Jasmine (Aladdin)
http://giphy.com/gifs/cGRDLbP2m43ny
If looks could kill! While we don't appreciate this sort of attitude in our direction, there's certainly nothing wrong with the kids not suffering fools.
7. Rapunzel (Tangled)
http://giphy.com/gifs/xN1aNvUJGdMxG
It took a little coaxing out of that tower, but boy did she come into her own when she took ownership of her own life. Would YOU mess with her when she's holding that saucepan?
6. Pocahontas (Pocahontas)
http://giphy.com/gifs/UYxhp2WdpxGsE
'Yeah I can swing from a really high tree, whip my hair and still look good!' Any parents of a tomboy will appreciate just how lucky they are to have a child with so much awesome attitude.
5. Mulan (Mulan)
http://giphy.com/gifs/Dsu5cqUg327w4
She disguised herself as a man and she totally fooled everybody. Plus she knows her martial arts. We would NOT want to mess with Mulan!
4. Anna (Frozen)
http://giphy.com/gifs/OVuFEUKJykFsQ
Ohhhh the girl knows how to throw a punch when she needs to. Anna, you dark horse you.
3. Elsa (Frozen)
http://giphy.com/gifs/137DeD6G2725OM
She disappeared to save her loved ones from her potentially fatal powers and delivers are favourite song of the whole film with bags of attitude to boot. 'The cold never bothered me anyway'. YES ELSA!
2. Merida (Brave)
http://giphy.com/gifs/EprDceB5urT20
For starters, she's a fiery redhead, and secondly, Merida knows how to take aim with a bow and arrow. Katniss Everdeen, watch your back!
1. Tiana (The Princess & The Frog)
http://giphy.com/gifs/11cwuBQ4TLa8FO
The fiercest of them all has to go to Tiana from The Princess and the Frog. Just look at that attitude!
Where to next?
Swipe to scroll horizontally
Swipe to scroll horizontally
Trusted, informative, and empathetic – GoodTo is the ultimate online destination for mums. Established in 2007, our 15-year-strong archive of content includes more than 18,000 articles, 1,500 how-to videos, and 7,000 recipes.