DIY Mother's Day gifts: 16 homemade presents for mom that kids can make
These easy crafts are sure to make mom feel special this year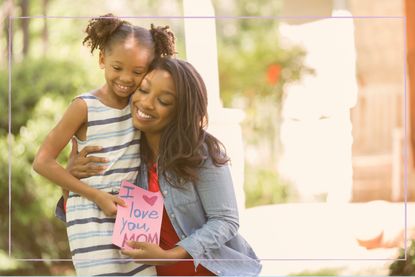 (Image credit: Getty Images)
Stuck for inspiration or looking for a last-minute idea? Check out these DIY Mother's Day gifts.
Mother's Day this year falls on Sunday 14 May, so there's still some time to get your gift sorted. While Mother's Day traditions suggest flowers, chocolates and jewelery make some of the best gifts, is there anything more thoughtful than a handmade present? Plus, DIY gifts go perfectly with a homemade Mother's Day card full of the best Mother's Day quotes.
From baking to bath bombs and from earrings to keyrings, there's something to suit every mom, grandma, or whoever else you're celebrating this Mother's Day with our round up of DIY gifts. And the best part about all these crafts is that kids can get involved with them too.
Easy DIY Mother's Day gifts
1. Paper flower bouquet
Making paper flowers is an easy craft that kids can get involved in, all you really need is some colored paper and a pair of scissors. Cut the flower shapes out of your colored paper and decorate however you like - you could paint them, add glitter - whatever you want!
To turn them into a bouquet, try fixing the flowers using Scotch tape or glue to a green straw or pipe cleaner. You could even put them in a vase to make this DIY Mother's Day gift extra special.
2. Homemade bath bombs
If you're up for something a bit more challenging, try making a bath bomb to give the gift of relaxation to mom next time she goes for a soak. You'll need baking soda, citric acid, Epsom salt, cornstarch and mom's favorite scented essential oils to try this out.
If that's sounding a bit complicated, don't worry - there are plenty of DIY bath bomb kits with all the ingredients and instructions available online.
3. Handmade beaded necklace
Jewelery is always a winner with moms, and is there anything more personal that a necklace her own kids have made? All you need is a selection of pretty beads and some elastic thread for this DIY Mother's Day gift, and you can customize it with all mom's favorite colors, or even add her name or meaningful words if you get your hand on some lettered beads.
4. Or homemade clay earrings
If she's already got plenty of necklaces she loves to wear, then why not try making polymer clay earrings instead. Polymer clay is a type of modeling clay, and it's soft so you can blend colors, create custom shapes and sculpt it, before baking it so the shape sets.
A polymer clay earring kit is a great way to make mom a personalized gift, and a fun craft that kids can get involved in too.
5. Cross Stitch Keyring
Cross stitching is a great way to get kids into embroidery crafts, and many kits comes with templates and instructions catered towards younger children.
This woodland animal themed cross stitch kit comes with five different designs - an owl, a squirrel, a hedgehog, a fox and a raccoon - and you can turn the embroidered pieces into keyrings, so mom can carry her DIY Mother's Day gift with her everywhere.
6. Take candid photos
Taking more candid photos is a gift in itself - they capture special memories and happy family times, and when the kids are grown up mom will appreciated them even more.
For a thoughtful DIY Mother's Day gift, you could print out some photos from the most special family moments and decorate them, put them in a collage or simply buy a beautiful frame to hang them up in.
7. DIY wax melts
For mom's who like to pamper themselves, DIY was melts are a great option. You'll need to get your hands on some paraffin or soy wax, some scented oil and some silicone molds.
This DIY Mother's Day gift is best suited to older kids, and they'll need plenty of supervision, because the hot wax is a hazard.
8. Pottery painting
Why not try a paint-your-own kit as a DIY Mother's Day gift this year? There's plenty of options out there from retailers like Target and Walmart, and they can make a great personal gift that mom can display in the home for years to come.
We think this rainbow ceramic kit from Target is a great choice, but there's plenty of other options too - from unicorns and dinosaurs to a paint-your-own rocket ship.
9. Personal paintings
If you're keeping it simple this year, a homemade piece of art can make a thoughtful DIY Mother's Day gift. Whether it's a portrait of mom, a landscape that holds a special place in her heart or a drawing of a favorite family memory, she's sure to appreciate the time that went into it.
10. Cookie in a jar
Is there any gift better that freshly-baked cookies? Give the gift of these favorite sweet treats this Mother's Day by layering the ingredients in a mason jar and gifting to mom - you could even decorate the jar too, for an added personal touch.
Looking for recipe inspiration? Why not try our Snickerdoodles - just remember to leave out the egg and butter from the jar, and add them in when it comes to making the recipe.
11. Or homemade cookies
If mom's not much of a baker but you still want to treat her to something sweet, why not go all the way and make the cookies yourself. You can bake all her favorite flavors, and even package them in decorative box to make them even more special.
12. Mason jar votive holders
Mason jars make great votive candle holders - not only can they withstand the heat from the flame, but they look pretty too.
For a DIY Mother's Day gift this year, why not decorate the outside of a couple of mason jars and gift to mom to put around her home. You could use glitter, stickers, ribbon, and any other decorations you feel like adding.
13. Create a memory jar
If mom loves sentimental gifts then this DIY craft is perfect for Mother's Day. All you need to do is write your favorite family memories down on small squares of paper and place them in a jar.
Mom can pull the memories out and relive those special moments, and the great thing about this gift is that you can add to it as time goes on. You can decorate the jar too, to make it more personal, and even add some of those candid photos you've been taking...
14. Family handprints
Another sentimental gift, this one's great if you've got a few kids who are hoping to make a DIY Mother's Day present this year. Simply paint their hands, place them on a piece of paper and frame it. You can write underneath who's hand is who's, and arrange the handprints anyway you like.
If you want to get even more creative, or just have one handprint to use, why not get a casting kit so you can imprint that special handprint into it, and keep long after those hands have got much bigger.
15. Pressed flowers
A bouquet of flowers will eventually die, but pressed flowers last much longer - which is why they make a great DIY Mother's Day gift. Get your hands on some of mom's favorite flowers and press them in a flower press - or you can use a heavy book.
You'll need to leave them for a couple of weeks before they're ready, but if you're looking for a last minute solution try ironing them between two pieces of parchment paper instead. Make sure you use a low heat, and iron in 15 second intervals to avoid damaging the flowers.
16. Mother's Day hamper
If you're still stuck for ideas, why not buy all of mom's favorite things and put them together in a hamper. Whether it's chocolate, candles, cosmetics, flowers or anything else, this is a great way to show you really know what mom likes.
You'll need to get your hands on a nice basket to put all the gifts in, and you can decorate it with a personal touch too.
Video of the Week
Ellie is Goodto's Feature Editor, having joined the team as a Junior Features Writer in 2022, and covers everything from wellbeing for parents to the latest TV and entertainment. Ellie has covered all the latest trends in the parenting world, including baby names, parenting hacks, and foodie tips for busy families. She has a distinction in MA Magazine Journalism from Nottingham Trent University and a first-class degree in Journalism from Cardiff University, and previously Ellie has worked with BBC Good Food, The Big Issue, and the Nottingham Post, as well as freelancing as an arts and entertainment writer alongside her studies.