10 most popular school dinners revealed as demand for 'Angel Delight' soars on TikTok
Is your favourite on the list?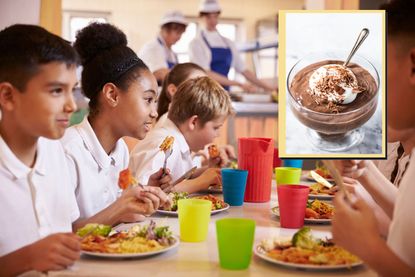 (Image credit: Getty Images)
Goodto Newsletter
Parenting advice, hot topics, best buys and family finance tips delivered straight to your inbox.
Thank you for signing up to GoodTo. You will receive a verification email shortly.
There was a problem. Please refresh the page and try again.
Millions of youngsters are well into the swing of their new school term and the back to school vibe has sparked a surge in the 10 most popular school dinners as Angel Delight is going viral on TikTok.
Long gone are the 'cold lumpy custard' school dinner days, as parents look at school dinner vs packed lunch to see which is cheaper amid the cost of living crisis with some parents opting for fresh packed lunch ideas for their young ones.
A new study by ExamPapersPlus.co.uk has pulled together the 10 most popular school dinners, and to TikTok is bringing a wave of nostalgia back for children and parents alike.
With school dinner searches at a whopping 8.2 billion on TikTok and school dinner hashtags at 18.7 million video views - it looks like school dinner fans are keen to do their homework and create some of the dishes at home.
We look at which age-old favourites are increasing in popularity...
Top 10 most popular school dinners, according to TikTok
1. Angel Delight (1970s)
With 9.2m views, Tiktokers just can't get enough of Angel Delight's heavenly taste, with searches spiking 1000% over a 30 day period. Despite the dessert's British roots, the study shows it's whipping up huge interest in the US, with searches increasing by 200% in the last 30 days, and searches in Canada spiking by 100% in the last month alone. At the other side of the world, Google searches for 'Angel Delight Australia' have peaked 256% in the last 12 months.
The retro dessert made a comeback in supermarkets back in 2018 following a makeover that saw it's powder mix packet become a ready made dessert pot.
One fan commented, "70s retro pud, loved by GenXers. Butterscotch is the best." another fan added, "It's a 10/10 plus another point for childhood memories of begging mum to buy it while in the shop so 11/10"
While a third fan added, "Aw man I'm an adult now, why don't I eat this all the time (mum made it as a treat, in special glass bowls)."
2. Rice pudding with jam (1970s-1980s)
Next in the most popular school dinner meals is a comforting dessert associated with 1970s Britain. There's been an increased trend in people seeking out nostalgic comfort foods on Tiktok, with the rice pudding dessert having one of the highest view counts included in the study at a whopping 153.2 million, increasing by 500% in the past month.
3. Turkey Dinosaurs
A retro school dinner snack that is certainly making a comeback, turkey dinosaurs were popular in the 1980s and 90s, and are still keeping fans in raptures today. Over on TikTok, #turkeydinosaurs has a roaring 16.1 million views, with the term showing a huge 300% increase in the last 30 days. Looking at search increases in the last month, 'turkey dinosaurs' had a surprising 100% increase in Canada.
Fans couldn't wait to recreate the dish at home, one wrote, "I'm gonna make this for us when I get back" while another fan added, "I want to do this'.
4. Turkey Twizzlers
Featuring a twirly shape and a crispy coating, turkey twizzlers are a school food savoury to put a smile on your face. According to the study, turkey twizzlers are on the up, particularly on Tiktok where turkey twizzlers hashtag has 4.5 million views, and has a 200% increase in views in the last 30 days. Bernard Matthews stopped making them but in 2020 - some 15 years after they disappeared - turkey twizzlers made a comeback into supermarkets when a healthier version was made.
One fan commented, "Not going to lie that one looks pretty good. Don't tell Jamie Oliver I said that though."
5. Bread & butter pudding
A classic comfort dessert, bread and butter pudding has been a firm favourite among the older generation, but it's now experiencing a surge in popularity among Tiktokers, with over 5.3 million views, and a 100% increase in searches in 30 days.
6. Chips & Gravy
With 10.4m searches on TikTok, both school and a classic chip shop order is chips and gravy. However, some might experiment with toppings, opting for either mushy peas, curry sauce or a student fave cheesy chips. And there's not forgetting the modern version of fully loaded fries.
One TikTok user commented, "Chips and Gravy is so under rated! Try it - you might be surprised!"
7. Curly Fries
A twist on the usual chip variety, these spiral potato creations left you in awe at how it was possible to get the vegetable into that shape. So it's no surprise that the paprika seasoned classic has had 106.9m views on TikTok. Anyone who's had curly fries will be able to relate to not being able to resist pulling the curls apart like you're detangling your nan's vintage corded phone!
8. Jelly & Ice Cream
A nostalgic pudding if there ever was one - and one that would often pop up at children's birthday parties. Jelly and Ice cream has had 1.4m searches on TikTok, and is so easy to recreate at home with these tasty ice cream recipes.
One fan commented, "Omg I haven't had this since I was a kid".
9. Instant Mash
Instant mash - or Batchelors Smash - is something many will remember their grandparents having in the cupboard. Love it or hate it, it's often difficult to avoid the scoop in the dinner queue. This super quick food turned from crumbs into potato like magic, by just adding boiling water and a bit of butter to make them creamy. And looks like TikTok users have gone all nostalgic with 842,000 views and some videos show alternate uses for instant mash powder like for thickening soups.
10. Spam Fritters
And last but by no means least, Spam Fritters have been searched 39,000 times. For anyone who's not familiar with the food, it's a slice of Spam fried in batter. And it's commonly eaten with chips and mushy peas. You might have seen one in the hot counter at your local fish and chip shop or burger bars in the UK. They were first introduced during World War II due to fish being unavailable.
While some fans who don't even like Spam are willing to try a new spam recipe, with one commenting, "I don't even like Spam but I will try this."
Another fan is keen to know what it's like, asking, "What does Spam taste like anyone plz before I buy it and try it??"
One fan replied, "If you grill it it tastes like smoked bacon. it's the only way I can eat it as it tastes like pork pie jelly otherwise."
For more food news, how about this Angel Delight cookie recipe, or Angel Delight Ice lollies and there's even a mini Angel Delight cheesecake recipe.