Gregg Wallace welcomes 'miracle' son with wife Anne-Marie Sterpini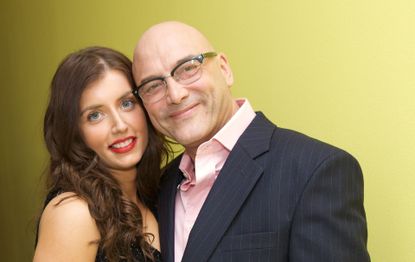 (Image credit: Piers Allardyce/REX/Shutterstock)
Gregg Wallace and his wife Anne-Marie have announced the birth of their first child after two years of trying to conceive.
The TV chef revealed that he'd been 'down the business end' to watch his son being born.
'I saw him take his first breath,' he told OK! magazine. 'It was just beautiful. I looked at him and thought he was perfect.'
The couple announced that they were expecting little Sid Massimo Wallace last November. When they found out that Anna was pregnant, the new parents had been about to start IVF treatment after two years struggling to conceive.
In July, just four months before they announced the happy news, Gregg revealed that he and Anna were set to start fertility treatment. 'I would love to be a dad again,' he told The Sunday Mirror. 'We are desperate for a baby and we have been consulting with a doctor. I know Anna can't wait to be a mum and she will be the most amazing mother.'
Gregg later revealed that the doctor had called the pregnancy 'a miracle'.
Gregg already has two grown-up children, Tom, aged 25, and Libby, 23, from his marriage to pastry chef Denise. But he admitted he was 'far more scared this time'.
'I don't know if it's because it took us so long to conceive or perhaps it's because I'm older, but I was scared for their health,' the 54-year-old Masterchef star confessed. 'I could have hugged the doctors.'
Gregg met 32-year-old photographer Anne-Marie on Twitter in 2013. The couple walked down the aisle in 2016, after bonding over a shared love of food. Gregg's Masterchef co-host John Torode was his best man. Anne-Marie is Gregg's fourth wife.
The couple previously told OK! that they had agreed to stop at one child, as Gregg felt he was 'too old' to have any more. Anne-Marie added: 'I've been happy with the idea of just having one child right from the start. The fact we're having one baby is a miracle – we're blessed enough.'
Gregg also revealed that the strength of Sid's heartbeat had made him cry with joy at the 12 week scan. Anne-Marie's parents have moved down from Coventry to help the pair with the new arrival.
Huge congratulations!
Samantha is a freelance writer at Goodto who has been with team since 2019. Initially trained in psychology, she specialises in health and wellbeing and has additionally written for magazines such as Women's Health, Health & Wellbeing, Top Santé, Healthy, Refinery29, Cosmopolitan, Yahoo, CelebsNow, Good Housekeeping and Woman&Home.