I got a first look at the new Joolz x Filling Pieces pram and here are 3 reasons why I'd queue to buy it
Premium pram brand Joolz has collaborated with high-fashion streetwear brand Filling Pieces to create a limited-edition stroller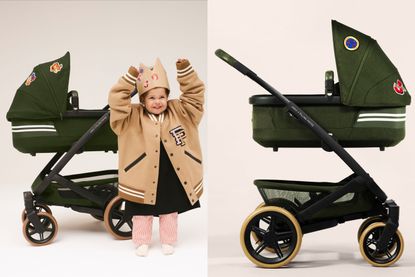 (Image credit: Joolz and Filling Pieces)
Joolz, the Amsterdam-based pushchair brand, has teamed up with the high fashion streetwear brand Filling Pieces to create a snazzy limited edition Geo3 stroller - and it's totally making me wish I had a trendy tot to put in it.
It's a long time since I was shopping around for the best pram for my babies but every now and then, along comes a piece of baby gear that makes me wish I was still in the baby zone. Joolz, the Amsterdam-based premium stroller brand, has teamed up with street fashion brand Filling Pieces to create an exclusive limited edition Joolz x Filling Pieces pram - with only 100 going on sale in the UK and 1,700 globally.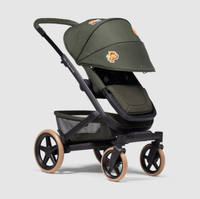 Joolz x Filling Pieces £1,149 | Joolz
The Joolz Geo³ is the brand's most spacious stroller and comes with the chassis, carrycot, and upright pushchair seat all included. This model is future-proof since you can convert it to a double for two kids, should your family grow, and it boasts puncture-proof wheels for off-road adventures plus a super-sized basket to stash all the paraphernalia you need with a baby - or two - on board.
Together, the Dutch brands have 'reimagined' the versatile Joolz Geo3 stroller to create a classy set of wheels that features everything from sustainable fabrics (made from recycled plastic bottles) and a co-branded embroidered leatherette bumper and handlebar, to light brown wheels that give seriously cool sneaker vibes. Each stroller is emblazoned with hand-designed patches and - get this - comes with a matching pair of limited edition Joolz x Filling Pieces baby sneakers. Aw!
The whole thing, from cool idea to sleek design, was inspired by the iconic Filling Pieces varsity jacket. Fittingly, the pram also features classic sporting touches alongside Joolz's eco-conscious design - and I love that the patches represent the patchwork 'village' that it takes to raise a child.
The brands say the collaboration is all about bridging the gap between family and fashion. (About time, I say.) 'Parenthood, just like a high-stakes sports game, makes you put your trust in your teammates, and the brands want to inspire parents to assemble and celebrate their own dream team,' states the press release.
'Supported by a talented team of designers who produce high-quality items that are made to last, and made for everyone, the overall mission champions creativity, culture, and design as tools for enacting positive change, building a world where diversity is celebrated, and our differences unite us.'
Here are 3 reasons why I'd snap up the Joolz x Filling Pieces pram:
It's fashionable AND functional
Back in the day when I bought my first pram, I felt like a bit of a bag lady, to be honest. As a mum of three who's been writing about and reviewing baby gear for more than 15 years, I can tell you that most of the stuff you buy for your baby tends to be either fashionable or functional. There are some exceptions but it's still the case that it's hard to find a car seat, pushchair, or pram that's both super stylish and up to the task of doing everything you need it to, day in and day out. The Joolz Geo3 stroller is as functional as it gets - and with this new Filling Pieces glow-up it's totally nailing the fashion thing too.
It's an emerging trend
Somehow we still have this notion that baby gear should be sensible and a little bit, well, boring. But parenting in the 21st century means so much more than settling down and filling your house with ugly stuff you'd never have bought in your pre-parenting days. Yes, manoeuvrability matters when you're choosing a pram but so does feeling perky when you're pacing the streets after yet another night of no sleep. Why shouldn't your pram match your style and make you smile as much as your shoes or your bag do?
While I can't reveal my sources, I can also give it to you on good authority that baby gear getting an edgy fashion vibe is a serious trend that you're going to be seeing a lot more of. True fashionistas are early adopters obvs, so I'd be in the queue for this before it goes mainstream.
It's not fast fashion
I'm no fan of greenwashing, especially when it comes to baby gear, and most parents I know desperately don't want their parenting journey to mean consuming even more stuff that will end up in a landfill 100 years after their babies have outgrown it. It's hard to do robust, well-engineered baby gear in a sustainable way but as a brand, Joolz is committed to putting the well-being of the planet at the core of what they do. Think sustainable fabrics made from post-consumer plastic retrieved from coastal areas. And working with Tree-Nation - a planting community dedicated to fighting climate change, deforestation, and poverty - by planting a tree for every stroller sold.
Related features:
Video of the week:
As a parenting specialist for more than 15 years, Heidi has written for most national newspapers and for a wide range of consumer magazines, including Mother & Baby where she was the Shopping Editor for six years, looking after regular consumer features including buying guides and gift roundups.