Molly-Mae Hague opts for the iCandy Peach 7 pram - and we approve
Molly-Mae Hague showcases the new iCandy Peach 7 pram in an exclusive collab - and we approve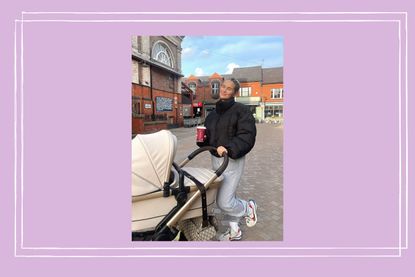 (Image credit: Molly-Mae Hague and iCandy)
Molly-Mae Hague has teamed up with iCandy to showcase the hotly-anticipated new iCandy Peach 7 colourway in... drumroll, please... Biscotti.
In an exclusive iCandy collaboration, Molly-Mae and her newborn baby daughter Bambi are the very first in the world to be seen with the latest edition to the iCandy Peach 7 collection ahead of its official launch in Spring 2023.
Our Consumer Editor Heidi Scrimgeour says: 'This is hands-down one of the best prams money can buy - I was treated to an exclusive early look at the iCandy Peach 7 (opens in new tab) when it first launched - so I'm not a bit surprised that Molly-Mae has chosen it for her precious cargo. With a recommended retail price of £1,099 and £1,199.00 for the bundle, the new iCandy Peach 7 won't be top of everyone's shopping list. Nothing but the best for baby Bambi (opens in new tab), and rightly so!'
The ultimate choice for fashion-conscious parents and billed by iCandy as 'a luxurious and sophisticated nearly-nude', Biscotti is an on-trend new colourway featuring subtle metallic gold with black detailing, teamed with a stylish new Blonde chassis.
The perfect match for the new iCandy Peach 7 shade, Molly-Mae Hague shot to fame after appearing in the fifth series of the popular British TV show, Love Island, and has since garnered a loyal audience across her social media platforms with nearly 7 million followers on Instagram and 1.7 million subscribers on YouTube.
Molly-Mae, who gave birth at the Portland Hospital to daughter Bambi (opens in new tab), said: "I'm so excited to be working with iCandy and to be using the new Peach 7 in Biscotti as our first ever pushchair, it suits our family so well."
Firmly established as one of the world's leading pushchairs, iCandy sets the standard for both functionality and style and is loved and trusted by parents around the world.
The iCandyPeach 7 will launch with four fashion-forward new colourways – Biscotti, Cookie, Cobalt and Blush.
iCandy Peach 7 new colourways at-a-glance
Biscotti – A chic yet understated neutral shade, Biscotti is a gorgeously refined nearly-nude with contemporary black finishing touches, accompanied by the eye-catching new Blonde chassis.
Cookie – Gentle, calm and warming – just like cookies! This jaw-dropping colour is coupled with the iconic Jet chassis.
Cobalt – For trend-setting parents looking to add a vibrant pop of colour, the Cobalt is beautifully presented with a Phantom chassis.
Blush – Sweet like iCandy, this enchanting pastel pink on a Phantom chassis is elegantly subtle to suit every taste and style.
'Perfect for growing families, thanks to its clever single-to-double functionality, the iconic iCandy Peach 7 is loved for its effortless one-handed fold - yes, you really can do it with one hand, I've checked,' adds our Consumer Editor.
The iCandy Peach 7 also boasts an adjustable head hugger and pop-up harness to make it easy to pop your baby in and out, plus a larger seat unit with room to grow, and puncture-proof PU tyres for the smoothest ride and easy manoeuvrability on all terrains.
We also love the ingenious integrated Ride-on Board which makes it perfect for parents who already have an older child who has outgrown the pram - but might still want to hitch a ride from time to time.
With a spacious carrycot that's approved for permanent overnight sleeping, the iCandy Peach 7 is suitable from birth.
As a parenting specialist for more than 15 years, Heidi has written for most national newspapers and for a wide range of consumer magazines, including Mother & Baby where she was the Shopping Editor for six years, looking after regular consumer features including buying guides and gift roundups.