Kate Middleton reveals the skill she hopes Prince George, Princess Charlotte and Prince Louis will be good at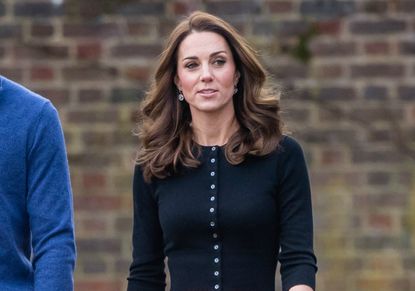 GoodTo newsletter
Sign up to the GoodTo Newsletter. You can unsubscribe at any time. For more information about how to do this, and how we hold your data, please see our privacy policy
Thank you for signing up to . You will receive a verification email shortly.
There was a problem. Please refresh the page and try again.
Kate Middleton has revealed to well-wishers during a royal engagement that there's a skill she hopes Prince George, Princess Charlotte and Prince Louis will be better at than her.
The mum-of-three was greeting people at Leicester last week, when she came across an Italian royal fan.
As the Duchess actually spent some time in Florence during her gap year in 2000, it's not surprising she picked up some Italian – but apparently not enough to her standards!
In a video posted on social media, the 36-year-old can be hard saying 'ciao' to one royal well-wisher, but quickly adding that her Italian was 'so bad'.
After the confession about her language skills, she continued to say she hopes her three little ones – Prince George, Princess Charlotte and Prince Louis – are 'better' at it than her.
She said: 'I have to make sure my children are better than me, that's my aim.'
And it sounds like they're on a good path, as Kate has previously revealed that Prince George was already picking up Spanish from his Spanish nanny (opens in new tab), Maria Teresa Turrion Borrallo.
The proud mum made the revelation back in 2017, when she told a young volunteer at the farm she was visiting that George – who was only three-years-old at the time - had already learned how to count in the foreign language.
Sayana told the media after her interaction with the Duchess: 'She said she is trying to teach Charlotte Spanish and said her son George can count up to 10 in Spanish already.'
The future king is also likely to be learning French at his new school, as the language is included in the curriculum as a special course.
And on this he could definitely ask Gan Gan, his great grandmother the Queen, for help as it's well known she's fluent in French!
Are you hoping your kids learn any foreign languages? Which ones? Head over to our Facebook page and let us know!