Meghan Markle could be consciously cradling her bump for a very important reason
Experts insist it can positively affect the baby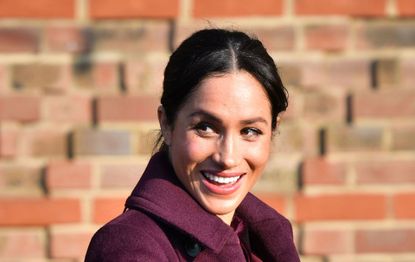 GoodTo newsletter
Sign up to the GoodTo Newsletter. You can unsubscribe at any time. For more information about how to do this, and how we hold your data, please see our privacy policy
Thank you for signing up to . You will receive a verification email shortly.
There was a problem. Please refresh the page and try again.
Meghan Markle has been criticised for touching her baby bump too much in public but she could be consciously doing it for a very important reason.
Meghan Markle is pregnant with her first child (opens in new tab) with Prince Harry and like most first-time mums it's possible the feeling of having a little human growing inside of of her could be a little strange!
This might explain why when she has been out and about at various public appearances, she's been spotted touching and cradling her little bump.
Can you remember that strangely reassuring butterfly like flutter in the early stages of your pregnancy (opens in new tab)? And then later that less subtle thump in the rib cage…
As part of the royal family, Meghan is constantly in the spotlight of the world's media and many people feel they have a right to micro-analyse her every move.
It appears that some people have a real bee in their bonnet about how often Meghan touches her growing baby bump in public and they haven't held back on their public critiques.
One person tweeted: 'Constantly cradling her bump. Doing my head in. Attention seeking 😂'.
Another added: 'When will Meghan "Duchess of Sussex", stop constantly cradling her bump! Like the whole bloody world doesn't know she's pregnant & it's not like she doesn't get enough attention she's craves. "I'm here to give an award but I'll make sure the attention is on me not the winner" #BFA'.
A third wrote: 'I wish she'd stop cradling her bump!!'
However, several royal fans have come to Meghan's defence and stressed that it's a natural habit for any protective mother to be. And given Meghan is often faced with hundreds of flashing lights, it's possible when she is out and about she is feeling a little more nervous now she has a baby on board.
One person argued: 'Who cares if Meghan Markle is touching her baby bump, it's her body! What a dumb thing for people to criticise her for. Most women put their hand on their pregnant belly. I did. Those who criticise her must be perfect.....lol!!!'
Another said: 'Wait...people complained about how much Meghan was touching her bump? It's her bump...attached to her body...y'all weird'.
Kate also touched her bump when she was out and about, this is her pregnant with Prince Louis
Experts have also come out to defend Meghan and said that touching your bump a lot can positively affect your baby.
Speaking to the Daily Mail's FEMAIL, Katherine Graves, founder of KG Hypnobirthing said that during her classes when mothers touch their bump the 'baby responds every time' and the comforting gesture will 'have a profound effect on her baby'.
What do you think about the criticism Meghan has faced for touching her bump? Did you touch yours a lot during your pregnancy? Do you think it is fair for people to call her out on such a natural habit? Head over to our Facebook page to join the conversation and share your thoughts!