Parenting expert debunks 5 unnecessary products first-time parents don't need
The mum of two is keen to dispel the myths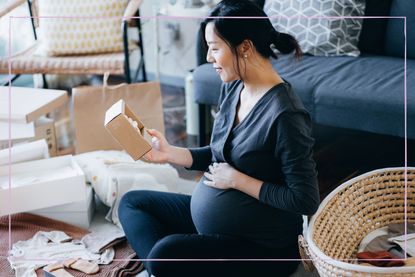 (Image credit: D3sign/Getty Images)
Parenting expert and mother-of-two Kirsty Ketley, 42, has shared her top five 'unnecessary' products that first-time parents just don't need buy.
Using her experience of working with families over her 25 years as a parenting specialist, as well as her first-hand experience of being a mum to 10 year old Ella and six year old Leo, Kirsty is using her heard earned knowledge to make the journey into parenthood that little bit easier for others.
When you're heading into parenthood, it's easy to get overwhelmed by the myriad of products available; breastfeeding accessories, nursing pillows, breast pumps, the list of newborn necessities goes on and on. But there are some products that you definitely don't need.
Over on her social media page, the expert has made a name for herself by sharing parenting tips and debunking myths over 'common' items usually marketed towards first-time parents that they just don't need - and one of them is even a fire hazard!
Speaking about the motivation behind her account, Kirsty told NeedToKnow.co.uk,
"With almost 25 years of working with families and being a mum myself, I've had experience of using all these things. I think a lot of things get marketed at new parents because as a new parent, you want to make sure that you have everything you need. You can also be totally clueless as to what you do or do not need, so you see something as a 'must have' and buy because you think you should."
But, Kirsty warns, not everything that's labelled a 'must-have' is a necessity, sometimes they're actually more hassle then they're worth. So before you buy the baby products beloved by parents globe-wide, double check that none of Kirsty's myth-busted items are in your basket.
The first item, and perhaps the one Kirsty most advises against buying, is plug socket covers. She explained to Needtoknow.co.uk, "Commonly sold as safety accessories, socket covers are unregulated and they come in all shapes and sizes – therefore rarely fitting sockets correctly.
"Using covers actually makes the sockets unsafe because they open up the protective shutters already on plug sockets, exposing electrical contacts. The covers often come loose and are easily removed by children, which then poses a huge risk of electrocution. Covers can also damage the socket, which can make them overheat and become a fire risk."
Speaking to Kirsty about her advice, which goes against what parents have been told by manufacturers for decades, she revealed to us at GoodTo, "I never bought plug socket covers after years of attending pediatric first aid courses for my job. There is no need to use anything because there are internal shutters which prevent children from poking objects into the socket.
"The springs are automatically held in place by springs and only opened when a plug is inserted into the socket. So, as long as children are not given access to tools that are the same shape as the earth pin, which is the largest pin at the top of a plug, most sockets will stay shut."
Kirsty also advises against purchasing a changing table, which she says will quickly end up just becoming 'a bit of a dumping ground.' She told GoodTo, "I did purchase a set of drawers with a changing table on top because it came as a set, but we stopped using it for nappy changing once both children were rolling, and it became a bit of a dumping ground. In hindsight, we should've bought furniture individually, as the nursery was also a small room and we could've made better use of the space."
She recommends simply buying a nappy mat to use on the floor, telling Needtoknow.co.uk that changing tables "pose a safety risk once babies start to roll," so after your baby is four or five months old, the table just begins to take up precious space.
Kirsty's third piece of advice? Ditch the changing bag. She told Needtoknow.co.uk, "There are more and more bags marketed for parents on the go, but they are often an added expense you don't need, and a regular rucksack would suffice. I'd recommend one that has side pockets for bottles and is weather-proof – one you would take hiking, for instance."
Though Kirsty has used changing bags before, she said to us here at GoodTo that she found them 'either super expensive or totally not practical' and always ended up resorting back to a regular backpack.
Continuing with the theme of 'non-practical' 'must-have' items, Kirsty told us that baby baths are too 'difficult' to use 'when you are bathing a baby alone,' and that she found using a bath seat a much better option. Speaking to Needtoknow.co.uk she revealed, "It means that, although you should never leave your baby unattended at bath time, if you are alone, it is easier to wash your baby singlehandedly."
The final product Kirsty has debunked is follow on milk. As GoodTo's parenting mentor Rachel Fitz-Desorgher has previously shared, there is no evidence to support the use of 'follow-on' formula and Kirsty echoes the sentiment.
She told Needtoknow.co.uk, "Unless you are told by a health visitor or doctor, you don't need to change to a follow on milk at six months. First stage formula is totally fine until babies reach one year, where they can switch to full fat regular milk instead."
Royal News and Entertainment writer
Charlie Elizabeth Culverhouse is royal news and entertainment writer for Goodto.com. She began her freelance journalism career after graduating from Nottingham Trent University with an MA in Magazine Journalism, receiving an NCTJ diploma, and earning a First Class BA (Hons) in Journalism at the British and Irish Modern Music Institute. She has also worked with BBC Good Food and The Independent.