Yes! Barbie made Amazon's hottest Christmas toys list, but we weren't expecting this 90s throwback
The online retailer has announced its favourite toy buys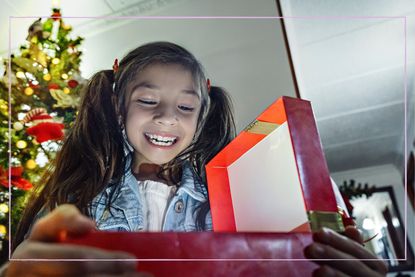 (Image credit: Getty Images)
Amazon has released its 10 must-have toys for Christmas this year, from LEGO and Barbie to Disney - but we weren't expecting this '90s throwback.
The online retailer has given families its top picks of this year's favourite toys ahead of Amazon Black Friday so that parents can get ahead with their Christmas shopping.
Whether you're looking for the top Christmas toys for 2023 or couldn't find what you needed from the Argos Christmas toys list this Amazon roundup might just give you some inspiration.
Some parents are torn between LEGO V Playmobil or are worried about cheap LEGO not living up to their expectations, but with toys to suit every budget, there's bound to be something suitable here.
Matthew Redfearn, Toys Category Leader at Amazon UK, said, "It's always fascinating to see which toys are looking like the must-haves in the lead-up to Christmas and this year's list shows a real trend for 90s nostalgia.
"Toys like Barbie and Furby have a lot of love and have stood the test of time amongst children throughout generations, and we have a wide selection beyond that for all ages and budgets. We will also be delivering hundreds of toys from the list to families in need in time for Christmas as part of the Multibank charity initiative, helping more children discover the joy of toys."
What are the 10 must-have toys from Amazon?
£10 and Under
ASMODEE DOBBLE CARD GAME - buy now at Amazon for £8 - was £13,99 - this card game will test your child's speed, observation, and reflexes as players race to find the one matching card image to another. But there's a hidden rule that makes it different from regular card games like Snap, as the images on these cards may be different sizes and also placed on any part of the card - making them difficult to spot. Within the game, five mini-games can be played including "Fill The Well", "The Towering Inferno", "Hot Potato", "Catch Them All", and "The Poisoned Gift".
DISNEY PLATINUM LIMITED EDITION MYSTERY CAPSULE - buy now at Amazon for £10 - A perfect stocking filler or standalone gift for a child in your family or child of someone in your friendship circle. This limited edition 100 minis celebrates the 100th anniversary year of Disney and each mini toy is the perfect replica of the favourite characters, including Spiderman, Elsa, and Stitch to name but a few. Each capsule contains five mini toys. There are also 50 ultra-rare platinum miniatures to find in the collection, so what are you waiting for?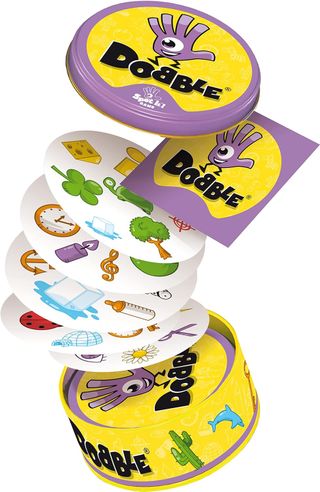 £10-£20
POKEMON TRADING CARD GAME BATTLE ACADEMY - buy now at Amazon for £17.99 - was £21.99 - This game is suitable for beginners who want to learn how to play the Pokemon Trading Card Game or for families who already know to have a fun family game night. The board game features new decks and V cards, with everything two players need to charge into battle, with guides to the decks making it easier to follow. The set includes three complete 60-card decks, each including a powerful special Pokemon (Cinderace V, Pikachu V, Eevee V).
BARBIE MAGICAL BALLERINA DOLL - buy now at Amazon for £18.66, was £27.99 - These Barbie ballerina dolls shimmer and shine with their light-up details as they dance, simply press a button located on her waist to see her bodice light up, featuring five light shows with different colour variations. Great for kids doing ballet who want to learn dance storytelling and pose her in different stances.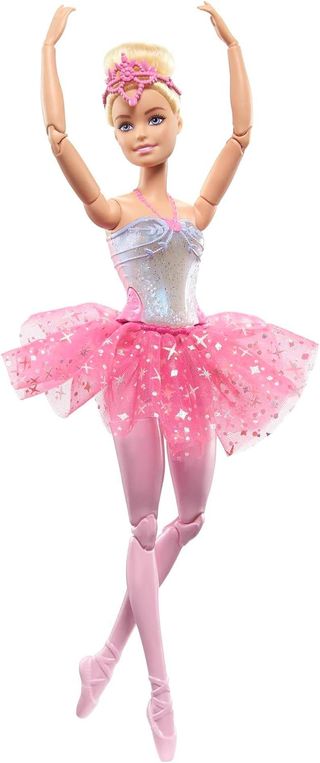 £20-£30
HAPE MULTI MUSICAL BLOCK SET WITH FIVE MUSICAL INSTRUMENTS - buy at Amazon for £27.93 - Kids don't have to have a rhythm to make music with these blocks and toy instruments but it will save your precious cooking pots and pans. The five different-sized instruments will help them explore music and get a feel for identifying shapes at the same time as they stack and play. And if you're worried about the extra space needed to store all five instruments, fear not, for the boxes simply stack inside each other for easy storage. Suitable for children aged 18+ months.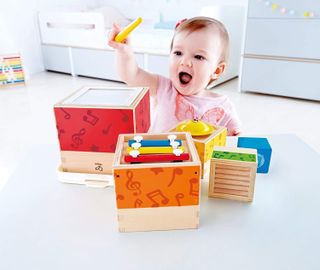 £30-£40
L.O.L SURPRISE! MAGIC FLYERS - buy at Amazon for £32 - One doll, with three to collect, when unboxed, a magical bottle shakes, rocks, and lights up when you touch it,. To activate flight mode, simply put your hands under Sky Starling's feet to guide her as high as you can. Re-chargeable batteries plus a USB charger to recharge the flyer for endless fun.
PLAYMOBIL CITY ACTION FIRE TRUCK - buy at Amazon for £39.95 - If your kids love fire engines then they will love this light and sound effect Playmobil fire truck., The set includes a firefighter, siren, removable roof, functioning winch, and rotating foam cannon so they can perfect their roleplay. The truck can either be bought and used alone or teamed up with the Playmobil Fire Station which is sold separately. Suitable for ages five and upwards.