LEGO vs Playmobil – my kid played with both and here's what's really worth your money and why
LEGO vs Playmobil – here's what's worth buying and why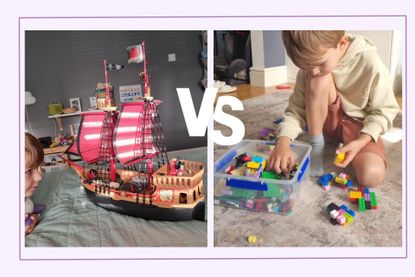 (Image credit: Future)
I can't be the only parent to pit LEGO vs Playmobil against each other, they're both much-loved construction classics – but which one is worth the spend?
Parents – as a group – research a lot, especially this time of year when searching for the best Christmas toys is a priority. (We've also done a lot of comparing and contrasting of LEGO Duplo Vs LEGO, Nintendo Switch Vs Oled and Yoto Vs Toni so lots of pre buying reading for you.)
When it comes to LEGO vs Playmobil though, both have their benefits - and there's a lot to think about. So we - as in myself and my five-year-old, Ted - have done the hard work for you and we're looking into LEGO and Playmobil, two steadfasts in toyboxes around the world. But kids usually prefer one to the other, at least that's what I found with my (not at all scientific) parenting poll of approximately 14 parents at the school gate.
So we look at why that is, what the average cost is of both LEGO and Playmobil, the benefits and why your kid might prefer one and not the other. So, strap in, and here goes...
In a nutshell
Both offer so many benefits for kids, but if you're buying one or the other, bear in mind that LEGO is great for kids who like building, demolishing and rebuilding, Playmobil is better suited to those who love roleplay and 'let's pretend'. Read on to see which one my five-year-old preferred...
LEGO Vs Playmobil
At first glance by a rookie parent, LEGO and Playmobil could be mistaken for the same thing, they're both toys that use imagination and are built and played with, with characters. But Ted and I look a little closer.
Disclaimer: It took Ted until five years old to care about playing with either of these toys and even now he has both (and has helped me review them), he still prefers to play with his Go Jetter toys above all else.
LEGO Vs Playmobil: a brief history
LEGO is predominantly brick building and the name comes from the Danish 'leg godt' which means to 'play well' - we have loads more fascinating facts on when LEGO was invented. LEGO started in the workshop of a Danish carpenter in 1932. By 1949, the famous plastic interlocking building bricks replaced wooden toys.
Considered the best construction toy, LEGO is pretty big business. Eight years ago the company reached a personal best with sales jumping 25% to $5.3 billion and reaching 100 million children worldwide.
Playmobil has been about since 1975 - that's 48 years - and has more of a timeless vibe, staying true to its brand without leaning on external trends. They have less focus on brand licenses and focussed their efforts instead on positioning Playmobil as the toy that's passed on from one generation to the next - they hit nostalgia. Hans Beck the German inventor is considered the 'father of Playmobil' - one of the most popular toys in the world.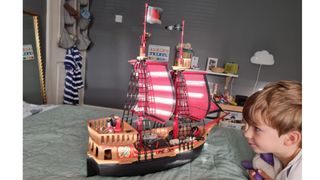 LEGO Vs Playmobil - the cost and what's available
LEGO:
The range is so huge and varied - from DUPLO to Classic, Disney to Marvel and Harry Potter - that going into a store knowing what you want will save you time and money. We lost two hours of our life at the store in Bluewater after we made the mistake of letting Ted fill a cup with options from the Pick and Build wall - the choices were almost too much (they sell teeny LEGO pretzels for crying out loud).
Cost ranges from £7.99 for a LEGO base up to almost £400 for the fancy pants branded life-size (almost) sets, with the most expensive thing ever on sale for over a grand; the LEGO Star Wars Imperial Star Destroyer, £1079.99, at Amazon – and is so rare, it's now a collector's item.
Playmobil:
By comparison, Playmobil is a calmer experience and feels much more streamlined with its offerings. Prices start at £2 for a character and go up to around £150 for a set, with the most expensive being the USS Enterprise Ship, £314.99, Playmobil.co.uk.
The sets are wide and varied, from the classic City Action (with emergency vehicles) to the brand-licensed characters like Scooby Doo, Back to the Future and Winnie the Pooh. Each theme hits a phase your child may be going through from space to dinos and pirates to ponies - they cover a lot.
Ted reviewed the Skull Pirate Ship (which is no longer available on Playmobil.co.uk but you can get it with a 20% discount at £39.99, Amazon.co.uk) and putting it together was definitely construction, Ted loved helping to build it with all its little accessories, like the parrot, golden chalice and treasure chest. The attention to detail was outstanding, the grappling hook and anchor got a huge thumbs-up from this kid.
LEGO Vs Playmobil: Our verdict
There's no 'right answer' here. I think LEGO and Playmobil offer two very different forms of play, and deciding which is best rests on one thing.... who your kid is and what they're interested in.
With Playmobil, children get the chance to imagine themselves in different roles and create new adventures using miniature models of working professionals, popular characters, and themed scenarios. Playmobil also clearly upholds the importance of holistic development, focussing on role-playing and touching on various developments that are crucial for children. The main benefits are;
Social
Storytelling
Cognitive
Emotional
Motor skills development

While LEGO tends to be more about construction, demolition and reconstruction - as well as really cool movies. There is of course a lot of role-play and imagination with the finished product, but it's not as focused on storytelling as Playmobil - though it does have mega cool points with the strong brand licensing with characters like Batman, Harry Potter and Star Wars. Other benefits are;
Problem-solving skills
Improved eye/hand coordination
Perseverance
Patience
Development of spatial skills
Enhanced fine motor skills
Cost-wise, LEGO and Playmobil are more or less on par, (although just wait until you check out the price of the most expensive LEGO set) so the only thing that parents need to consider is which one will give the best return on investment when it comes to engaging and entertaining their kids. If your little one has a flair for the creative and storytelling and loves to re-enact and role-play, then Playmobil might be their bag.
However, if they love building, adding, demolishing and rebuilding - sometimes with instructions, sometimes not, then LEGO is the one for you.
I honestly thought my son would be a LEGO fan, but of the two he's leaned a lot more towards the pirate ship - even involved his Ewan The Dream Sheep (from his baby days) and Go Jetter toys, merging worlds and stories. I've never seen him play like this with LEGO building.
Finding out why LEGO is great for development can only be a good thing but if your house is overflowing with the stuff, check out how to recycle LEGO so that another family can enjoy it.
Parenting advice, hot topics, best buys and family finance tips delivered straight to your inbox.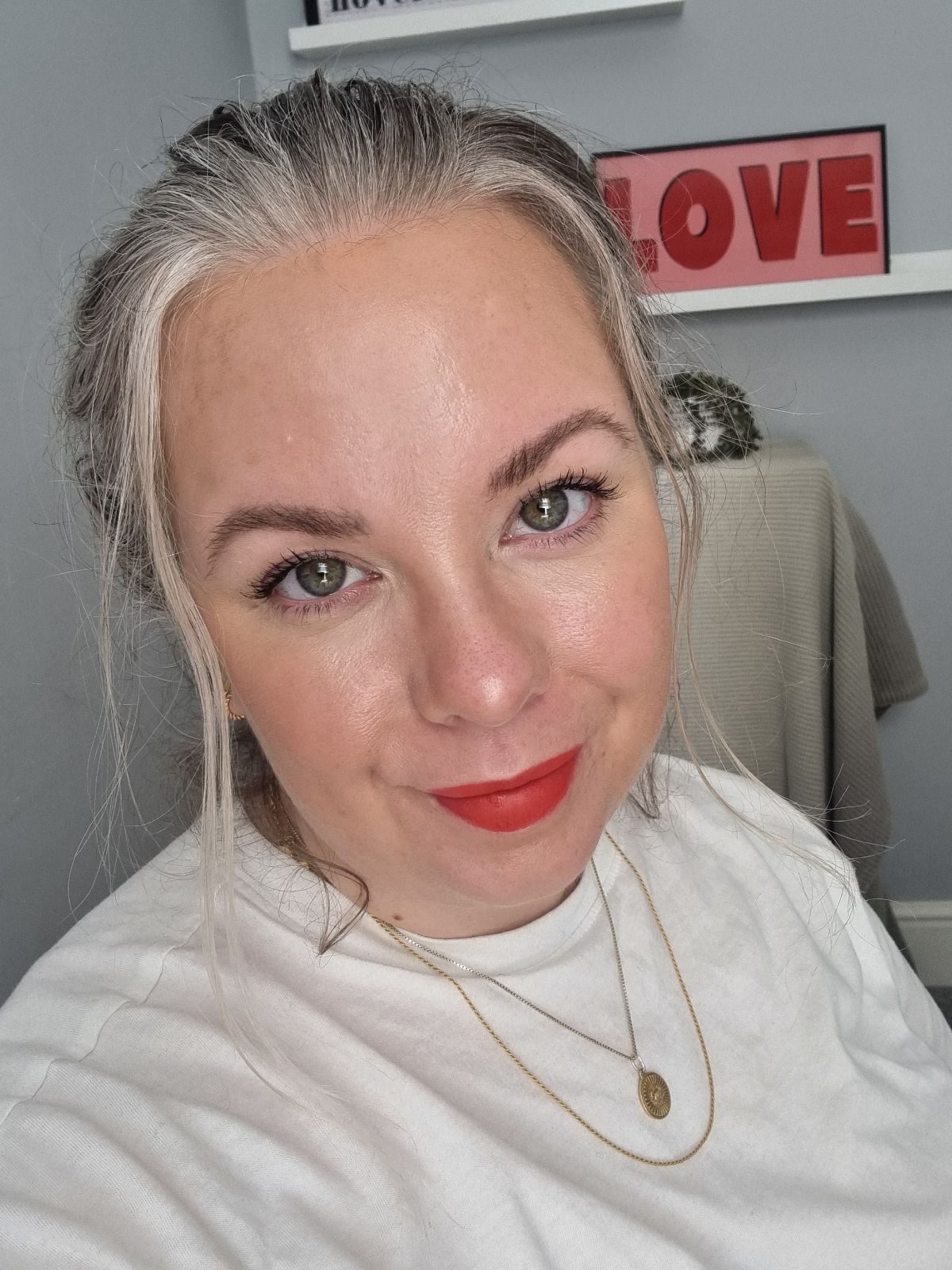 Stephanie Lowe is Family Editor at GoodTo covering all things parenting, pregnancy and more. She has over 13 years' experience as a digital journalist with a wealth of knowledge and experience when it comes to all things family and lifestyle. Stephanie lives in Kent with her husband and son, Ted. With his love of choo-choos, Hey Duggee and finger painting he keeps her on her toes.