Hollywood party ideas
Everyone loves a birthday party, so why not add a touch of glamour to the occasion and throw a Hollywood party the kids will love? We've got everything to need to make sure you'll throw the best A-list bash this side of LA...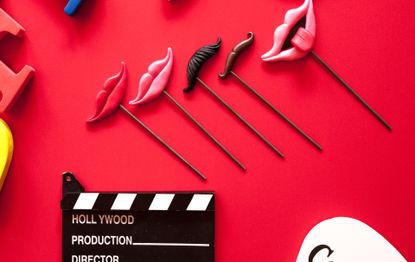 (Image credit: LouieBaxter/Getty Images)
Everyone loves a birthday party, so why not add a touch of glamour to the occasion and throw a Hollywood party the kids will love? We've got everything you need to make sure you'll throw the best A-list bash this side of LA.
From creating gold guest pass invites to serving up the best non-alcohol fizz - follow our step-by-step guide to ensure it's a birthday your little star won't forget!
A Hollywood theme is great for young teenagers who love singing, acting and the theatre. Our guide involves show-stopping invites, easy-to-make tasty recipes and glitzy decorations to really set the scene.
Hollywood party ideas
Hollywood party invites Hollywood party food Hollywood party decorations Hollywood party games Hollywood party crafts Hollywood party costumes Hollywood birthday party bags
Hollywood party invites
Making your own invitations not only adds a personal touch, but also gives the kids something to do on a rainy day.
Guest pass invites Make each guest feel like a celebrity with one of their very own guest pass invitations. Use a small rectangle piece of gold card and on each one attach either a clip or pin or a piece of string they can tie round their neck. You can write 'Access All Areas' on them along with the rest of the party information. You can also stick hologram stickers of stars on each one to make them look more authentic.
Star invite Make your very own replicas of the stars on the Hollywood Walk of Fame. Cut out star shapes on gold card or buy star shapes already cut out from most stationary shops, such as Staples or WH Smith. Then write the child's name you're inviting on the front and the rest of the party information on the back.
Oscar statue invites These may be a bit tricky to make but they look great and will make each child feel like a true A-list winner. Find a picture of an Oscar statue from the Internet and draw it on a piece of gold paper or card. Cut round the shape and write on the party information. Alternatively, draw the statue on a piece of white paper and let the kids decorate them however they wish. Glitter, sequins and stickers are ideal for these creative invites.
Film clapper invites You can also take some inspiration from the classic Hollywood film clappers to make your invites. Each one should be about A5 size with black and white stripes with the top stripe at an angle. The clapper can have all the party information on it, written in black marker pen just like they do in the movies.
Wording inspiration for the invites
You're invited to the A-list bash of the decade
Join us for a night of glitz and glam
We're having a Hollywood happening
And the award goes to...
In the Hollywood hills, the party never stops
A golden gathering for...
Strictly invite only...
Dress to impress
If you want guests to RSVP, say at the bottom
'Get your PA to RSVP as soon as possible to (your phone number)'
'We need to organise the goodie bags, so RSVP at (your phone number)'
'To join our exclusive party, send us a message at (contact details)'
Hollywood party food
With all the fun they'll be having, the Hollywood stars will be getting hungry, so here's our guide to make sure you've covered everything to fill their tummies. From finger buffet food to the birthday cake, our recipes will give you all the inspiration you need.
Birthday cakes In keeping with the American Hollywood party theme, we've got a great recipe to make a Reeses Pieces, a well loved treat by our cousins across the pond!. It looks fab and tastes delicious, so they'll all be wanting a slice. However, you could also try out your own personal design. You could follow one of our Victoria sponge or chocolate cake recipes then customise the top by creating a Hollywood star with your child's name on it in icing.
Cupcakes are also a great addition to the party platter and are sometimes much easier to give to children than slices of cake. We've got a whole host of cupcake recipes you could try. Ice the top of them with a gold glitter or strip of red icing to make it look like a red carpet.
Party food savoury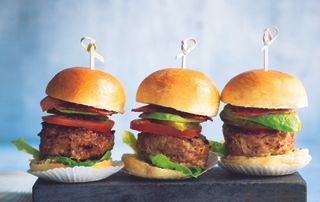 Homemade mini burgers - these are also a kids' favourite. You could even add a twist and serve them in pitta pockets instead of burger buns.
Funny-face pizzas - great to tempt even the fussiest of eaters. Arrange the toppings to make a star.
Hotdogs - these chilli-dogs will go great with the theme. Offer mustard, ketchup and fried onions to go on top.
Chicken wings - follow this recipe to make them deliciously crispy on the outside and juicy on the inside, with a sweet kick!
Party food sweet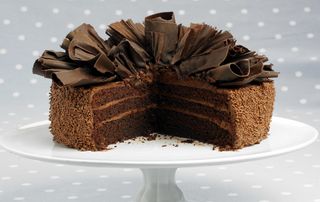 Chewy chocolate chip cookies - these classic American-style cookies make great party treats and can look amazing piled high on plates.
Fresh fruit jellies - go for a bright jelly colour such as green and orange to make it more appealing for kids. It's a great way to sneak in a bit of fruit without them realising too!
Marshmallow swizzle sticks - these look so tasty, there definitely won't be any left-overs at the end of the day. Candy floss and popcorn are also great treats for the kids at parties.
Party drinks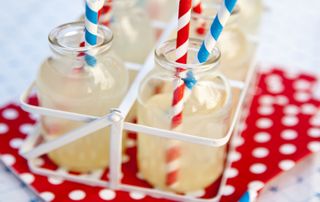 Ginger fizz - this bubbly juice tastes delicious. You could even get a star-shaped ice cube tray, put a few cubes in each drink and call it 'Star suprise'.
Milkshakes - A thick and creamy ice cream packed drink is a great treat. If you're brave enough kids would even love helping to make these for themselves. You could get toppings to make a milkshake bar where little ones can customise their own drinks.
Homemade lemonade - A party classic, this sweet and sour fizzy drink always goes down well with kids so make sure you bottle plenty of the stuff before the party starts.
Hollywood party decorations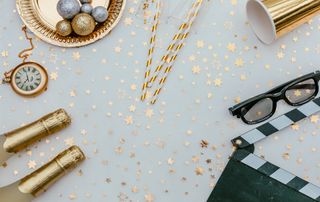 You've decided on the theme and sent the invites, but on the day it's important you've decorated to help set a real Hollywood scene. It will get the kids (and adults!) more into the glitzy mood.
Ideally, you'd have a red carpet, a stage and microphone and lots of glittering lights to create the perfect scene, but there are much more interesting, cheaper and creative ways of decorating that'll make the party the talk of the town.
Welcome the kids At the front entrance you could have a 'red carpet' ready for all the kids to walk up to reach the front door or back garden (wherever you're hosting the party). This could be made from any cheap red material to give the look of being a carpet but without the expense. You could also have one of the adults at the party stand at the end taking pictures of all the children as they walk the carpet to make it seem as if they're famous - they'll also look great in the party album. When each child arrives at the party, you could give them their own VIP badge, which you can sometimes get from pound stores or make using a cheap badge maker. Alternatively, you can get them to bring along their guest pass invites, which you could stamp when they arrive at the party.
Transform your home or garden Create your very own Hollywood sign out of cut-out letters made from white cardboard and stick it above the door or fireplace in the party room or from a tree in the garden. Then use red satin or cheap red material to drape across the walls and doors of the party area to give it a luxury feel - just like being at an awards ceremony. You could also create a make-shift stage if you're planning on doing any Karaoke competitions or having the kids put on a little play. Use wooden boxes or even just layers of cardboard placed on top of each other - it doesn't have to be high. Cover your tables in cheap red and gold material to give it a glamorous look and then decorate with confetti, sequins or lots of glitter. Mirror balls are also great decorations and give it that extra feel of glitz, as well as hanging door curtains which you can buy from most party suppliers.
Little extras You could make name places for each child out of cardboard squares with a star shape on it and the name of the child in the middle of each one, just like the Hollywood Walk of Fame. You could also buy some small blow-up microphones and award status to decorate the area and give the kids things to play with.
Hollywood party games
There are an endless amount of games you could play to keep the kids entertained during the party. You can add a Hollywood twist to many classic party games, whilst also trying out some new games to keep them on their toes. Here are some of our ideas to get you started.
Pin the award on the winner A twist on the classic 'pin the tail on the donkey' game. Each child gets a chance to try and pin an award statue into the hands of a winner whilst blindfolded - with the closest statue winning. Print out pictures of their favourite celebrities from the Internet to play with.
Pass the statue Just like the classic game of 'pass the parcel', pass a present wrapped in several layers around the circle to music and get the child to rip off a layer of newspaper if they are holding the present when the music stops. If the children are a little older, make it more exciting by getting them to stand in a circle and throw the present underarm to anyone they want to in the circle quickly, like the game 'hot potato'.
Dance off If you've bought some film soundtracks, now's a great time to use them for a game. Get the kids to dance to the music and judge which one does the best or craziest dance moves, then give the winner a small prize.
Sing off This is a great game if you have a karaoke machine or a games console with a sing-along game. Let the kids that want to sing take it in turns to belt out some movie classics such as Celine Dion's 'My Heart Will Go On' from Titanic, then award the best (and worst) with a small prize.
Wink 'movie star' murder Similar to 'wink murder', sit everyone in a circle and choose a 'movie star'. They're sent out of the room whilst you pick a dangerous 'wanted' cowboy who is then the 'murderer'. The movie star returns to the room and stands in the middle of the circle. They must continuously turn around slowly trying to detect the 'murderer' - who winks at people who make eye contact with him and act out a dramatic 'death'. The detective movie star must try and guess who the 'murderer' is before all the celebrities are 'killed'.
Name the star This involves cutting out pictures of famous movie stars and getting the guests to identify them. Split the kids into two or three groups, then give them a page of pictures and tell them to write down who they think they are. The winning team will be the one that gets the most correct answers.
Hollywood party crafts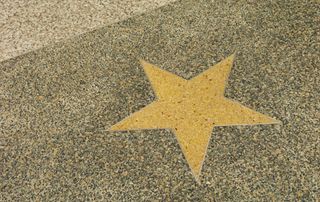 To give the kids something glamorous to do while they enjoy the party, why not have some craft materials at the ready so they create and take home a memento from the Hollywood party? Here's some of our ideas to get you started.
Paparazzi picture frame This is a great craft idea if you have a polaroid instant camera or a digital camera and a printer. First, make a selection of photo frames using white cardboard, get each child to decorate them with paint, glitter and sequins and then tell them to put on their perfect paparazzi pose while you take their picture. Then once it's printed out, stick it inside the frame, leave to dry and they can take it with them when they leave.
VIP badge These are super fun to make and they can take them away and wear them whenever they want. You will need to have a badge maker with enough badge sets for everyone child to have one, but these can be purchased for relatively little online. The children can decorate their badges with pens, paper and stickers depending on the size and thickness of each badge.
Papier mache award statue This could get a little messy, but it's a fun way of keeping them amused for a bit and they can take something home to remember the party by. To ensure there's not too much mess at the party and that the girls' dresses don't get covered in Papier mache, you could create a set of plain Oscar statues before they arrive. To do this, you will need strips of newspaper, glue and the cardboard bits from inside toilet rolls. You can buy several types of glue from a local craft store or PVA works well too. Cover the cardboard with layers of glue-soaked paper until you get a statue-type form and then leave to dry. Then at the party, get the kids to decorate them using paint, glitter and sequins.
Set of famous handprints You could create a set of handprints just like celebrities do in Hollywood - this would involve buying a pack of pottery clay and some shallow plastic trays you can buy from Wilko or other bits-and-bobs shops. Follow the instructions on the pack to get an easily mouldable consistency, then get each child to place their hands down to get the shape and name each one. You could make individual handprints or a large set.
Hollywood party costumes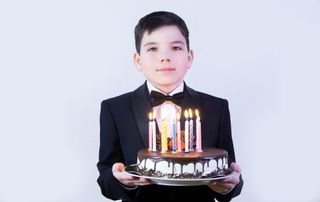 Whatever their age, make your party an occasion to remember with a 'dress to impress' code. Most girls will have an array of dresses already in their wardrobes they can wear, so that's a great start and boys will look dapper in shirts and bow ties (if they have them!). If you want, you could have a dress colour code of either pink or black, but we think the more colours the better!
Long dresses are best as they tend to be a bit more glamorous, plus you can add some extra glitz to an outfit with some sparkly accessories such as bracelets and necklaces.
For little girls you could always make an award-worthy dress using material from a fabric store. Any material that's shiny or has sequins on it will look great with a full skirt made from tutu material. Alternatively, most supermarket clothes sections, party stores and other clothes shops will sell party dresses that you can pick up for a relatively cheap price. Feather boas, sashes and tiaras are also good accessories to make the party girl stand out from the crowd.
Hollywood party bags
Party bags aren't essential, but they do make nice little treats for each child to take home at the end of the day, and they can be made on a budget.
The bags don't necessarily have to be Hollywood-themed - but cardboard popcorn buckets make a nice twist on the classic bags. Include cheap toys you can buy in bulk such as bead necklaces, a small make-up set, small mirrors and beaded purses for little girls (these may vary slightly depending on the age of the party guests).Then you could add all the treats children love such as small sweets, chocolate bars, gold coins, lollipops, sherbet sticks or chewy sweets as well as a piece of the birthday cake. Slicing up the main cake may be an issue if there's not enough to go round, so you could always give each child a cupcake to take home instead.
Parenting advice, hot topics, best buys and family finance tips delivered straight to your inbox.
Trusted, informative, and empathetic – GoodTo is the ultimate online destination for mums. Established in 2007, our 15-year-strong archive of content includes more than 18,000 articles, 1,500 how-to videos, and 7,000 recipes.