In defence of Molly Mae's £6k see-through cot and baby name… I don't think they're that bad
Molly Mae gave birth to daughter and the internet went to town on it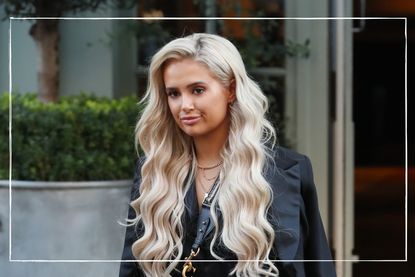 (Image credit: Getty Images / Future)
Molly Mae and Tommy Fury welcomed their baby girl on January 23rd and the internet haven't stopped talking about it since.
While many fans had guessed the couple's unusual baby name (opens in new tab) choice, the 23-year-old new mum actually announced it on the 1st Feb. Taking to her Instagram account she let her 7million followers know that her and Tommy Fury chose the Disney baby name (opens in new tab); Bambi for their new-born daughter. This choice stirred up a lot of opinion with one follower on Twitter asking 'has she not seen the end of that movie?' and many pondering what does Bambi mean (opens in new tab).
The irony that I'm writing an article about Molly Mae referring to the internet all talking about her, is not lost on me. I suppose, the difference is I'm not mocking her choice of baby name, nor making jokes at her choice of cot. And that's mainly because this young woman has just birthed an actual human baby, after carrying it under the gaze of everyone for 9 months. Her emotions and hormones are all over the place while also firmly at the helm, and the general public has taken aim and fired with all the power of a nuclear fuelled opinionated Duracell bunny.
Yes, Molly Mae is a celebrity and she's in the public eye, but she's also a first-time mum with all the feelings all the time. The anxiety, the worry the illogical fears, and the fact her daughter - who is not even one month old - is the subject of so much name rage and vitriol is quite unnerving. As my Nan used to say 'If you can't say anything nice, don't say anything at all'...
The see-through cot
The image Molly Mae used to announce her baby name was a simple one of the new-born lying in her new cot with pretty cushions and soft teddys around her (PSA: we're sure this was just for photo optics, as anything in baby's cot is not within safe sleeping (opens in new tab) guidelines as shard by the Lullaby Trust). The cot is see-through and positioned under a neon name sign 'Bambi'.
This in itself prompted a barrage of jokes from the British public, with one poplar tweet going viral which read; "Why have they called their baby Bambi and stuck her in a veg drawer from the fridge?'
This tweet garnered 128 retweets and over 4800 likes. With one follower replying: "Oh my days! There was me laughing because I thought that baby Bambi Fury was in a giant Ferrero Rocher box, but sheesh - fridge veggie drawer is even funnier"
Why have they called their baby Bambi and stuck her in a veg drawer from the fridge? 🙃 https://t.co/hL2hKD7uoBJanuary 31, 2023
See more
And while for some this see-through cot may be the first you know of this style, here in the UK we are used to seeing wooden cots, it's actually quite a modern choice of crib popular in the US. We're pretty sure it won't be long before they're over hear taking sales from those traditional wooden cots - watch this space.
This is the one (seen below) we think Molly Mae has, inspired by Queen Bey, Beyonce Knowles herself. Named the Vetro Crib from The Nursery Works (opens in new tab) and hand made it's the first 100 percent recyclable, non-toxic acrylic crib on the market. The manufacturer states; "Combining utility, purity and understated beauty. It is exclusively handcrafted and laser-etched with a unique limited edition number." And it goes for just over $6,500.
And sure, it's not my style, but then neither was my friends 'sleigh bed' cot she chose for her first baby. It was all dark wood with overly opulent curves which meant that was ALL that could fit in the nursery. But, I didn't tell her that, because she never asked my opinion. Just like I never saw Molly Mae post a poll to get people's opinions on her choice of name or cot.
Acrylic cots are worth it as they are hugely functional. The non toxic material can withstand teething and it makes the cot feel lighter. It's also perfect for smaller spaces such as nursery rooms as it takes up less 'visual space' and gives the affect of light and space. If you know anyone interested in the see-through cot style made popular by Molly Mae, Kim Kardashian and Beyoncé, then you'll be glad to know that Pottery Barn offer a version too for a fraction of the cost at £999.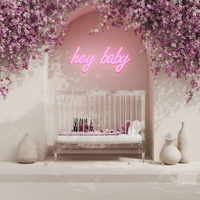 (opens in new tab)
Lucine Acrylic Cot Bed | view at Not On The High Street (opens in new tab)
RRP: £3,600 | Home deliver: Yes | Refunds: Accepted
A clean lines and modern aesthetic of clear acrylic, the lucine cot combines utility, purity and understated beauty, with classic turned acrylic spindles and delicate turned legs. 100% recyclable.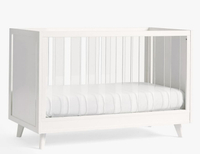 (opens in new tab)
Sloan Convertible Cot | view at Pottery Barn UK (opens in new tab)
RRP: £999 | Home deliver: Yes | Refunds: Accepted
If you're not feeling bold enough to fully embrace the acrylic style go small. This modern take on an essential piece, this sturdy cot boasts acrylic slats to accent the clean lines. The clear slats provide an airy, open feel that seamlessly blends with your chosen design aesthetic.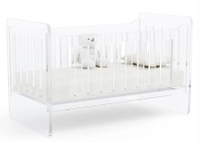 (opens in new tab)
Kimmy Cot Transparent | view at Little Lucy Willow (opens in new tab)
RRP: £1,1750 | Home deliver: Yes | Refunds: Accepted
Built in clear transparent acrylic providing a refreshing contemporary, stylish look and calm aesthetic. And is available in clear acrylic or range of colours.
Baby name choice
Even before she revealed her choice of name the Love Island star declared on her social account their choice was "really, really unusual", even going as far to speculate many would "hate it". It appears her concerns were valid, as social media has been flooded with people weighing in on the choice, sadly prompting the new mum to turn off comments on her post. Not everyone likes the name people choose for their baby, but if they have an ounce of kindness they smile and nod.
That didn't stop the conversations, which continued on Twitter, while plenty or people who thought it was "beautiful" there were others who claimed it was "cruel".
"Molly Mae is the prime example of 'Remember you are naming an adult human not a baby'," one wrote. "Stop naming babies and start naming people," another raged.
As another wrote: "Bambi Fury sounds like the name of a knock-off Disney parody." while this Twitter used stated; "It's not just the fact it's Bambi, it's Bambi in Manchester which will sound like 'Bamb-uh with the accent." Added another.
This Twitter used pleaded with people to 'let them be happy'. She wrote: "Molly Mae having to turn her comments off on her baby's name post is so sad. It's not your kids, you don't need to share that you like the name. Let them be happy ffs."
Molly Mae having to turn her comments off on her baby's name post is so sad. It's not your kid, you don't need to share that you don't like the name. Let them be happy ffsJanuary 31, 2023
See more
Choosing a baby name is so personal to the parents and their choices are theirs for a reason, not everyone goes for the usual popular baby names and celebrities are no exception. I chatted to baby name expert Laura Wattenberg (opens in new tab) who told me; "Parents today are actually leaning away from popular and generic names more than ever before. We're as determined to stand out as past generations were to fit in.
"When it comes to popularity, there's a trade-off. A popular, classic name lacks individuality and impact. We choose names that reflect our sense of style." And I'm pretty sure the baby name, cot and any other choices Molly Mae makes as a new mum will do just that, reflect her own sense of style. No opinions necessary.
Molly-Mae has since defended another mum being trolled over a controversial baby name choice.
Related features:
Video of the Week:
Stephanie Lowe is Family Editor at GoodTo covering all things parenting, pregnancy and more. She has over 13 years' experience as a digital journalist with a wealth of knowledge and experience when it comes to all things family and lifestyle. Stephanie lives in Kent with her husband and son, Ted. With his love of choo-choos, Hey Duggee and finger painting he keeps her on her toes.