Where did Molly-Mae give birth? Inside the hospital used by the Royal Family
The hospital has previously been used by Meghan Markle and Victoria Beckham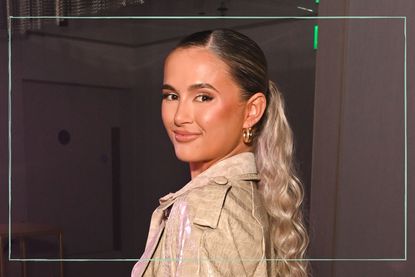 (Image credit: Getty Images)
Now that the influencer has shared her baby girl with the world (opens in new tab), fans are asking where did Molly-Mae give birth...
After Molly-Mae went silent on social media, fans began asking when is Molly-Mae's baby due (opens in new tab), with many coming to the conclusion that she had given birth. A week and a half later, the influencer shared the exciting news that her baby girl had indeed arrived, and since then has shared touching milestones (opens in new tab) in her journey as a new mum with her millions of followers.
Now, Molly-Mae has opened up about her birth story on her YouTube channel, and fans are eager to know all the details. After sharing that she and her partner Tommy Fury made the decision to have their baby in London, rather than in nearby Manchester, many have been asking more about where Molly-Mae gave birth.
Where did Molly-Mae give birth?
Molly-Mae had her baby at the Portland Hospital in London. The private maternity hospital reportedly costs up to £30,000 and is known for its exclusivity, with previous patients including Meghan Markle, Victoria Beckham, Liz Hurley, Dani Dyer, Katherine Ryan and Princess Eugenie to name a few.
Molly-Mae had previously explained in a YouTube video that her and partner Tommy had made the decision to have their baby in London instead of closer to Manchester where they live "for privacy reasons and to feel the most comfortable and secure".
Packages available at the Portland Hospital include accommodation and complimentary breakfast and dinner for partner, 24-hour room service for new mothers, afternoon tea served daily and a complimentary gift on discharge.
It's also been widely reported that the hospital offers mums champagne, lobster and foie gras after the birth and that the suites use Molton Brown toiletries, while newborns are given £3,500 Moses baskets and a four poster Little Duchess cot, worth £14,000.
When was Molly-Mae's baby born?
Molly-Mae's baby was born on January 23 2023. The new mum shared the news on Instagram with a black and white photo of herself and boyfriend Tommy in the hospital, holding their new baby girl.
The photo was captioned "23/01/23🤍" and was posted exactly a week after the baby was born.
Fans were quick to congratulate the new parents along with celebrities too. TV personality Stacey Solomon wrote "Congratulations 😍," and Sophie Hinchcliffe (a.k.a. Mrs Hinch) added: "Oh my Molly 🥹❤️ beautiful just absolutely beautiful. Congratulations to you both, such a gorgeous family , ready to start their next chapter. welcome to the world little one 🤍 ☁️ xxxx"
Maura Higgins, who was on the same series of Love Island as Molly-Mae, commented, "So so so proud of you always 🤍 she is so perfect 🤍🤍🤍🤍".
Molly-Mae birth story
Molly-Mae detailed her birth story in a YouTube video (opens in new tab) posted just two weeks after she had her baby. She revealed that she was induced, and was able to have a vaginal delivery.
In the video, titled 'MY BIRTH STORY', she explained that she nearly had a C-section following advice from the doctors, but a last-minute examination revealed she had gone from three to seven centimetres dilated in 20 minutes. After waiting another 10 minutes, it was time to push.
She went on to detail that her baby was delivered with a ventouse, explaining: "I put my legs up in the stirrups. A ventouse is like a suction cup that goes on the baby's head - so when I'm pushing Bambi out, my doctor is also pulling Bambi out."
She added, "I loved the pushing. I loved it because of my epidural. My epidural made me enjoy my labour - I would do it again in a heartbeat."
Partner Tommy Fury also joined the video for a short time, saying that watching Molly-Mae give birth was "the best thing I've ever seen in my life." He added that being a dad is "the single-handedly best thing that's ever happened so far, and the best thing that will ever happen in my entire."
What is Molly-Mae's baby called?
Molly-Mae and Tommy have called their baby girl 'Bambi'. The 23-year-old revealed the name in a sweet Instagram post (opens in new tab) showing the newborn asleep in her cot under a neon sign reading 'Bambi'.
She had previously hinted that she was choosing something unique to name her baby (opens in new tab), saying in a Q&A on her YouTube channel back in October: "It's always been my dream little girl name and luckily when I met Tommy and I told him the name that I'd always dreamt of using, he absolutely loved it too. It's a really really unusual and a different name, I do not know anybody else with the name."
She added: "I think you guys are going to either absolutely love it or hate it - but we absolutely love it."
Since revealing the name, Molly-Mae has spoken out how she has struggled with the public reaction, as her followers voiced their opinions and asked what the name Bambi means (opens in new tab). In her latest YouTube video she said, "The long awaited name reveal was a really hard day for me, I'll be completely honest with you.
"I had to switch the Instagram comments off on that post. I was brought back down to earth very quickly and [reminded] how nasty this world can be."
Video of the Week
Ellie joined Goodto as a Junior Features Writer in 2022 after finishing her Master's in Magazine Journalism at Nottingham Trent University. Previously, she completed successful work experience placements with BBC Good Food, The Big Issue and the Nottingham Post, and freelanced as an arts and entertainment writer alongside her studies. In 2021, Ellie graduated from Cardiff University with a first-class degree in Journalism.