Best Amazon toys for Christmas 2022: LEGO, Playmobil, Crayola and more
The retail giant has released its pick of toys for Christmas 2022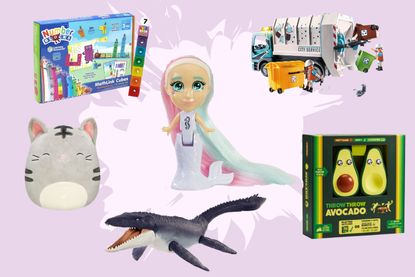 (Image credit: Future)
Amazon's best 10 Christmas toys list is sure to save you hours of Christmas shopping.
Christmas 2022 is coming and we're certainly getting into the spirit of things. Yet alongside the merriment of the festivities comes the annual hunt for presents for the kids, with many parents desperate to get their hands on some of the top Christmas toys (opens in new tab) and best toy advent calendars (opens in new tab). Thankfully, Amazon has come to the rescue with its list of ten toys. The online retailer has sorted and sifted through thousands to give us some of the hottest new products, with classic brands like LEGO as well as relative newcomers such as Exploding Kittens. Their selection is set to fly off shelves in December - so we recommend getting in there quickly and adding to your basket before it's too late.
The toys, which were unveiled by Girls Aloud star Kimberley Walsh at Amazon's Big Top Tent event on 20 October, are made up of predictions by Amazon experts to capture the latest in toy trends. Matthew Redfearn (opens in new tab), Toys Category Leader at Amazon UK, said of this year's collection "In a year where less is more for many families, we are offering options for all tastes and budgets this season, including tens of thousands of toys under £20 across Amazon, so our customers can find that perfect gift this Christmas. We want everyone to have the chance to experience the happiness that playtime brings, so hundreds of this year's top 10 toys will also be donated and delivered by Amazon UK and Barnardo's to vulnerable children across the UK."
Amazon's Christmas toy list for 2022
1. Squishmallows 7.5" Tally the Grey Cat
Specifications
RRP: 8.99
Age range: Suitable from birth
Batteries required?: No
Squishmallows have been appearing on a lot of retailer's toy lists this year - so they're definitely a trending purchase. Made with high-quality and ultrasoft materials, the great thing about these is you're never to old or too young for a plush toy!
There's a whole squad of Squishmallows to choose from and each has their own personality. While Amazon have gone for Tally the Cat - who is apparently a health and fitness coach who loves to motivate the other 'Mallows - there's also Thompson the Armadillo (opens in new tab), Bop the Pink Bunny (opens in new tab) and many more to choose from.
---
2. Pictionary Air Star Wars Family Drawing Game
Specifications
RRP: £25.99
Age range: 8+
Batteries required?: Yes
For a twist on the classic family drawing game, Amazon has picked Pictionary Air Star Wars edition as one of their favourite toys for Christmas 2022. Two levels of clue cards feature content from all the Star Wars films, The Clone Wars and The Mandalorian, and it promises to be perfect for super-fans and casual fans alike.
Download the free Pictionary Air app on a tablet or smartphone and select Star Wars for more intergalactic features, or cast gameplay onto the TV using a compatible streaming device at home.
Amazon customers have been quick to share that this game is a winner, with one reviewer writing "Kids loved it! So clever how it works and it's an easily transportable game as it's just the pen & some cards plus your phone which you always have on you! Highly recommend." Many others praised this Pictionary edition for its appeal to those young and old, with another reviewer writing "We all really enjoined playing this game as a family".
---
3. Learning Resources LSP0949-UK MathLink Cubes Numberblocks
Specifications
RRP: £25.00
Age range: 3+
Batteries required?: No
If you're buying for a CBeebies fan then this toy might be the one for you, as it's based on the award-winning Numberblocks TV series. Children can use special edition Numberblocks MathLink Cubes to build the Numberblocks One to Ten in all the ways shown in the series, and master early maths skills through fun activities.
Each set includes 100 Numberblocks MathLink Cubes, 59 faceplates, 54 stickers, 11 Numberlings, 11 Character Cards, 15 double-sided write-and-wipe Activity Cards, one stand for Zero, and one Supporting Activity Guide, so kids have everything they need to play and explore early maths skills.
With 4,000 reviews giving an overall rating of 4.7/5, these MathLink Cubes have certainly proven themselves as a popular purchase, and satisfied customers have shared that it's a great buy for fans of the CBeebies show.
One reviewer wrote "If your child loves the numberblocks programme then this is a must have," while another said "Bought this for my 3 year old boy as he loves the show. This set does not disappoint! Plenty of blocks to build their favourite Number Block characters and lots more in addition."
Other reviewers have praised the toy for its educational qualities, with one customer saying "My 4 year old is miles ahead with his numbers from playing with these," and another adds "These are such a great way to get youngsters enjoying maths."

---
4. CRAYOLA Colour 'n' Style Mermaid Friends: Hair Braiding Salon Playset
Specifications
RRP: £26.99
Age range: 3+
Batteries required?: No
This set includes everything you need to make Maya the most fashionable mermaid in the seven seas. Have fun braiding her extra-long hair with glitter highlights, three braiding clips and two themed extension clips. These accessories can also be worn by the happy customer, so kids can create matching hair styles with their mermaid doll.
Maya's hair, face and body and of course her mermaid tail can also be customised with the included pens, and when it's time for a different look, simply wipe the doll clean and start again with a whole new design.
---
5. Throw Throw Avocado by Exploding Kittens
Specifications
RRP: £24.99
Age range: 7+
Batteries required? : No
This hilarious dodgeball card game for kids and adults is unlike any other party game. Play by collecting matching sets of cards faster than your opponents while simultaneously ducking, dodging and throwing squishy airborne Avocados. Combine this game with Throw Throw Burrito (opens in new tab) for the ultimate combo expansion set.
The game requires 2-6 players, meaning whatever size your family is you can enjoy the fun, and includes 120 cards, six 'Avocado Boo Boos', one 'Fear Me Badge', and two adorable foam Avocados soft enough to throw.
Throw Throw Avocado is certainly a popular choice, with 33,000 reviews already and an impressive rating of 4.6 out of five. One customer writes "This is one of the best family game night games there is. We have the burrito and avocado set as we love it so much. The rules are a little daunting to begin with but once everyone remembers which way is which it's a blast." Many others echo these comments - though some do warn that they wouldn't recommend playing with younger children or elderly family.
---
6. PLAYMOBIL City Life 70885 Recycling Truck
Specifications
RRP: £29.99
Age range: 4+
Batteries required?: Yes
Prepare for hours of imaginative play cleaning up a Playmobil town or city with this model recycling truck. The vehicle features a light function, a removable roof on the driver's cab, and both the cab and trailer can be tilted. There's also a lever at the back of the truck to lift and empty the bins when they are attached. The age-appropriate pieces should fit perfectly into little hands, and rounded edges make them easy to hold too.
Amazon customers have praised the ease of assembly of this truck and its value for money. One reviewer writes "Fab gift for a budding refuse collector. Great value for money & good quality," with another adding "Easy enough to assemble and is giving loads of play time."
---
7. Melissa & Doug Super Smile Dentist Kit for Kids
Specifications
RRP: £34.99
Age range: 3+
Batteries required?: No
This set is great for encouraging children to use their imaginations, care for others and learn how to be a little dentist in the making. The 25-piece toy set includes pretend teeth, instruments, and cleaning accessories for hands on fun and educational play, as well as teaching good dental health practices through realistic role play.
Included in the set is pretend teeth, dry-erase marker, pick, mirror, floss, toothbrush, toothpaste tube, dental rinse bottle and cup, two gauze pads, three tooth polish cups, instrument tray, top and bottom retainers and braces, mask, reusable ID tag on a lanyard, and a double-sided reusable activity card - everything an engaging play set needs to create educational fun and ease children's fears or feelings of stress associated with a visit to the dentist.
The Dentist Kit has received some great ratings too, with one five star reviewer saying "This is such a wonderful kit for imaginative role play. It is of the high quality that you would expect from Melissa & Doug toys and for a certainly very durable - ours has already been played with a lot and looks as new. Although it's targeted at 3+ my 2 and a half year old loves it and really gets into playing doctors and making 'poorly' people and teddies better."
---
8. Jurassic World Ocean Protector Mosasaurus Dinosaur Action Figure
Specifications
RRP: £44.99
Age range: 4+
Batteries required?: No
Dive into thrilling action and adventure play inspired by Jurassic World: Dominion with this colossal-sized dinosaur made from recycled plastic. This toy is 8.5 inches high and almost 3 inches long with massive movable jaw and joints, making it a great gift for kids that care about the ocean and the environment and are also big dinosaur fans!
For added play time fun, download the the free Jurassic World Facts app, then find the hidden DNA code and scan it with any smart device to initiate Augmented Reality option. The AR function lets kids study the dinosaur in the lab with fun visual learning and different modes to explore, like thermal and x-ray.
---
9. Osmo - Little Genius Starter Kit for Fire Tablet
Specifications
RRP: £79.99
Age range: 3+
Batteries required?: No
This kit makes for a great hands-on learning toy for pre-schoolers. You must have an iPad or Fire Tablet to use with this toy, as it combines handheld pieces with the device to bring a child's game pieces and actions to life. The toy includes one Osmo Base & Reflector for the tablet, 19 cardboard pretend play costume pieces, 38 silicone sticks/rings (BPA Free and Dishwasher Safe) to practice letter forming, a silicone game play mat, stackable storage for game pieces & 4 game apps.
The skills children can expect to learn with this innovative toy include letter formation, phonics, early literacy, memory, fine motor skills and problem solving to name just a few. With an overall star rating of 4.6/5 on Amazon, this toy is looking like a winner for Christmas 2022, with one happy customer saying "Absolutely amazing, my 3 yr old loves it and I enjoy playing along too. It's great for all the family and there seems to be a lot of potential to grow with them. I bought it on a deal after looking at them for months but having used it now, I'd definitely pay full price for it."
---
10. LEGO 41722 Friends Horse Show Trailer
Specifications
RRP: £89.99
Age range: 8+
Batteries required?: No
It wouldn't be a Christmas list without a Lego toy in here somewhere, and this is Amazon's pick for 2022. The Horse Show Trailer features a toy car with a trailer, three mini dolls, a dog and two horse figures plus riding accessories for horse show fun, making it a great gift for kids that love animal play and vehicle toys too.
The trailer's roof opens to reveal the sleeping quarters and the back opens to access a room with the riding accessories and trophy cabinet, while the side of the trailer is hinged to reveal a compartment for the toy horses, and the car toy is drivable with removable roof to place mini-dolls inside.
The 989-piece build is sure to provide hours of imaginative play, and that certainly seems to be the case when looking at reviews. One customer writes "It's a really fun set with quite a challenging build and is ideal for the target age bracket teaching them how to follow the detailed and engaging step by step construction images. The finished result looks great, it's a set that definitely has a lot of replay value and can be integrated into other Lego Friends sets due to the versatility of LEGO."
---
Related features:
Video of the Week
Ellie joined Goodto as a Junior Features Writer in 2022 after finishing her Master's in Magazine Journalism at Nottingham Trent University. Previously, she completed successful work experience placements with BBC Good Food, The Big Issue and the Nottingham Post, and freelanced as an arts and entertainment writer alongside her studies. In 2021, Ellie graduated from Cardiff University with a first-class degree in Journalism.