Mum influencer Alexandra Stedman reveals the baby items her 256k followers ALWAYS ask about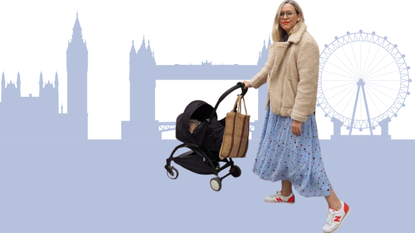 Blue-tick-verified instagram influencer, Alexandra Stedman is an ex-fashion editor, a current digital creator and mum-of-two with over 256,000 followers.
Alex has toddler Peggy and just-turned-one Cato. And, with an instagram following on alexandra.stedman (opens in new tab) of over 256k following her, she is frequently asked about what she buys, where and why.
Here the London-living thirty something shares her top baby investment pieces that she gets the most comments about and questions on...
"As an 'Influencer' on social media, I get asked my opinion on baby gadgets a lot. Not that I'm an expert... by any means, just a mum of two with a lot to share.
And, I am also someone who has tried her hardest to navigate the online world with authenticity and honesty. I try to steer my audience towards items that are worth the expense - because having a baby is already hard and pricey enough.
So, here are the items I have used and loved with my two kids, and gone on to reuse and recommend.
'We don't have oodles of space so this pram is perfect!'
Credit: Alexandra Stedman
This Babyzen Yoyo has been our only pram for two kids. It's one of the smallest and best prams (opens in new tab) on the market and living in a busy city without oodles of space (we were renovating when we bought it) it really has been ideal.
For newborns, if I'm honest, it's not exactly the cosiest of prams - it's very low and it feels a bit... sparse. Because of this, for my second baby we rented the new bassinet but he grew out of it within 4 months.
It's worth remembering that the newborn phase does go by quickly - even though it sometimes doesn't feel that way! And, once they're front facing it's super sleek and I can fold it easily myself, which was my main criteria. Plus it can fit in hand luggage on flights!
Babyzen Yoyo – £329.95 | John Lewis (opens in new tab)
'I can actually put this carrier on myself without help!'
Credit: Alexandra Stedman / Canva
Admittedly, this BabyBjorn isn't the chicest carrier out there, though I have seen they do leopard ones now! But this Mini Carrier is iconic for a reason; it's sturdy but doesn't feel like your tiny newborn is drowning in it. And we are still using it at 13 months with our youngest.
I found trying to use the oh-so-popular - and chic - wrap slings quite hard to get to grips with. But both my husband and I find this so easy to use and we can even put it on without assistance (which, considering we never read instructions to anything, is a miracle!).
BabyBjörn Cotton Mini Carrier, Leopard – £81 | John Lewis (opens in new tab)
'The great price meant we could spend more on the mattress!'
Both our babies have slept in this Ikea Sniglar cot and at just £40, so many of my followers refuse to believe that it is good. I think it's 'basic'-ness was its appeal for us.
And the beech wood goes with every type of nursery style, I loved how minimal it was. Plus the price meant we could afford to spend more on the mattress (Eve Sleep) and bedding (Coco & Wolf in the sale). While it doesn't turn into a cot bed we found it lasted us long enough until our eldest was ready for a bed anyway.
Sniglar cot – £40 | Ikea (opens in new tab)
'I found this balance bike at a far better price!'
This Runride 520 cruiser balance bike was a close call! So, last year I was swayed by social media and bought a fancy balance bike at £85 for my daughter. It was one of her top Christmas toys (opens in new tab). And it was unisex with one of those raffia baskets on the front, I loved it but couldn't really afford it.
Luckily, two weeks before Christmas the store let me know that their delivery hadn't come in. As a result they were hoping it would arrive 2 days before Christmas and was I willing to wait it out? No. I wasn't.
Thankfully I cancelled my order, reevaluated and found this bike, above, at a far better price. And it had a break, which the other bike didn't have.
We then asked family to buy streamers and a basket to turn it into her dream bike. She loved it and is so competent on it - the only problem is she is so good now we probably need to buy a pedal bike next!
Think we'll go secondhand for that one..."
Runride 520 cruiser children's 10" balance bike – £49.99 | Decathlon (opens in new tab)
Alexandra Stedman's buy now suggestions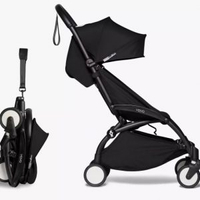 (opens in new tab)
Babyzen Yoyo – £329.95 | John Lewis (opens in new tab)
So chic, compatible and easy to use. And easy to fold with one hand. It's a winner, especially if you've got any post-Covid travelling to do as it fits as carry on baggage for flights.
(opens in new tab)
BabyBjörn Cotton Mini Carrier, Leopard – £81 | John Lewis (opens in new tab)
Small, soft and oh-so easy to use. Comes in a range of colours but LOOK at this leopard print! Plus buy today and get 10% off.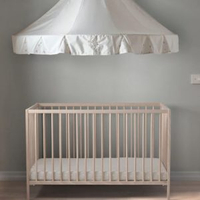 (opens in new tab)
Sniglar cot –
£40 | Ikea
(opens in new tab)
This chic beech wood look goes with almost any style you want. Plus it's such good value for money you'll have lost spare to spend on a lush mattress for your little one.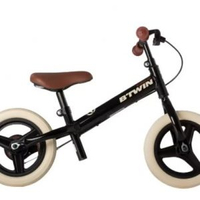 (opens in new tab)
Runride 520 cruiser children's 10" balance bike
–
£49.99 | Decathlon
(opens in new tab)
A balance bike is a great starter for kids aged 2+ for them to get used to the feel and weight of a bike without actually having to learn to ride it just yet... the peddles come later. This is a bargain price for such a chic bike.
Alex Stedman has worked in the media industry for over 15 years, including magazines Eve, Red and Conde Nast Traveller as a Fashion Editor. Alex has since left magazines to pursue a freelance career and to concentrate on her blog, which grew into her sole passion.
the-frugality.com
(opens in new tab)
, set up in 2012, is now a recognised multi-platform lifestyle brand with a team of contributors and a combined social media following over of over 300,000 across her platforms. And, since becoming a parent her platform this has helped her reach out to fellow mums; talking candidly about maternity leave, pregnancy and becoming mum. She also shares her maternity style and experiences with reusable nappies and the best independent baby brands out there. Plus her top tips on travelling with children and the baby items she couldn't live without. Alex works with her partner, Chris, and they juggle work alongside their two children.