Best kids' hiking boots for little explorers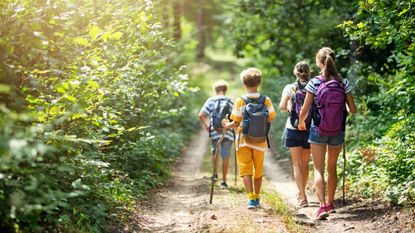 When you take little ones on a walk, the blisters and complaints about wet and achy feet can quite literally stop you in your tracks. That's why proper hiking boots are an outside essential. A step up in support, grip, and durability when compared to even the best trainers for kids (opens in new tab), children's walking boots are similar in design to adult versions. Unlike the best kids' wellies (opens in new tab), expect to see thick, grooved soles and hard-working fabrics in muted, mud-disguising shades. If you're looking for shoes to kit out your child for the next family adventure holiday, you might also find our round-up of the best kids' sandals (opens in new tab) useful as well.
Best kids hiking boots 2022 to shop now:
Why you can trust GoodTo Our expert reviewers spend hours testing and comparing products and services so you can choose the best for you. Find out more about how we test.
1. Trespass Kids Walking Shoes Waterproof Low Cut Gillon II
Sizes: 28-38
A colourful petrol blue with orange trim that'll brighten up even the muddiest of walks and help you keep an eye on little ones in the great outdoors, the waterproof and breathable outer keeps little feet dry and cool when they're on the go. The protective and durable toe and heel guard protects feet from hidden roots and rocks while the durable traction outsole prevents slips and trips. Meanwhile the supportive, cushioned collar and tongue and moulded footbed keeps little feet comfy for longer.
VIEW AT TRESPASS| £24.99 (opens in new tab)
2. Samaris Waterproof Mid Walking Boots
Sizes: 9jnr-6
Waterproof, hardwearing and cushioned, little feet will be ready for big adventures in these waterproof boots. Featuring Isotex technology, the boots prevent rain and splashes getting through while allowing little, active feet to breathe. The moulded EVA footbed, deep padded neoprene collar and mesh tongue are made for comfort and preventing foot fatigue, while the hardwearing XLT sole unit adds traction to protect from slips along the way.
VIEW AT REGATTA | £55.95 (opens in new tab)
3. Cotswold Coaley Lightweight Lace Up Walking Boots
Sizes: 28-38
Lightweight and perfect for long walks, a set of laces provides an optimal fit at the foot, while an easy-to-fasten strap supports the ankle. Featuring a waterproof membrane inside and a traction rubber outside, the boots are the optimal choice for rainy days.
VIEW AT OUTDOOR LOOK | £37.49 (opens in new tab)
4. Youth Whitney II Short Lace Winter Boot
Sizes: 13jnr-6
The best kids' hiking boots for ski holidays or blustery winter days in Blighty, they're packed with 200g of toasty insulation. Traction soles lower the risk of a tumble in even heavy snow.
VIEW AT SOREL | £56 (opens in new tab)
5. Karrimor Junior Mendip Weathertite Hiking Boots
Sizes: 28-38.5
A purse-friendly boot option for kids due a growth spurt, these bargain boots have been fully weather-proofed for guaranteed dryness, a phylon midsole for agile feet and a dynagrip outsole for traction and durability.
VIEW AT M&M DIRECT | £24.99 (opens in new tab)
6. Quechua kid's warm waterproof hiking boots SH100 warm leather riptab
Sizes: 6.5jnr-1.5
This technical winter hiking boot adapts perfectly to the city. Extremely warm, waterproof and eco-friendly, the leather upper and finish give an urban look. With a comfort temperature of -4°C and limit temperature of -13,5°C.
VIEW AT DECATHLON | £29.99 (opens in new tab)
7. Karrimor Hot Rock Junior Walking Boots
Sizes: 3-6.5
Available in half sizes, these are great for children that are in-between sizes - or to allow for chunky socks. Featuring a Weathertite waterproof and breathable lining for waterproof protection that doesn't compromise on breathability. According to reviews, they're a hit with adults too.
VIEW NOW AT SPORTS DIRECT | £32.99 (opens in new tab)
8. Vivobarefoot Primus Trail II FG
Sizes: 8-13jnr
Forget stiff, heavy hiking boots! Vegan and made using recycled plastic bottles to tread light on the planet, these shoes are ultra-flexible, puncture resistant and have a super grippy firm ground sole but no insole, keeping kids' feet grounded and even closer to barefoot - allowing growing feet to develop and move in a healthier way.
VIEW NOW AT AMAZON | £70 (opens in new tab)
9. Edinburgh Vibram Youth Waterproof Walking Boots
Sizes: 1-5
A tad sturdier and heavier than your average hiking boot, this pair is perfect for older kids pushing themselves on more extreme trails. With a waterproof suede upper and speed hooks at the ankle, it's the moulded and ergonomic Vibram sole that sets them apart from the flatter soles of other designs. Perfect for more rugged trails and walking long distances.
VIEW NOW AT MOUNTAIN WAREHOUSE| £54.99 (opens in new tab)
10. Kids' Adidas hiking shoe - hyperhiker low
Sizes: 30-38
The sports brand designed this lightweight shoe to allow kids to make the most of their daily adventures. A strong, comfortable shoe with support, grip and easy fastening, the shoe weighs just 270g in a size 3.
VIEW NOW AT DECATHLON| £44.99 (opens in new tab)
We doubt your child will need to wear hiking boots every day, so you'll probably want to store them away for a few months. If you're short of space, read our advice on kids' wardrobe organisation (opens in new tab) to make the most of your storage.
How to choose the best kids' hiking boots
When browsing for the best kids' hiking boots for your tot, there are a number of key factors to consider:
Sizing: "Don't be tempted to size up to get more wear out of kids' walking boots," says Mark Tucker, Senior Equipment Project Manager at Regatta Great Outdoors. "It could result in bad blisters and discomfort for the child. Equally, if too small, shoes can reduce circulation, stopping the child's feet from forming properly. Families must not compromise on kids' shoes as a couple of ill-fitting shoes or boots can have real long-term effects." As sizes vary from brand to brand, we'd recommend trying them on in-store to ensure a spot-on fit. If your child will be wearing thick socks when hiking, it's a good idea to take those along too.
Style: There are two main styles of kids hiking boots - high tops and low tops. Which one you choose will likely depend on the age of your little one, and the type of terrain you'll be tackling. "A true walking boot will give a lot more support for the ankle," advises Mark. "Whereas shoes are more versatile and lighter weight." In short, boots are best for steep inclines and uneven surfaces, while shoes are good for longer distances on flat terrain.
Fabric: All the best kids' hiking boots have been made from durable fabrics to help them stand the test of time. If you'll be walking in wet, snowy, or unpredictable conditions, a pair with waterproof coating and tapered seams will stop water from sneaking through. Breathable fabrics come into their own during long journeys and warmer weather, keeping feet cool and comfortable.
Age: "The age kids begin to wear walking boots is down to each individual child," explains Mark. "Very small feet shouldn't be restricted in any way but it depends at what age kids are being taken out to hike. If the child is old enough to go on tough walks then they are likely old enough to wear a more substantial walking shoe or boot rather than a trainer."
Fastenings: As children tend to be a little older by the time they're joining you on a family hike, most pairs of walking boots come with laces instead of Velcro. So, if your tot hasn't quite mastered tying their own you might need to help them.
Jess Beech is our Beauty Editor, working across Goodto.com, Woman & Home, Woman, Woman's Own, Woman's Weekly and Chat. Joining just after she graduated from the University of East Anglia with a BA in English Literature back in 2013, Jess has been a part of the team for over 8 years. Over that time she's tried her hand at most subjects – covering diet, health, cookery and even a stint on real life crime before settling on beauty and fashion a couple of years ago. Her average day in the office is spent tracking down high-street copies for all your favourite celebrity looks or testing the latest beauty launches to see if they really do live up to the press release. Although she writes across a wide range of topics, when it comes to beauty it's always a new hair product that catches her eye first. Whether it's a new frizz-fighting shampoo or a game-changing gadget, she's first in line to try anything that might help tame her own unruly mane. When Jess isn't at work you're likely to find her busily making plans for her next holiday, trying out yet more beauty products or (reluctantly) heading to the gym. Oh and she's a sucker for reality TV too – just don't call her when Love Island is on.