Free gas and electric vouchers: how they work for families with prepayment meters
We explain how free gas and electric vouchers work to see if they could cut your family's energy bills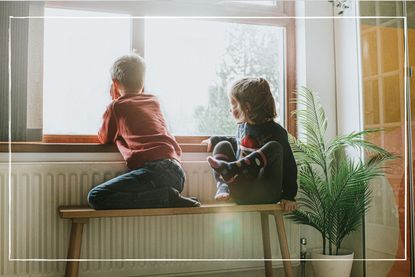 (Image credit: Getty Images)
Certain households using a prepayment meter could qualify for free gas and electric vouchers to help with their energy bills.
This support is needed now more than ever, with families remaining concerned about how much their energy bills will cost thanks to rising prices. Despite the introduction of the government's Energy Price Guarantee, and the energy price cap set to drop from July, energy bills are still much higher than before the energy crisis began.
Goodto.com's Money Editor, Sarah Handley, says: "Historically, those who have a prepayment meter will be paying more for the energy they use than those on a standard meter who pay by direct debit. But this will change from July when prepayment prices will be brought in line with direct debit prices, ending the prepayment penalty. This, coupled with a reduction in the energy price cap, is some good news for struggling families, but prices are still a long way off what they were in 2021.
"Families may still need help to afford their energy bills, especially when winter rolls around again."
If you are finding it hard to pay your energy bills, the government has also announced who is eligible for the £900 cost of living payment, so it's worthwhile checking if you could qualify for that support too.
Where can I get free gas and electric vouchers?
To get free gas and electric vouchers, you'll need to speak to your local council, doctor, Citizens Advice or your local food bank and ask for a referral to get the vouchers. The fuel voucher scheme is run by the Fuel Bank Foundation and free fuel vouchers are distributed via its partner organisations, which include local authorities, food banks and Citizens Advice.
Matthew Cole, head of Fuel Bank Foundation, says: "Fuel vouchers are for people in fuel crisis – or who will be in a day or two – who prepay for their energy, and don't have the money to top up their meter.
"We work with about 350 partner organisations who refer people to us. Referral organisations include food banks, GPs, and housing associations. People with prepayment meters tend to be on a low or fixed income with no assets or savings. They need more help in the winter as unlike direct debit customers they don't build up credit during the summer."
Some people eligible for fuel vouchers will have already 'self-disconnected' from their gas or electricity supply because they simply can't afford to top up their meter. Other households eligible for vouchers will be deemed to be 'at risk of self-disconnection'.
Important terminology explained
Prepayment meter - this is a specific kind of energy meter that means you pay for your energy before you use it, rather than after.
Prepayment penalty - those with prepayment meters usually end up paying more for the energy they use as it costs energy companies more to service these customers. But as it's normally struggling families that have prepayment meters, that's long been thought to be unfair. From July 2023, that prepayment penalty will be removed, and prices will be in line with those on standard meters who pay by direct debit.
Energy price cap - this is the average maximum price you will pay per unit of energy that you use, but is usually stated as an annual average price a typical household would pay. It's set by the energy regulator Ofgem and is reviewed every three months. From July 2023, this will be £2,074.
Energy Price Guarantee - when the energy price cap got so high during the energy crisis the government introduced a temporary cap, the Energy Price Guarantee, that meant that typical annual energy bills would be no more than £2,500. This scheme ends at the end of June 2023.
Self-disconnection - this is when those with prepayment meters can't afford to top up their meters and the meter runs out, leaving them without gas and electric.
Am I eligible for a free fuel voucher?
In order to be eligible for a fuel voucher, you'll need to be referred for support by one of the Fuel Bank Foundation's referral partners such as a food bank, a local council or Citizen's Advice.
Overall, it's likely that you'll need to meet at least one of the following criteria:
Be on a prepayment meter
Be in receipt of income-related benefits
Have no cash savings
Have children living with you
Have a certain disability
Be of pension age
Managing director of Money Expert, Philip Stubbins, says: "If individuals find themselves in a situation where they cannot afford to pay for their energy, they should call their energy supplier immediately to obtain advice and any support that may be available to them. They can also mention the Fuel Bank programme and suppliers may be able to provide these vouchers themselves or advise where they can be obtained from local partners."
Be aware that eligibility criteria may vary between organisations. For example, in Lewes and Eastbourne Councils households need to be 'vulnerable' due to age or a health condition, as well as being on a 'limited income' or means-tested benefits.
To be eligible for a fuel voucher from Manchester City Council you need to have zero capital or savings and also be claiming certain benefits. In addition, your household must also include a child under five-years-old, someone with a disability or serious health needs, someone over pension age, or a vulnerable person.
How much are the vouchers for?
Fuel vouchers are for up to £49, but the value of voucher you may be eligible for will depend on where you live and what your circumstances are. Some schemes offer different value vouchers depending on the time of year. For example, in Wales you can get £30 in summer and £49 in winter.
In other areas, the value of the vouchers depends on your household. For example, in Lewes and Eastbourne, single people can get a voucher for £28 while families get £49.
In Lancashire the vouchers are £30, and you can get up to three per year.
How can I use a fuel voucher?
You can use your free gas and electric voucher to top up your prepayment energy meter when you are running low and can't afford to top it up yourself. Fuel vouchers for gas and electricity are given to households in the form of a code sent by letter, text or email. To redeem the voucher, you'll need the code, a form of ID, and a bill showing your name and address.
Paul Stringer, director of independent finance broker Norton Finance, says: "Vouchers can be redeemed at shops that are signed up to PayPoint, or Post Offices that are signed up to Payzone. Vouchers can take up to 24 hours to be issued, and they aren't issued over weekends or bank holidays so if possible, try to apply before you're in urgent need."
You need to use your fuel voucher within three months of receiving it, and you'll be required to use the full value of the voucher in one go. You can choose how you split the voucher between gas and electricity.
What should I do if I don't qualify for a fuel voucher and can't afford to top up?
If you don't qualify for a fuel voucher, or you do and you're still struggling to pay for gas and electricity, make sure you're aware of the energy bill help available.
Firstly, speak to your energy provider, as they can advise you on ways you can reduce your bill. If you can't afford to top up your meter, you can get temporary credit. If your supplier doesn't add this to your meter automatically when you run out of credit, you might have to contact them to ask.
If you also run out of temporary credit, talk to your supplier and explain your situation. If your supplier agrees you're 'vulnerable', for example, you have a long-term health condition, you could be given extra temporary credit.
You might also be classed as vulnerable if:
You're over State Pension age
You're recovering from an injury
You're struggling with your living costs, for example, you're limiting the amount of gas and electricity you use
You wouldn't be able to answer the door or get help in an emergency
You're pregnant or have children under the age of five.
Your supplier could also help get you on to the Priority Services Register, which could mean easier access to emergency credit if you need it. Be aware that you will need to pay back any temporary credit you get – you'll need to agree how to do this with your supplier.
Alternatively, your supplier might suggest swapping you on to a different meter or putting you on a more affordable payment plan.
Money Expert's Philip Stubbins adds: "If you're in debt with your supplier, you may be able to obtain a grant to help pay the amount off. Most energy suppliers now offer a support fund for customers who are unable to pay their fuel bill and it's recommended that you contact them right away if you're slipping further into fuel debt. You will need to obtain debt advice before you apply, therefore speaking to a local debt advisor beforehand or Citizens Advice would be highly recommended in order to increase your chances of being successful with your grant application."
There will also be a further cost of living payment for low-income households that will be paid in three instalments between spring 2023 and spring 2024. It's also a good idea to be aware of the cheap heating myths that will actually cost you money so you can avoid them.
We know this is a difficult time for many people as household budgets come under pressure. If you need to talk to someone, there is free support from the Samaritans. You can call for free on 116 123.
Rachel is a freelance personal finance journalist who has been writing about everything from mortgages to car insurance for over a decade. Having previously worked at Shares Magazine, Rachel developed a passion for consumer finance and saving money when she moved to lovemoney.com. She later spent more than eight years as an editor at price comparison site MoneySuperMarket. She is passionate about helping consumers become more confident with their finances, giving them the tools they need to take control of their money and make savings.
Emma Lunn is a multi-award-winning journalist who specialises in personal finance and consumer issues. With more than 18 years of experience in personal finance, Emma has covered topics including all aspects of energy - from the energy price cap to prepayment meter tricks, as well as mortgages, banking, debt, budgeting, broadband, pensions and investments. Emma's one of the most prolific freelance personal finance journalists with a back catalogue of work in newspapers such as The Guardian, The Independent, The Daily Telegraph, the Mail on Sunday and the Mirror.