Most popular baby names 2023 revealed - these are expected to be THE baby name choices next year
Get ahead of the trend curve when choosing a baby name this year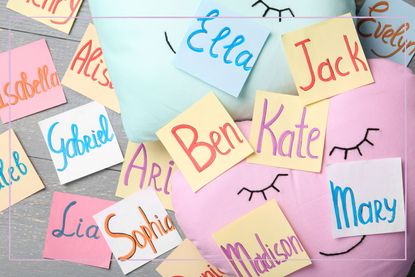 (Image credit: Canva / Future)
Baby names are so hard to decide on - will your choice go with the surname, what kind of initials will it produce (B.O?), will your child be forever spelling it out, will Karen down the road approve? There's lots to consider.
Whether you go for a choice from the most popular baby names list or opt for generational family names, or maybe 'wait to meet them'. No matter your approach, choosing a baby name can prove tricky. The baby naming site, Nameberry has released its most popular names for boys and girls, ahead of official rankings being released next year. And the top of the girls' list is Luxury, knocking Maeve off its spot while Aire is top for boys, dethroning Soren, pushing it to third place. The word Luxury can be both a boy's and a girl's name meaning "extravagance, opulence". Both names are uncommon, with Luxury only being used for 10 baby girls in 2021 and Aire not appearing at all on last year's official list.
Child psychologist, Lee Chambers tells us; "Possibly the most interesting thing to notice in this trending collection is there is some natural world inspiration increasing, but right alongside side that, names that represent human opulence and prestige also rising. While there is a generational desire for elements of uniqueness in a more personalized world, it's clear that there is an increasing search for names that are unique but also classic and timeless."
Top ten most popular girls names 2023
The data, published by Nameberry, provide expectant parents with a glimpse of what names are currently trending among other parents on their list of most-viewed baby names for girls and boys. The site explains that based on previous years, this user data is a strong indication of monikers that future parents are keen on right now and that are likely to take off in future. For example, Maeve, Arlo and August – all names that Nameberry users were checking out in the early months of 2021, went on to make their official 'most popular baby names' list later down the line.
Luxury (Lux)
Aurelia
Maeve
Eloise
Alice
Aurora
Isla
Luna
Ophelia
Iris
When it comes to choosing baby names, whether you look for unique baby names, or cool baby names, maybe even some nature-inspired baby names, experts suggest considering factors such as family tradition, personal preference, and meaning. "Think about what it is you love about a name," suggests Laura Wattenberg, founder of Namerology.com. "It could be the sound, the feel, the story behind it, or the association with someone you admire."
Child psychologist, Lee Chambers tells us; "Many of these names sound distinct when pronounced and attract attention as they are relatively uncommon. While also historical, classic names, used in previous eras, but have a modern freshness to them that makes them have a timeless quality.
It's interesting to see how some names, like Maeve and Arlo, have become more popular in recent years, while others, like Esti and Cosmo, remain rare despite gaining attention. It's also notable that some once-popular names, like Abigail and Michael, are no longer as popular and are not present on the Top 100 list.
This could be indicative of a shift in naming trends or a generational preference for more unique names.
Top ten most popular boys names 2023
Aire
Royal
Soren
Theodore
Silas
Felix
Atticus
Cassius
Oliver
Hugo
Name trends for 2023
Short Names, Long Vowels. Short, simple names hold a lot of appeal for contemporary parents – especially in an increasingly international world where names that translate easily between languages and cultures are a boon.
Ultimately, the most important thing when choosing a baby name is to pick something that feels right and meaningful to you and your partner. As Wattenberg says, "The best name is the one that you love and that suits your child." And know that, as with most parenting dilemmas, you're not alone. Mum-of-twins, Dionne tells us; "I had no problems choosing my son's name but choosing my girls' names was tricky. We wanted names that sit will together and roll off the tongue but that are different enough that the girls feel individual."
Related features:

Video of the Week:
Stephanie Lowe is Family Editor at GoodTo covering all things parenting, pregnancy and more. She has over 13 years' experience as a digital journalist with a wealth of knowledge and experience when it comes to all things family and lifestyle. Stephanie lives in Kent with her husband and son, Ted. With his love of choo-choos, Hey Duggee and finger painting he keeps her on her toes.