Pirate party ideas
Little ones will love these!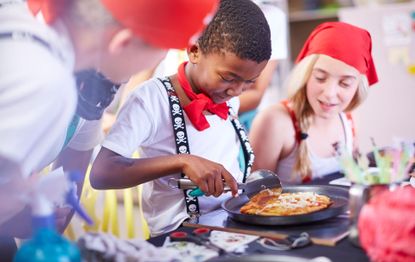 Does your child love all things Captain Hook, Peter Pan, Neverland and pirates? Then a pirate party will have them beaming from parrot to ear!
But if you don't know where to begin, fear not. We've got everything you need to make your children feel like real pirates fresh from the high seas.
From creating authentic invites to hunting for lost treasure and transforming your living room into a ship - follow our easy-to-use guide to throwing your little one a pirate party they won't forget.
A pirate party is a great theme for all kids who like action and have a wild imagination. This type of party involves creative invites, fun decorations, authentic music, tasty food and lots of dressing up. It's perfect for children aged between 6 and 12 years old and can be done extravagantly or on a budget.
Pirate party ideas
FREE pirate party invites Pirate party food recipes Pirate party decorations Fun Pirate party games Pirate party crafts Pirate party costumes Pirate party bags What you can hire for a pirate party
FREE pirate party invites
Message in a bottle invitations These may sound lavish but they're easy to create and you can make them as fancy as you like. Start off with all the party information on a piece of paper. Remember to include the date, place and R.S.V.P number.
Then, to give the paper authenticity, you need to stain it with tea or coffee. We recommend dissolving three teaspoons of coffee in half a mug of hot water then using a sponge or paintbrush, lightly coat the paper with the thick solution and leave to dry. If you want to give the paper even more of a real pirate look, you can burn the corners with a lighter, but make sure you blow it out quickly, just burn it enough to singe the ends. Next, you will need to roll the invitation up and tie it with a ribbon, tape or even candle wax. Then push it inside a bottle; you can use anything from plastic water bottles to empty beer bottles or sauce bottles. Make sure the top is closed with either a lid or a cork, which you can find at stores such as Wilkinsons.
Also, make sure the invitation is rolled up tightly and tied so guests will be able to get it out of the bottle easily. For added decoration you can put sand and small shells in the bottom of the bottles.
Treasure map invitations These are not only an original way of making pirate invitations but they're also fun and will get the kids involved. Start off with a piece of cardboard (roughly A5) and draw on a colourful treasure map with all the party information on it; this could include a sundial to indicate the start and end times of the party, a route to your house or where the party is being held as well as a picture of a pirate showing what costumes will be needed. Alternatively, you could print off a picture of a blank Caribbean island and get the kids to colour it in and add the information to that.
Authentic pirate scroll invites You can either create these by following the steps from the message in a bottle invites, just without the bottle, or you could download this free pirate birthday party invite. (opens in new tab)
Ship invites Get your kids to create their perfect pirate ships as invitations. Start by drawing the outline of a ship on pieces of paper or thin card; they shouldn't be too intricate as you'll need to cut these out. Then decorate the ships with rigging, a gully, a plank, portholes, the wheel and maybe some shipmates - you can use a variety of materials to do this including frayed rope bits or old material, glitter, pens, pencils, glue, shells and sand. Make sure you include all the pirate party details including date, time, fancy dress, and an R.S.V.P.
Wording inspiration for your pirate party invitations
Ahoy there me hearties! Ye be invited fer some fun at Ben's pirate party!
X marks the spot, so come find the treasure (and some high seas fun) at Ben's 5th Birthday
Celebrate Ben's birthday like a pirate with swashbucklin', grub and rum in the galley
Shiver me timbers, it's Ben's birthday! Ye be invited to celebrate with us on our pirate ship!
We've found the map to Davy Jones' locket, so bring your pirate best. We'll use the map to find the way, for a jolly time at Ben's 7th Birthday!
Yo-ho-ho join our crew on the Jolly Roger while we plunder for treasure and treats at Ben's pirate party!
Avast ye landlubbers! Ye are invited to Ben's birthday party!
Ahoy me hearties! You're invited to the best pirate party on the seven seas!
All ye landlubbers shake with fear as Ben's birthday draws near, because all the pirates gather here!
X marks the spot, so come find the treasure (and some swashbucklin' fun) at Ben's 8th Birthday
Grub and grog will be served at (time), on the (name of the ship), (place) on (date)
We set sail from (place) Be there by (date) at (time), or be left behind!
You'll probably want the party to be fancy dress, so make sure you tell your guests
Dress in yer pirate best!
Put on your eye patches and bring yer parrots for admittance to the party
Anyone dressed as a landlubber will be marooned!
Wear yer best swashbucklin gear or walk the plank and face the sharks!
No peg leg, no parrots, no party!
If you want guests to RSVP, state that at the bottom
RSVP by (date) (or you will walk the plank!)
Sign on to our crew roster by contacting Captain (name) at (phone number)
Deserters only (phone number)
Be a mate and RSVP before this date, (date, phone number)
Arrrrrrr.... you coming to the party? (phone number, date)
Pirate party food recipes
From pirate-inspired sandwiches and crisps, to chocolate and sweets and of course, the all-important birthday cake! We've got loads of fun, tasty and easy-to-make pirate-themed recipes guaranteed to fill the tummies of all the little pirates at the party.
Birthday cakes
Pirate party cakes can be anything from a basic sponge cake (opens in new tab) with a treasure island map made out of coloured icing on top, to sunken pirate ships or treasure chests filled with 'gold'.
Depending on how much time, money and patience you have, we've got recipes to make a treasure map cake (opens in new tab) or a skull and crossbones cake (opens in new tab).
But you don't have to make a themed cake; cupcakes or giant cupcakes are just as delicious and you can always decorate them with pirate colours such as red, white and black. We've got a host of decorative cupcakes you could try as well as a giant cupcake recipe (opens in new tab) (with a helpful video) to give the wow factor.
You can also get the kids involved with our 10 fairy cakes to make with the kids (opens in new tab).
Savoury party food
Party food (opens in new tab) for a pirate party can be made really fun by the names you decide to call everything. Obviously, you don't want to be serving authentic pirate groul but you can try and fool the kids by giving our delicious recipes imaginative names. Remember, party food can consist of almost anything you want in bite-size pieces but generally, you can keep it nice and simple with small, easy-to-make snacks and treats perfect for kids to pick at when they're hungry.
Pizza - aka pirate pizza - it's nearly always a winner but keep the toppings simple for any fussy eaters
Rolls - aka desert island grub in a bun - you can make up a different 'grub' for each filling, turkey filled (opens in new tab) or multi-coloured (opens in new tab) - the options are endless
Sausages in bacon - aka - dead man's fingers - you can pretend they're gruesome but they'll taste great
Annabel Karmel's chicken dippers (opens in new tab) - aka castaway cutlets - these will definitely look the part! Follow this simple recipe for a tasty snack kids will love Sausage rolls (opens in new tab) - aka peg legs - we've got a great recipe with a twist that kids will snap up in an instant
Potato wedges (opens in new tab) - aka parrots beaks - the kids will love these wedges that could quite easily pass as parrots beaks! They can be served with or without spice
Sweet party food
Chocolate honeycomb mousse pots (opens in new tab) - aka the lost treasure - honeycomb looks like chunks of gold or precious stones and tastes delicious on top of sweet chocolate moose
Milk strawberry sticks (opens in new tab) - aka crabs' legs - a healthy and tasty treat - what's not to love?
Peppermint creams (opens in new tab) - white gold - these make fun additions to a party spread
Lemon squares (opens in new tab) - aka treasure island squares - the lemon colour will look like sand and you can top them with green decorations to look like trees
Party drinks
Kiwi and ginger cocktail (opens in new tab)- aka Jolly Roger juice - A fruity treat with a kick that the kids will love
Fireside flamer (opens in new tab) - aka Ruby punch - You can adapt this recipe slightly using flavoured and coloured ice cubes. The night before the party, fill ice cube trays up with cranberry juice, or a red fruit squash, then at the party drop a few cubes into the juice to make it look as though jewels are floating in them.
Pirate party decorations
How you decorate your house, garden or hired space for a pirate party is quite important as the more you create an authentic atmosphere the more the kids will enjoy it; plus it's fun and let's out your imaginative side.
You can set a colour scheme for your decorations; most pirate parties tend to be red, white and black. You can use these colours for balloons, streamers, bunting, tablecloths, napkins and paper plates and cups.
Welcome the kids
A great way to welcome the children into the pirate party would be to create a large banner saying 'Ahoy mateys, welcome aboard' in big letters. Alternatively, you could make a large flag out of an old bed sheet or plain white material with a design of your choice - either a large ship, skull and crossbones or a drawing of your child as a pirate - and place it in your front garden or near the front door.
Transform your home or garden
If you really want to create an authentic atmosphere, you could transform the pirate party room into either a ship or a dessert island, depending on what materials you can get hold of. A ship room would require nets to look like rigging, the effect of wooden flooring (brown cushions or a sheet would do this), some wooden crates (painted cardboard boxes would be good for this) and a ships steering wheel (this could be made from a hoola hoop and some cardboard slots).
A desert island scene is a bit more messy as it could involve sand, but if you've got a sand pit, it's relatively easy to do and looks great. This would involve sand on the floor, some blue sheets to represent the ocean, some coconuts lying around and old bottles filled with ginger beer to seem like rum. You could go one step further and buy some inflatable palm trees and a few blow-up crocodiles to really set the scene. You could also include treasure troves made from cut-out cardboard boxes filled with gold chocolate coins or plastic pearl necklaces to represent treasure.
Little extras
If you just want simple decorations, a few pirate flags, available from most party stores, together with a small treasure chest filled with goodies for games and some coloured bunting would also create a fun atmosphere.
Pirate pinatas make great additions to a party and will also look decorative before the kids smash it to pieces. There are various shapes to choose from, including one of a pirate as well as one of a treasure chest - both should be available from most party stores and online.
Fun Pirate party games
There are loads of pirate games you can play during the party. Some have been adapted from classics such as Pin the Tail on the Donkey and Simon Says, but they all have a pirate theme the kids can get stuck in to and really enjoy. Here are some ideas to get you started.
Walk the Plank
This is a fun game the kids will find amusing, but it's guaranteed to bring out their competitive side. Find a piece of wood about the width of a child's foot and a length of your choosing (not too short as it might be too easy). Then get the children in a line and challenge one-by-one to 'walk the plank'. Those that manage it without falling off win a sweet or treat.
'X' Marks the Spot
This is played similarly to Pin the Tail on the Donkey. You will need a large treasure map of a dessert island and some small flags with Blu-Tack on the back. Choose a spot on the map where the treasure lies, then blindfold each child, give them their marker flag, spin them round three times and let them place the flag somewhere on the map. The child that gets their flag the closest to the treasure wins.
Pin the Patch on the Pirate
This is another pirate-themed version of Pin the Tail on the Donkey. You will need a cardboard cut out of a pirate and several cut-out black eye patches. Blindfold each child, give them their eye patch, spin them round three times and see if they can get it in the right place. The child that gets their patch the closest to the pirate's eye wins.
Blackbeard/Captain Says
This is played exactly like Simon Says but instead you can use either Captain or Blackbeard. You'll need an adult or a child to be the leader giving instructions to the others. Children will be out when they perform an action that the leader does not say either 'Captain' or 'Blackbeard' before.
Classic Treasure Hunt
This is simple but very fun. Simply hide gold and silver chocolate coins around the room, house or garden and get the kids into two or three teams and tell each one they have 30 seconds to find as many as they can. Alternatively, you can make a map with clues and different treasure, but be wary of the ages of the children as some may find it too difficult or get bored quickly. You can also buy ready made treasure hunts so you don't have to do any of the hard work.
Toss the treasure
For this fun game you'll need a decorative treasure chest, made from a cardboard box with the top off or open, and three bean bags. Get the children to stand behind a certain point and see if they can get them all in. For older children, or to make it more difficult, you could cut out three holes from a large treasure map and see if the children can throw their bags through the holes. The winners can receive small prizes, such as sweets or treats.
Frozen pirates
This is similar to musical statues, instead they're pirates - it also works much better if you use pirate music. Get the kids to dance around or hop around on one leg as you play the music then see who can stay still the best when it stops.
Treasure islands
This is played like musical chairs, except you use brown mats or cushions on the floor. Before you play the music, tell the children to act as if they are swimming between the islands, then they have to jump on the nearest one when the music stops. Then each round take one cushion away until you have a winner.
Pirate party crafts
Crafts (opens in new tab) are a great way of getting the kids to be creative during a party, plus they'll have something they can take home and show their parents at the end of the day - here are some pirate party inspired crafts for your guests to do...
Make pirate flags These are a really practical way to keep the kids amused during the party, but it might get a little messy. Just like coats of arms, pirates were identified by the colours and images on their flags. Let the children design their own flags using white sheets, preferably with a foam, cardboard or wooden back, good craft glue, glitter, pens and other art supplies. You can hang them up around the pirate party room when they're done to add decoration and let them take them home at the end of the party.
Make swashbucklin' swords Most boys seem to love swords, so a great, fun way of keeping them entertained at a pirate party is to let them make their own. You can use cut-out cardboard shapes of swords or black foam and let the kids decorate them with silver spray paint or pens, glitters and plastic jewels. They'll most likely break theirs through plenty of play fighting during the party but they'll have a jolly good time doing it.
Make a telescope These are easy to make and can look great. For a basic telescope you will need kitchen roll tubes, coloured cellophane and rubber bands. They can then be decorated with coloured paper and card, stickers, glitter, shells, sand and plastic jewels. Kids will love looking through them and they can take them home at the end of the day.
Pirate party costumes
One of the best things about pirate parties is dressing up. The kids will love to wear tattered, old clothes, ripped shirts, eye patches and carry swords, and you're more than likely to have most of the things they can wear for it, or get hold of them relatively easily.
If you don't want to buy a full pirate outfit then you can create your own one using odd bits of black, white and red material. You will need some black trousers, cut with jagged edges just below the knee. You will also need a white shirt with several tear marks, as well as an eye-patch made from black fabric and perhaps a bandanna with a skull and crossbones on it. Use black material with white fabric pens to draw the design on.
You may also like to make a hat, we're got an easy step-by-step for how to make a classic pirate paper hat (opens in new tab). They can also make peg legs from cardboard and hooks for their hands, also made from cardboard and sellotape.
Play tattoos are also popular at pirate parties. You can use temporary pirate tattoos or draw your own ones on using black face paints. Usually these consist of birds, skull and cross bones or fake scars.
If you need some pirate costume inspiration, check out Johnny Depp as Captain Jack Sparrow from Disney's Pirates of the Caribbean.
Pirate party bags
Pirate party bags or 'swag bags' aren't essential, but they do make nice little treats for each child to take home at the end of the day, and they can be made on a budget.
You can either buy pirate- themed bags from party stores or the Internet, or you can buy plain ones from most supermarkets. What you fill them with is up to you, but for a pirate party they can include small toys, such as pirate figures, gold coins, plastic pearl necklaces, any Pirates of the Caribbean film-themed goodies such as yo-yos, bouncy balls, badges or colouring books. Other things you could add are bubbles and balloons (these may vary slightly depending on the age of the party guests).
You can also fill them with small sweets, chocolate bars, coins, lollipops, sherbet sticks or chewy sweets as well as a piece of the birthday cake.
If you don't want to slice up the main cake, or don't think there will be enough to go round, you can always buy or make a more simple one or give each child a cupcake instead.
What you can hire for a pirate party
If you don't want to have the party at your house or in your garden, there are a number of options out there. One idea is to hire out a venue. These vary in price depending on size and number of people you want to have in it.
Local village hall
This is generally the favoured option as hire prices tend to be lower than other venues. Village halls also tend to be the nearest option and have kitchen and toilet facilities plus a dance floor/hall for the kids to play in.
These are great options as they are generally a good size and are close to a field or play park for the kids to run around outside or just get some fresh air. There's generally a lot of parking if other adults want to be there, plus most of them have a bar for people to buy any additional drinks and snacks. They are also usually away from houses so the noise of the party wouldn't be an issue.
Soft play and party areas
These tend to vary according to where you live, but most towns have indoor play areas with ball-pools, slides, swings and soft blocks for children to play in, and when they've tired themselves out inside most offer food packages for afterwards. Some examples are Kidzplay, Little Rascals, and Scallywags Castle play area.
Local restaurant
There are several restaurants that accommodate children's birthday parties. The type of packages available vary from place to place depending on what you want to eat, how many children there are and their ages. Some examples of party-friendly restaurants are Pizza Hut, T.G.I. Friday's, Chiquitos, Harvester and Toby Carvery restaurants, as well as McDonald's, Burger King and KFC.
Local leisure centre/swimming pool
This is another option as some local swimming pools have inflatable island play areas inside the pool which have a pirate theme. This could be good if your child wants a pirate party, but you don't want all the fuss that comes with it. You could always fill the small eating area with a few pirate decorations if you're including food with the party - usually there is a room at the local pool or leisure centre you can use for this.