Rihanna and A$AP Rocky's baby name was leaked by the press - here's why that gives me the ick
The famous parents chose to keep the baby's name to themselves for a year and we get it!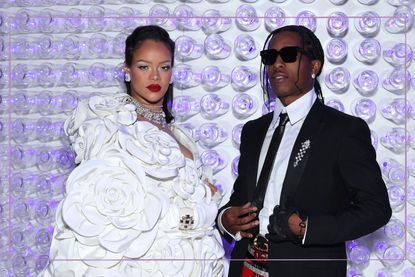 (Image credit: Getty Images)
Rhianna and A$AP Rocky welcomed their firstborn, a son, into the world in May 2022 and have kept his name private ever since, with lots of speculation that it was Noah. Well, today it has 'been revealed'...
And the 'reveal' wasn't by his parents, oh no. First-time mum Rihanna had that chance taken from her. Birth certificates are classed as public records, and according to the Daily Mail, who made the reveal, Rihanna's little boy was christened with an unusual moniker, not one from the most popular baby names list that's for sure - it's beautifully unique, but we won't be sharing it here because it doesn't feel right when the parents haven't revealed it themselves.
While neither Rihanna nor A$AP Rocky has spoken out about their son's name themselves, it's still been up for much debate with many fans speculating that Rihanna has worn hints to the name throughout 2022.
But, is it just me who can't get passed how much it doesn't feel right that new parents have had the chance to reveal the name themselves taken from them? Not to mention how we're all casually overlooking the invasion of privacy. Is it because she's famous that we all feel we have a right to know everything? The 35-year-old first-time mum chose not to share her son's name with the world…but it was done anyway. If it were Kirsty down the street, there would be an 'AIBU' Mumsnet post on a forum somewhere flogging the friend who announced the baby's name before the parents did, without a doubt.
So why is it okay in the celeb stratosphere? Unpopular opinion, I don't think it is okay. The parents chose NOT to reveal their baby's name, so they didn't want the world to know. It's that simple. Rhianna and A$AP Rocky are doing what many parents do - protecting their child - they're a notoriously private couple.
And yes, I know she shares images of her son on social media, (that's a whole other article), but that still doesn't mean that just because she didn't tell us the name that we go and find out ourselves - the whole thing just gives me the ick.
Rihanna surprised fans with news of her second pregnancy during her Super Bowl halftime performance in February 2023. According to Hello mag around the same time, Rihanna's father, Ronald Fenty, shared with Page Six that the couple had been considering "a few names" for their firstborn, adding humorously, "She'll have my head if I tell you." And too right, because it wasn't his news to tell.
Related features:
Video of the Week:
Stephanie Lowe is Family Editor at GoodTo covering all things parenting, pregnancy and more. She has over 13 years' experience as a digital journalist with a wealth of knowledge and experience when it comes to all things family and lifestyle. Stephanie lives in Kent with her husband and son, Ted. With his love of choo-choos, Hey Duggee and finger painting he keeps her on her toes.