We earn a commission for products purchased through some links in this article.
Have you got a kids' birthday coming up or just fancy an excuse for a good time? Throw a space party! We've got everything you
need to make your children feel like real astronauts from the Milky Way.
It's time to roll your sleeves up and get stuck in. We've got some fantastic ideas for party invites, galactic games, space grub and living room decorations. We've also got some FREE downloadable space party invitations if you're short on time!
 
Space Party Invites
Satellite map party invites: 
With every invite you'll need to print directions to your house – or not with this handy invention. These envelopes look cool and save on printing too! Each envelope has your Google maps location printed on the inside so it's easy for your crew to find mission control. All you need are a bunch of envelopes and a printer.
NASA space centre passes:
Anyone wanting access to mission control must be authorised first, right? Make your little one feel like a VIP with an access all areas pass party invite – give his team-mates green, red and gold NASA passes. Buy some strong, white card and print on your design before laminating the whole thing. On the back, write the party details in permanent marker – you can even add an access password at the bottom for fun!
Don't fancy those? Try these FREE downloadable space party invitations.
Space Party Decorations
It's up to you, as Flight Director, to train your shuttle crew for outer space. So here's an idea on how to transform your house into the best International Space Centre this side of the pond!
Within a few simple steps your living room can be transformed into mission control. Buy a series of space posters and model/inflatable spacecraft and hang them around the room. Use red light bulbs to give a red alert effect. With cardboard, make some shuttle name plaques, spray paint white with black writing, and hang them on the walls. Hide your TV behind a wall of cardboard, leaving the actual screen visible, and decorate with bottle lids for knobs, red or blue tape for stripes and writing in black marker. A cheap blackboard from Asda mounted on the wall is a great way of getting the kids involved with 'training'.
Play offical NASA transmissions in the background, using this audio, to give the full effect of a working mission control.
Cosmic costumes
Use disposable overalls cut down and decorated with NASA stickers, name stickers, flags and red and blue electrical tape stripes – you can give these to the kids when they arrive. Make a belt for each, using spray-painted rope, in one of three colors to help keep the overalls up. Make each child a space pack using white painted cereal boxes, a 1L plastic bottle, 2 silver-painted toilet paper rolls and some stickers. As they play, the guys can add more stickers to their boxes to show their completed 'special' missions.
Hiring a face painter for the day is also a fantastic idea for morphing the kids into space aliens! For their costume, pop into a local charity shop and have a look round for anything green. Add some supernatural antennae stuck to a hairband for their heads and they're ready to go.
Space party food
Real space grub i
s truly disgusting but, luckily for you, we're on planet Earth – and there's a supermarket down the road! A great way of using the usual party food, like cocktail sausages, crisps and carrot sticks, is to wrap it in foil. Let the children explore and dress up any any food with a space name:
Pizza – aka galactic pizza – it's nearly always a winner but keep the toppings simple for any fussy eaters
Sausage rolls – aka space time bombs – eat them before they explode!
Potato wedges – aka warpspeed wedges – gone in a flash
Lemon squares – aka scary squares – anyone who dares eat these strange delicacies found on the moon gets super powers
Chocolate brownies – aka martian mud cakes – collected from the darkest depths of the martian planet
Strawberry milk pops – aka pink goo sticks – not for the faint-hearted
Fizzy pop – aka rocket fuel – that ship's not taking off without fuel!
Milk – aka astronaut's ale – what a great way to get the calcium inside their bodies!
Space party games
Separate the space rangers into three teams and brief them on their mission:
'Commander [name]'s birthday present has been stolen and scattered all around the galaxy. An elite team is being sent to search and destroy the alien leader and find the missing pieces. You have been chosen to join this elite team.'
Hide clues all around the house and set fun challenges for the kids at each stage – in exchange they get a puzzle piece (which will eventually be exchanged for presents). The team that comes first wins a special mission badge (iron-on patches) and the respect of the Flight Director (YOU!).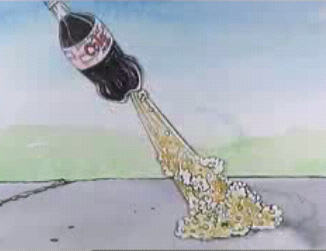 This is a real winner. All you need is a bottle of well-known pop, some Mentos, something to stand it up with and some outside space! Drop two or three Mentos into the pop, shake it up a little (with the lid on), and throw it in the air. When it hits the ground, run! Watch as the bottle explodes into the sky – and, decorated with all your excellent rocket-fuelled skills, it'll look like a fiery space ship screaming into outer orbit – apart from when it falls down, of course. Cue the earthling lesson on gravity!

Other space game ideas:
Pass the space time-bomb – like pass the parcel.
Musical helmets – it's musical chairs except with things you wear not sit on.
Comet toss – the closest comet to the star wins – a bit like boules played with balls on the ground.

Now go, prepare for the next lunar landing, ward off the next alien invasion and send your young astronauts on a mission to the edge of space; may the force be with you.
Where to next?
– More party themes
– FREE downloadable party invitations